'Trolls World Tour' Review: "A Stunning Yet Confused Musical"
---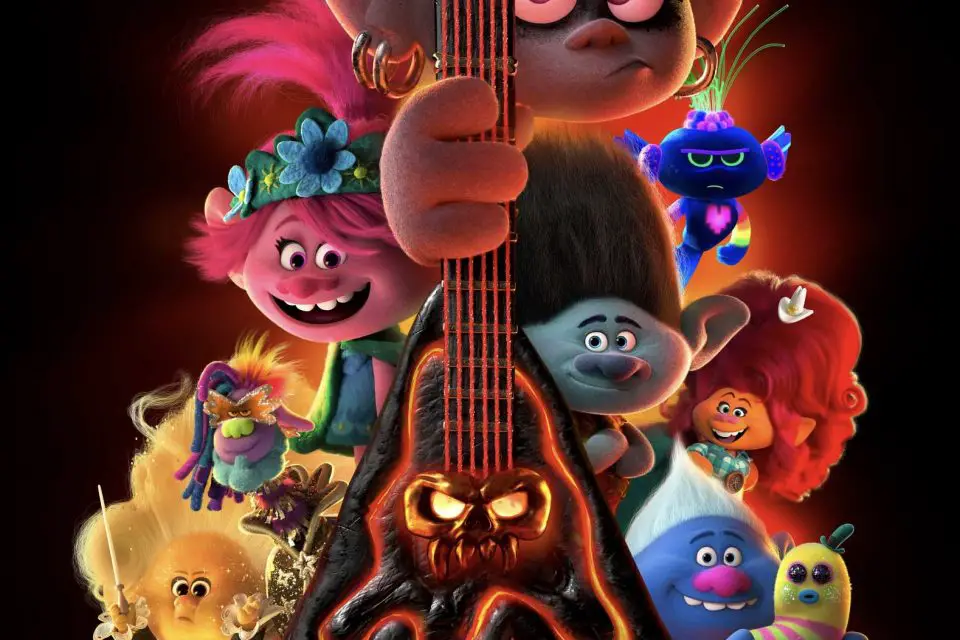 Although Disney is the king of the animation world, few animation studios have been as fascinating to follow as DreamWorks. It's one thing that their Shrek franchise resurged in popularity thanks to an endless supply of Internet memes. But more interesting is the studio's recent shift towards showcasing a blend of animation styles. If Shrek impressed through a story that deconstructs famous story tropes, films like Trolls impress through augmenting zany CGI with incredibly tactile textures. In particular, the locales and characters look like they are made of felt as opposed to smooth plastic. Despite the flimsy narrative at its core, the immaculate art direction is fundamental to making Trolls as pleasant as it is. Now that a sequel has arrived with Trolls World Tour, it looks like it offers more of the same.
As with its predecessor, this relies on its licensed songs and its playfully designed world to create an easygoing vibe. Not every song is a beloved masterpiece, and a select few are ungodly grating. Certainly, I'm not one to get excited over a sincere use of "Gangnam Style" in The Year of Our Lord™ 2020. Nevertheless, the batting average is strong, and it helps that a lot more music genres get the spotlight this time. Better still, the production design maintains the scrapbook style that previously defined the franchise, but with a few new additions. This time, it takes advantage of futuristic neon lighting on top of the neon color palette, with the techno trolls serving as the highlight. Trolls had its fair share of unhinged moments, but the upgraded style of this one takes things to amusing extremes.

That said, Trolls World Tour does not fully replicate what its 2016 predecessor offered. For one thing, it does not have the weirdly high amount of filler that the first one had, especially the romance involving one of its villains. The worst it gets with extraneous material involves its tertiary players. Most notably, trolls like Tiny Diamond (Kenan Thompson) are far more annoying than amusing. Thankfully, their minimal screentime means that the pain only lasts for short bursts. Furthermore, director Walt Dohrn and his writing team have integrated songs in a much more involved way than before. In the original, musical numbers served as a method of celebration and little else. Here, we are introduced to a variety of other trolls who live and breathe a different music genre. As a result, the various covers of iconic songs have a much greater chance of having relevance to the story.
Of course, the story at hand is nothing complex. In fact, one can describe the premise as a music-oriented rendition of Avengers: Infinity War. After all, it also has a group of six colorful and powerful MacGuffins. Here, they take the form of strings that represent a different music genre. Moreover, it has a mishmash of personalities for characters. This time around, Queen Poppy (Anna Kendrick) and the pop trolls find out they are not alone in the world. As it turns out, their world has enough room for music genres like country, rock, and funk. So it is up to Poppy and Branch (Justin Timberlake) to stop Queen Barb (Rachel Bloom) from retrieving the strings and wiping out every non-rock genre of music.

What's odd about Trolls World Tour is that the story feels secondary even as it establishes big stakes. While the rock trolls remain present as an adversary, the film basks more in its various music genres than anything substantial. This is most apparent with the country trolls, as the writers care more to check off stereotypes than to build actual character depth. Between the simple country troll designs and the dusty environments, Dohrn and company only offer a somewhat compelling bit of world-building. Admittedly, it gets more interesting things out of the funk trolls, complete with locales so psychedelic you'd swear you were taking drugs. But it's hard to ignore the fact that it does not treat its 94-minute runtime with a lot of discipline.
This lack of discipline, unfortunately, happens to affect the most fundamental aspects of the story. Worst of all, the movie's weightlessness persists through material that should resonate on a deeper level. As it enters its second half, it tells a backstory that depicts the pop trolls as an aggressive force. In fact, it depicts them in such a negative light it looks like they are the real villains. With this backstory, the filmmakers tackle themes of colonialism in a way that puts its protagonists in a tough spot. But like Queen Poppy herself, the film pushes through this section with an inappropriate sense of optimism.

An upbeat attitude concealing an underlying message would normally not cause major issues. Unfortunately, Trolls World Tour presents the worst-case scenario with a climax that creates a stark contrast between content and form. Based on the dialogue, it seems as if the movie is arguing for all music to exist with their idiosyncrasies intact. But this is not the case at all with the big ensemble song, "Just Sing". Sure, it is nice that each troll type gets its time to shine. However, the music and lyrics evoke a pop song so much that every non-pop genre fails to stand out, contradicting itself in the process. What should be a kaleidoscopic medley instead comes off as homogenized and soulless.
Ultimately, Trolls World Tour is a decent animated musical annoyingly stuck in limbo. Sure, keeping the plot threads to a minimum is enough to call this an improvement over the padded original. At the same time, the film is far more thematically confused than its predecessor ever was. It should be the simplest task ever to fall under the spell of its upbeat world and songs. Instead, the film makes that a challenge as it strains to go beyond the confines of its animated music video roots. Never is it not vibrant and fun, and bless it for bringing the wild idea of a smooth jazz bounty hunter to life. Still, I can't stop the feeling that its lack of brains makes it as innocuous as the pop songs that dominate the soundtrack. – Mark Tan
Rating: 6/10
Trolls: World Tour is now available on Digital HD.
The film stars Anna Kendrick, Justin Timberlake, Rachel Bloom, James Corden, Ron Funches, Kelly Clarkson, Anderson Paak, and Sam Rockwell.
---
Trending Now