Bargain Bin Chronicles: The Dollman, Demonic Toys Collection
---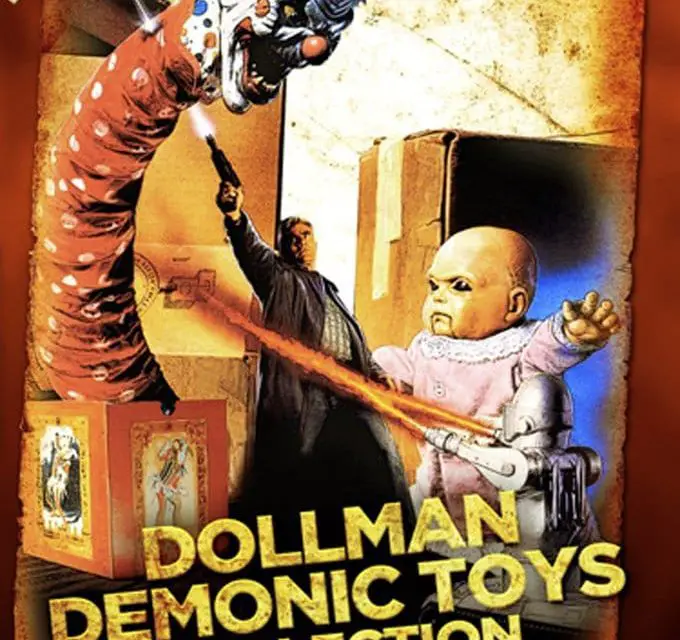 One of my favorite things to do is go through a DVD bargain bin and find the worst looking movies. Lucky for me, my colleague at Full Circle, James Preston Poole, thought of the idea to do a review series for my weird, ever-growing collection: "Bargain Bin Chronicles". The thing is, we'd have to review these on a different scale than one would review Gone With The Wind or The Irishman. So I'm going to review these on type of mood, would I want to see a big-budget remake, and maybe even how misleading the box art is depending on the packaging.
Nothing says "there's gold in them there hills" like a bargain bin – especially when it's literally in a hidden hallway blocking off an out of order Men's restroom.

While digging through  I was able to find a 3 movie set called the Dollman Demonic Toys Collection for about two dollars! Rounded up, without tax, each movie is valued at 0.666 cents! A low budget horror collection for that cost? Count me in. Since I am reviewing 3 movies in one article, I want to be as brief and to the point as possible. 
Demonic Toys

Demonic Toys is exactly what you think it is. A sting operation gone wrong leads to the raising of a sixty-six-year-old child demon (Daniel Cerny) with the power to bring evil toys to life. The demon is looking for a body so he can take physical form on earth. Lucky for him, Officer Judith Gray (Tracy Scoggins) is both pregnant and a viable host. Unfortunately for the toys, they have to get through a cast of mismatched characters before they can get to her. It's pretty self explanatory.
The gore surprised me. I wasn't expecting it to be so well done. Although Grade A, practical gore can be done by anyone after watching a couple of YouTube videos, I was still shocked at just how good it looked. It wasn't too over the top, but still leaves special effects nerds like myself feeling satisfied. I have to admit, for being a child actor in an already bad movie, Daniel Cerny stole the show. It's kind of a shame that his talent was wasted here.

One of the characters, Anne (Ellen Dunning), literally enters the movie out of nowhere just to give exposition. Not even kidding – Judith asks a question about the toys and Anne pops out of a vent and is all like "Here's what you need to know." It's never explained how she knows the things she does, but this is a bargain bin movie, so I'm gonna shut up, enjoy the film, and not question it.
Demonic Toys is really fun and even kind of self aware. When Judith is about to go undercover to arrest the gunrunners, her partner  Matt (Jeff Celentano) tells her "Don't you think it's best if you sit this one out.. ya know, since you're pregnant?" The main toy, Baby Oopsy-Daisy, is just awesome. He's a potty mouthed, evil doll. He delivers one of the funniest lines in the entire collection. "I can walk, I can talk. I can even sh*t my pants. Can you sh*t your pants?" It had me rolling on the floor laughing! Demonic Toys is exactly the kind of hidden gem you hope to find when one dig through bargain bins.  

Mood: Gather your closest friends at your next sleepover, get some sugary snacks, pop the movie in, and enjoy!
Box Art: It screams late 80's early 90's and carries the vibe and tone of the movie. What you see here is exactly what you're going to get.
Remake: I really think this movie would benefit from a big-budget remake. With its practical effects and fun plot, It could have franchise potential or be a really scary stand alone. I think, with the right people, it could be done really well!
Rating: 8/10
Dollman

Dollman was the one movie I was a little hesitant on watching. It just seemed like it would be boring as hell. What could I find entertaining in a movie about a dude who's just tiny? Surprisingly, I actually loved it. 
Brick Bardo (Tim Thomerson), a cop from the planet Arturo's, is a cop who plays by his own rules. After disobeying orders and running into a hostage situation, guns blazing, he's suspended from the force by the mayor. Bardo, after his disgrace by the city, is lured out to the desert by his nemesis, Sprug (Frank Collison). After a really graphic and explosive blaster fight, Bardo chases Sprug down in his ship, only to fall into a portal and end up on earth, where he is only 13 inches tall. Sprug meets Braxton (Jackie Earle Haley), takes him under his wing, and attempts to finish off Bardo AKA The Dollman.
 
You know those over the top action movies you see TV, sitcom characters watching? This is pretty much that. It's filled with one liners, action, violence, and fun! There's an underlying social commentary about the appeal of gang life in urban, underfunded neighborhoods. It's done in a way that doesn't feel preachy or in your face. I think aspiring screenwriters should watch this movie and take notes for this one aspect alone.
One of the best moments for me was seeing Braxton just squash Sprug like some bug. When aliens come to earth and use humans as henchman, we like to just believe that they're stronger and would have no problem killing us. I like how this flips the script and says "You're small, I'm big. I'm in charge." Jackie Earle Haley gives a top notch performance in spite of the budget. Overall, I was surprised by how much I enjoyed Dollman. I even gave it a second watch. Dollman is the coolest, most underrated action hero ever! 

Mood: If you're home alone, and need some background noise while working on a project or chore, this is a good go-to.
Box Art: The box art is bland and boring. If this movie weren't in a collection, I wouldn't have bought it at all. The movie itself is way too fun for such weak box art.
Remake: This is a really fun movie when you're in the right mood, but a serious remake would be a waste of time, money, and probably really boring.
Rating: 7/10
Dollman vs Demonic Toys

I'm a sucker for crossovers. I assumed this was the direct sequel to Dollman and Demonic Toys, but it was the sequel to Dollman, Demonic Toys, and Bad Channels (1993), which this collection didn't include. I'd love to review Bad Channels, but this is Bargain Bin Chronicles. If I don't find it in a bargain bin, I'm not going to cover it in this series.
Lucky for me, Dollman vs Demonic Toys does a really good job at catching you up on the events of all 3 movies in a way that doesn't feel rushed. I could have picked up this movie with no knowledge of the series and not feel lost. Dollman vs Demonic Toys takes place one year after the events of the first 3 movies. Officer Judith Gray is now on suspension from the force for breaking into the toy factory from the previous installment. Bardo is looking for Nurse Ginger (Melissa Behr), a toy sized woman from Bad Channels, because he wants her to feel like she's not alone in a world full of giants. I don't think this plot point was necessary at all, but it leads to a pretty entertaining fight scene involving a tarantula and plenty of cheesy one-liners, which I am a huge sucker for.
Judith, feeling frustrated since her suspension, tracks down Bardo AKA Dollman to help her find and destroy the toys. Nurse Ginger just kind of decides to tag along because she's falling for Bardo and doesn't want Judith all up on her man (Not making that up for the sake of comedy. That's actually why). What comes next is one of the most entertaining VS crossovers I've seen since 2003's Freddy Vs Jason.

The gore is completely toned down, but the movie doesn't suffer from it at all. There are scenes where you can clearly see that the filmmakers are just using a doll for Dollman in some shots. It's one of those moments that are fun to look for. It's like finding the string on the spaceships in Ed Wood's Plan 9 From Outer Space (1959). The voices for the toys have been recasted and the demonic origins are fleshed out and better explained than they were in Demonic Toys. 

My biggest problem with crossovers is that one character always feels like they were completely changed to fit whatever tone best fits the movie. Dollman vs Demonic Toys doesn't have this problem at all, especially since they all came from the same studio and distributor. The Demonic Toys feel like the Demonic Toys and Dollman feels like Dollman. At no point do you ever feel like this movie drags on. It ends right when you want it to. It's easily my favorite in the collection.

Mood: Can't sleep? Make yourself a bowl of popcorn, grab a blanket, and enjoy!
Box Art: I love the box art. It's fun, cheesy, and it immediately draws you in. If I hadn't seen the first two movies, I would pick this up for the box art alone.
Remake: Considering this is a sequel to three individual movies and only one is worth remaking, I can't picture anyone ever considering a big-budget remake for this one. I wouldn't want anyone to do it. It's great the way it is and should be left alone.
Rating: 10/10
Well that settles this edition of the Bargain Bin Chronicles. Keep in mind that I'm ranking these movies on enjoyability alone. They're full of flaws, red herrings, plot points that go nowhere, and are not meant to be taken seriously at all. 
The Dollman, Demonic Toys Collection stars Tracy Scoggins, Tim Thomerson, Melissa Behr, and Jackie Earle Haley
The Dollman Demonic Toys Collection can be found in bargain bins across the USA! Do you have a favorite bargain bin film? let us know in the comments below, and stay tuned for more Bargain Bin Chronicles.
---
Trending Now