Stay At Home Movies: What To Binge (April 9th)
---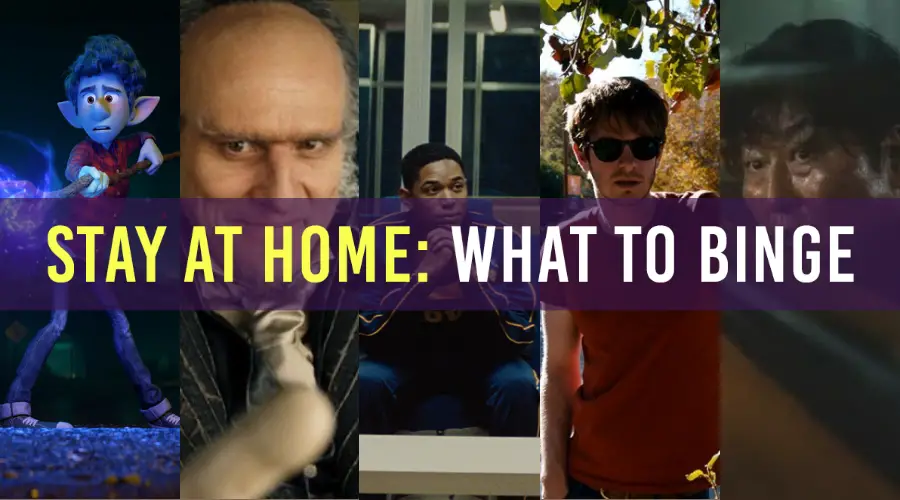 Things are getting real bleak out there. For the time being, most of us are under a "stay at home" order. As such, we now have more free time than we know what to do with. Well, when life gives you lemons, you binge on as much great content as you can! In this installment of "Stay at Home Movies", I'll attempt to help make self-quarantine a little b better by listing five terrific movies to watch on streaming.

Onward (Disney+)
In his review for Onward, critic Mark Tan referred to the film as "a family film that wisely treats familial bonds with the utmost importance". I couldn't say it any better. While recent Pixar movies have been a mixed bag, Onward recaptures the magic with a simple, yet soulful adventure about two brothers that "wows" with its animation. More importantly, it delivers a swift punch to the gut with its message. Although it may not be the most flashy Pixar movie, it's become a personal favorite.

Lemony Snicket's A Series of Unfortunate Events (Netflix)
Who says you can't laugh through the pain? Despite not adhering as much to the novels as the subsequent Netflix series of the same name, Brad Silberling's film has long been denied its due. The darkly hilarious story of three orphans who go to live with their relative (?) Count Olaf, who plots to get his hands on their inheritance, A Series of Unfortunate Events is bursting at the seams with imagination. From its Gothic production design to a tour-de-force Jim Carrey performance as Olaf, this is the perfect movie to escape into.

Luce (Hulu)
And now for something completely different! If you're looking to a movie to reflect on the world around us, Luce has you covered. Following a game of psychological warfare between a high school teacher (Octavia Spencer) and her bright, but potentially sinister, student Luce (Kelvin Harrison Jr.), Luce is a pseudo-Hitchcockian masterpiece of suspense that reveals itself as an examination of racial politics, judgment, and society as a whole. Important and entertaining, this film will give your brain (and nerves) the workout its been craving.

Under the Silver Lake (Amazon Prime)
There's underrated, and then there's Under the Silver Lake. David Robert Mitchell's follow-up to his smash hit It Follows, Under the Silver Lake is a full-on noir opus with a purposefully unlikable protagonist, played by Andrew Garfield. As he wanders the streets of LA, stoned, looking for a missing woman (Riley Keough), the film takes him on a hazy odyssey in and out of the underbelly of the beast known as Hollywood. Always unpredictable and practically screaming for multiple viewings, Under the Silver Lake is the perfect movie to get lost into.

Parasite (Hulu)
Need I say more? If you haven't seen Parasite yet, watch it. If you have seen Parasite, watch it again. Bong Joon Ho blew open the doors of international films for American audiences with a movie that is so singular, so important, and so plain great that words can't do it justice. Go in knowing as little about it as possible, and you'll emerge a changed person.
Do you have any movies you'd like to recommend while we stay at home? Let us know in the comments below, and happy binging! –James Preston Poole
—–
Did you enjoy this article? If so, consider visiting our YouTube channel, where we discuss the latest and greatest in pop culture news.
---
Trending Now