Camp Counselors: Baby Jane and Dawn Davenport
---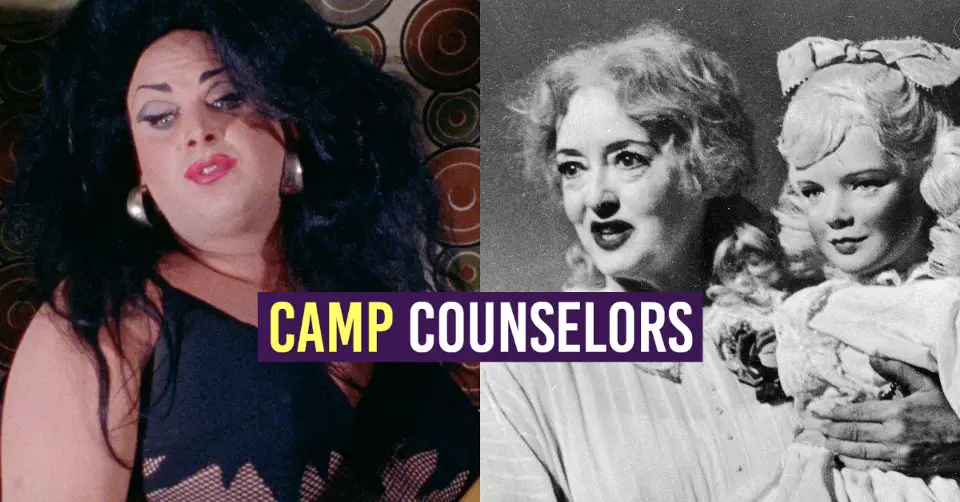 Camp is all about "artifice and exaggeration", using aesthetics to elicit a certain strange sensibility. No one says it better than Susan Sontag in her essay "Notes On Camp", an essential reading that breaks down camp far more thoroughly than I can. There are campy films of all kinds; films that lean into camp and films that stumble into camp. Camp is an artifice, not a genre, so everything from musicals to horror can be camp. As such, there are no signifiers for camp in the same way there are signifiers for genre film. This makes it harder to critique broadly, but just in this small sample of some of my favorite camp fare, I've found some striking similarities in the leading ladies.
Both What Ever Happened To Baby Jane (1962) and Female Trouble (1974) are campy films that are part of the official unofficial gay film lexicon. I believe this is due, in part, to the chaotic nature of the protagonists of each film. They are not good or beautiful, yet view themselves as such. They desire fame above all else, shirking their familial duties in pursuit of selfish desires. In all aspects they are painted as villains, and yet they are endlessly compelling. This is due in no small part to the performances of the actors.

Baby Jane (Bette Davis) is a washed up vaudeville star who never successfully made the transition into film, unlike her sister Blanche (Joan Crawford). Tormented by the fact that she will never reclaim the stardom of her girlhood, she abuses her paraplegic sister and attempts to revive her career. What Ever Happened To Baby Jane is the story of Blanche's struggle to free herself from her sister's machinations, in addition to Baby Jane's own reckoning with her past fame.

Dawn Davenport (Divine) is a woman who craves fame and beauty, and will do anything (really, anything) in order to get it. Her career begins to take off when she is taken under the wing of a rich couple who like to photograph women committing crimes. Female Trouble follows Dawn's life from teenage runaway to her reign as a fabulous felon all the way to her electrifying end.
You could make platitudes about how both films critique the Hollywood rat race and show how chasing fame leads to self destruction. However, if we use Sontag's definition as a lens to understand this archetype, then we can see that these women's struggle for fame is less important than their appearance. Their ravenous need for attention is unimportant because their whole point is to be over the top in the way they go after their goals. Who cares why they do what they do when what they do is so extreme? Divine posing with her daughter's body like she just won a prize brings up similar feelings to when Baby Jane dances around her dying sister holding an ice cream cone in each hand. They are absorbed in their own fantasies in which they are stars, consequences of their cruelty be damned.

These exaggerated depictions of women lusting for stardom are a camp staple, familiar to viewers of films like Mommie Dearest and Show Girls, among others. They are solely devoted to their career, torment their dependents, and often feature grotesque appearances that they view as beautiful. For example, Dawn's scars after having acid splashed on her face and Baby Jane's wrinkled, craggy skin. Dawn, however, sees this as enhancement, whereas Baby Jane tries to desperately continue to evoke her glory days of youth, looking at the doll of her girlhood self as her prime.
The key difference in these two films is their intention. Robert Aldrich set out to make a taut thriller, which he succeeded in doing. The camp aspect and adoption into gay film culture has been a part of the film's evolution. Therefore, Baby Jane acts as a midpoint on the scale of camp to drama. The more emotional moments of the film stick the landing. Moreover, when Bette Davis isn't terrorizing her costar Joan Crawford, she has real moments of sensitivity that remind you despite this ghoulish character, Baby Jane ultimately just wants to be loved. Of course, when she prepares a rat for her sister's dinner, she firmly plants herself back in camp. This is what I love so much about camp: even if you don't seek it out, it can still find you.

Female Trouble, on the other hand, was made by John Waters and openly discusses gayness. The film's camp ethos is wonderfully summed up in one of my favorite lines, "The world of a heterosexual is a sick and boring life". The other side of this statement, of course, suggesting that the life of a homosexual is colorful and dazzling and wild. As entertaining as accidental camp may be, there is nothing like watching a film flout all the rules and create its own unique sensibilities. 
Through comparing these two films, it is clear that women pursuing stardom are a camp staple. Watching these deranged women wreak havoc is incredibly entertaining and features both the glamour and grime of fame—perfect fodder for camp. Baby Jane and Dawn Davenport are two of the most iconic camp characters and have come to define the genre.
---
Trending Now