'First Cow' Review: Milking Its Strong Characterization
---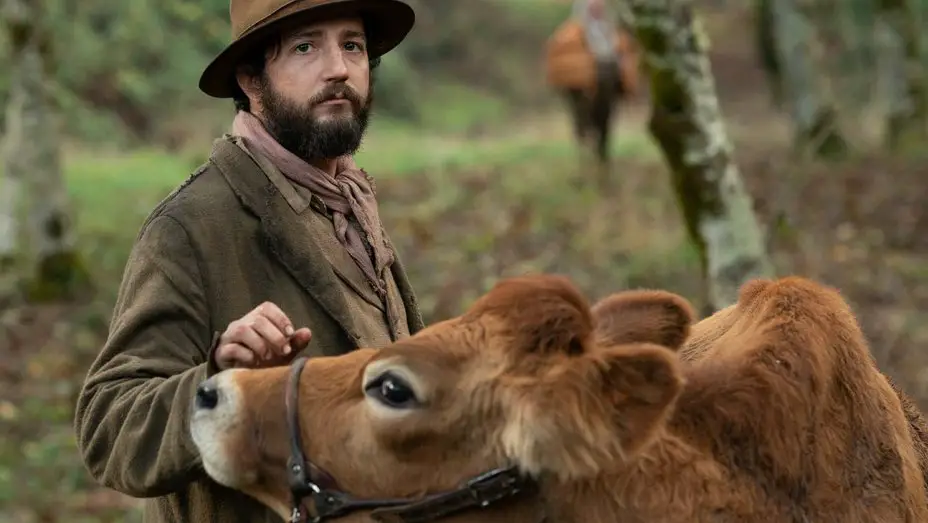 Kelly Reichardt is a master filmmaker. This much is apparent from the opening moments of First Cow. As a woman (Alia Shawkat) walks her dog through the Oregon woods, the trees feel like a ghost town; a haunting reminder of a more vibrant time. She bends down to discover a human skull, transporting us back to the 19th century where cook Cookie Figowitz (John Magaro) walks a rough trail with a group of fur trappers, heading to a better life.
With that opening, Reichardt gives us a lot to take in, and First Cow does not let up. It's a work of art, one that carries with it a staggering amount of character and a sense of depth. However, it's a work of art that's hard to grapple with, due to an unwieldy pace and a large requirement of investment on behalf of its audience. The former can often derail the latter, leaving First Cow a movie I respect more than I actually like.

Many will declare First Cow a masterpiece. It certainly has the high marks of one. Cookie is a downtrodden, though hopeful individual who plays well off of the other protagonist King Lu (Orion Lee). Lu is an optimistic Chinese immigrant who comes up with the idea to steal milk from a nearby cow belonging to a wealthy British aristocrat (Toby Jones). Together, they share the American dream, trying to carve out a slice of the pie for themselves.
These two are distinctive characters, ones that could carry a whole series of movies. Reichardt and co-writer John Raymond make every piece of dialogue revealing their motivations, past; anything and everything relating to conveying their character. Cookie and Lu are surprisingly talented people at the bottom rung of society, and the only way their natural gifts benefit them is through crime. There's something really complicated with that, something meaty with our leads.
Similarly, the film carries with it a strong sense of setting that furthers a theme of economic disparity. Although it's a given that an A24 film will be beautiful, First Cow packs meaning into the images. Director of photography Christopher Blauvelt's muted images portray a harsh reality of the frontier in a way that would make The Revenant blush. Beyond that, the use of shadows in the intimate moments between Cookie and Lu is intriguing, especially juxtaposed with the bright austerity of the aristocratic estate.

Clearly First Cow is a meaningful work. Where it gets contentious is discussing how entertaining it is to watch. In this writer's opinion, First Cow is a movie of two parts: one that is a captivating study of a time and the implications of that time told through the lens of two characters. The other is filler that lingers too long, beating information that we've already learned in the aforementioned part of the film. For example, we'll see repeated scenes of Cookie and Lu selling their wares over and over again. After once or twice, we get the idea. They're becoming successful.
Also, interspersed with the meaningful conversations are interactions that don't bring the film anywhere. You're left in a guess game of which scene is going to matter next, which makes the already slow pacing a killer. A more clear structure might've helped and organized these seemingly inconsequential scenes into a place where the might have held more meaning. At this juncture, the film is one of two parts wrestling for dominance.
At the end of the day, the better part of First Cow wins out. It's a film with so much meaning, so much work put into every moment that I want to love it desperately. But I'm just not there yet. Maybe through a rewatch the parts that dragged will reveal themselves as vital to the film. Until then, I look forward to reading the types of analysis that First Cow will undoubtedly inspire. –James Preston Poole
Rating: 6/10
First Cow is now playing in theaters.
The film stars John Magaro, Orion Lee, Toby Jones, Ewen Bremner, and Alia Shawkat.
---
Trending Now