'Portrait of a Lady on Fire' Review: "A Deeply Sensual Experience"
Posted On February 23, 2020
---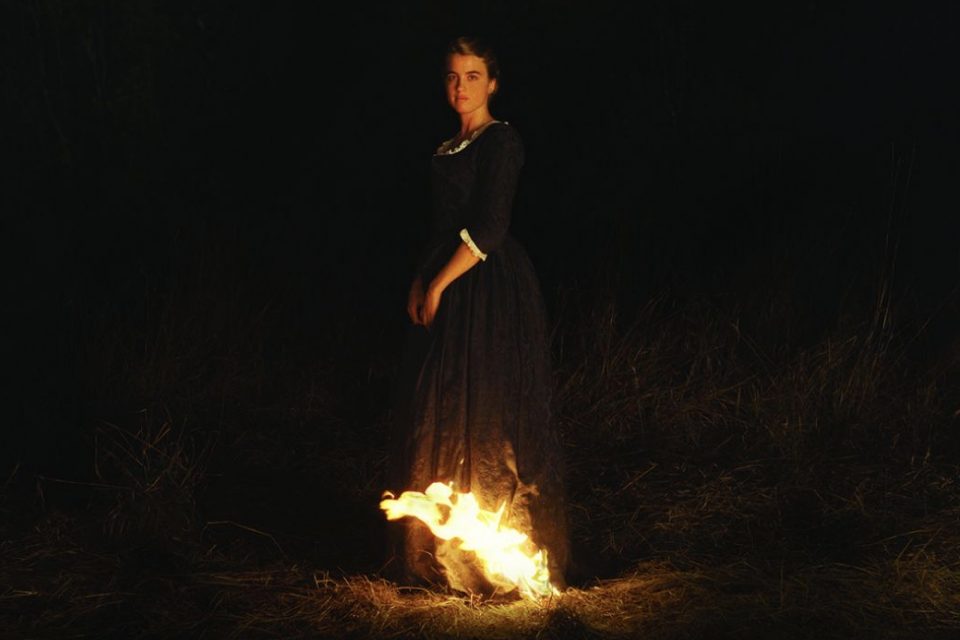 As difficult as it is to define love, it is almost as challenging to determine what brings that love to life. Some say it comes from pure intuition. Others say it comes from engaging with the object of affection for an extended time period. Moreover, the reasoning can not only change from person to person, but it can also change from day to day. Because of this, it is arguably easier to simply follow those emotions than dwelling on the details. However, if there is one person who would disagree with that sentiment, it would be writer/director Céline Sciamma. Just from looking at her latest film, Portrait of a Lady on Fire, it seems she is on a mission to express the importance of dwelling on the details.
Sciamma conveys this to such a degree that this contemplation actually informs her approach to every scene. In fact, the movie begins with young artists painting their teacher, Marianne (Noémie Merlant), as she tells them what details to observe and how to put them to paper. Firstly, the opening images feature blank canvases filling up with lines of paint. Not to mention, the soundscape only consists of brushes striking against rough paper. Thanks to these directing choices, the movie creates a parallel with the scene it is depicting. As Marianne asks her students to see things keenly, Sciamma asks her audience to do the same thing. If nothing else, it makes for an ingenious first impression that places the audience into the desired intellectual state.

With this mentality at its core, Portrait of a Lady on Fire is a story about love as well as a story about painting. Once Marianne goes to an island to paint a wedding portrait for the enigmatic Héloïse (Adèle Haenel), something important happens. Her obsession with Héloïse as a drawing intertwines with her obsession with Héloïse as a person. Héloïse notably refuses to pose for her painters, which forces Marianne to study her features discreetly. In doing so, Marianne cannot help but create an intimate relationship. Not only is she unable to look away from Héloïse because of her assignment, but she also cannot look away because of how smitten she is with her. Although Sciamma's screenplay follows the structure of a standard love story, the painting element makes it feel refreshing.
Given the story's focus on the intricacies of one's surroundings, it is great to see the storytelling follow suit. Thanks to the warm lighting, every close-up of the main characters is quite inviting. Additionally, cinematographer Claire Mathon goes for a clean, crisp aesthetic that may contrast with the period setting, but is perfect at giving the audience chances to look at the small details. Even taking the visuals out of consideration, the sound design is immaculate at conveying the small scale of the environments. It is rare to have the crackles of fire or quiet echoes take such a presence in most modern movies. So it is a delight that the film commits to presenting these sounds with few interruptions. To make this more apparent, every instance of music is diegetic, meaning that the audience only hears music when the characters hear it.

Taking these elements together, the film is a deeply sensual experience well before Marianne and Héloïse are a romantic couple. Of course, this is partially due to how Sciamma and her crew effortlessly bring the senses to a cinematic medium. But a large portion of that is due to the characters' impactful interactions and the performances that anchor them. Throughout the film, Merlant and Haenel take on their roles with confidence, with both showing nuances in their expressions. Rarely does it feel like either of them is going for one specific emotion. Instead, it's like they are layering various feelings of curiosity and warmth at any given moment. This allows moments such as Marianne and Héloïse describing each other's facial tics to have a genuine beating heart.
More often than not, Portrait of a Lady on Fire embraces its blend of style and substance like few other romance movies. Most famously, the closing image asks its viewers to observe a person's facial expressions with an extreme level of acuity. It is a rare sequence that trusts its audience to utilize what they have learned. Thankfully, its audaciousness works to its favor. Although it is not a POV shot, the array of emotions is so palpable it might as well be one. Combine this acting powerhouse with an energetic orchestral piece and you get a concluding moment miraculous enough to cover up most shortcomings.

As much as I would like to say "all shortcomings", I hesitate to call this an utter masterwork. Although its terrific marriage of style and substance is undeniable, Sciamma's screenplay sometimes goes against the slow-burn approach to directing. While it never becomes anything less than solid, the speed at which it goes to different plot points can be oddly erratic. This is most notable with Marianne's progress with painting Héloïse's portrait. It should feel like a burden for Marianne to capture Héloïse's features. Despite that, the updates we see of the painting rarely suggest there is anything of the sort. Instead of a nice visual progression, we mostly know about this burden through dialogue.
Still, Portrait of a Lady on Fire is a wonderful love story that weaves its protagonist's mindset through every aspect of filmmaking. While its approach is a bit clinical in the early sections, that feeling disappears as characters start to open themselves emotionally. By the time that Marianne and Héloïse share passionate kisses, it is impossible to not get swept up in their emotions. Truth be told, I have yet to warm up to everything it has to offer. But based on the aspects that did resonate, there is a strong chance that unabashed adoration will come soon enough from me. – Mark Tan
Rating: 8/10
Portrait of a Lady on Fire is now playing in theaters.
The film stars Noémie Merlant, Adèle Haenel, Luàna Bajrami, Valeria Golino, Christel Baras, and Armande Boulanger.
---
Trending Now