'Parasite' Winning Best Picture Was The Best Possible Outcome Of The Oscars
Posted On February 12, 2020
---
As a long time Tarantino fan and a die-hard Once Upon A Time in Hollywood enthusiast, I was left a bit disappointed after the 92nd Academy Awards Sunday night. Sure, it came home with a couple of big wins in the Supporting Actor and Production Design categories, but I was really hoping it would nab the Screenplay, Director, and Picture wins, all of which were historically swept by one man: Bong Joon-ho. Every time the name Parasite was called instead of Once Upon a Time in Hollywood, I thought I would be a lot more disgruntled than I was, but I couldn't help but be happy that this international film that most mainstream Americans have never even heard of was taking home the nights biggest prizes. And at the end of the day, isn't that what the Oscars are really about?
Sure, awards shows don't mean anything in the big picture. Once Upon A Time in Hollywood is still my favorite movie of the year despite it not living up to my expectations on Oscars night. The same goes for whatever movie you were rooting for, nominated or not. But something people often look over is the ability of awards shows to give a voice to niche films that otherwise would never have made its way into the mainstream. 
Tarantino doesn't need any more recognition than he already has. He's a household name in the states and no one is gonna be deterred from watching his latest film just because it didn't win Best Picture. The same goes for Martin Scorcese and The Irishman, which surprisingly went home with zero awards. Last week, if you asked someone on the street what Parasite is or who Bong Joon-ho is, a majority of people wouldn't be able to tell you. Ask them today, and while they still might not have a clear answer, the names that were floating around social media all Sunday night would probably ring a bell in their minds.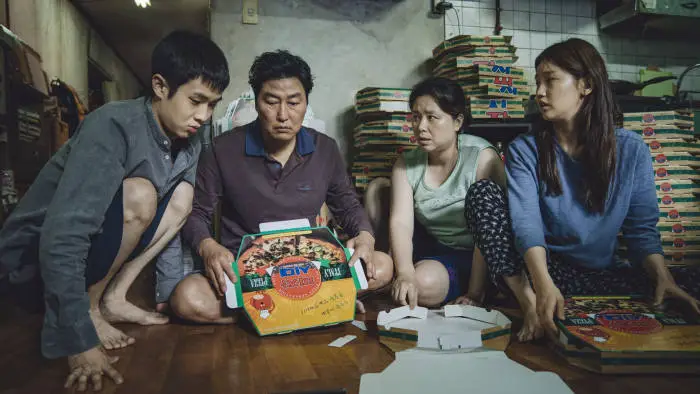 I watched the Oscars with a group of my friends who had really only seen the popular contenders. After seeing Parasite win so many big awards, they were so intrigued by the movie in which they knew nothing about that we rented it immediately after the show. To say the least, they were not disappointed, and I'd be willing to bet this was the case for countless households across the nation. The Academy Awards gave them the chance to open up to a different type of film that they never would've seen solely based on the fact that you have to read subtitles. Now they and millions of people across America will be on the lookout for Bong Joon-ho's next masterpiece.
I'm not Martin Scorsese (shockingly), but I'd like to think that seeing a younger director, who was influenced by his work, give him a shout out in his Oscar speech is way more powerful than any award you could think of. The same goes for Tarantino who helped chaperone Bong Joon-ho's films into the states before most people would give them a chance. These filmmakers don't make movies to win awards, they make them because that's what they're passionate about, and that passion is what impacts people like Joon-ho who go on to make impactful films themselves. 
When all is said and done, had the night gone any other way, it would be remembered in history as just another cog in the ever-expanding wheel that is the Oscars. Instead, the 92nd Academy Awards will go down as the night a South Korean director and writer took home the biggest prizes as well as the first time a foreign language film secured the Best Picture Award, forever immortalizing the masterpiece that is Parasite and exposing it to the world.
Parasite is now available on Blu-Ray and Digital HD. The film stars Kang-ho Song, Sun-kyun Lee, Yeo-jeong Jo, Woo-sik Choi, So-dam Park, Jeong-eun Lee, and Hye-jin Jang.
—–
Did you enjoy this article? If so, consider visiting our YouTube channel, where we discuss the latest and greatest in pop culture news.
---
Trending Now