First Look At Wayne Brady As Gravedigger In 'Black Lightning'
Posted On February 3, 2020
---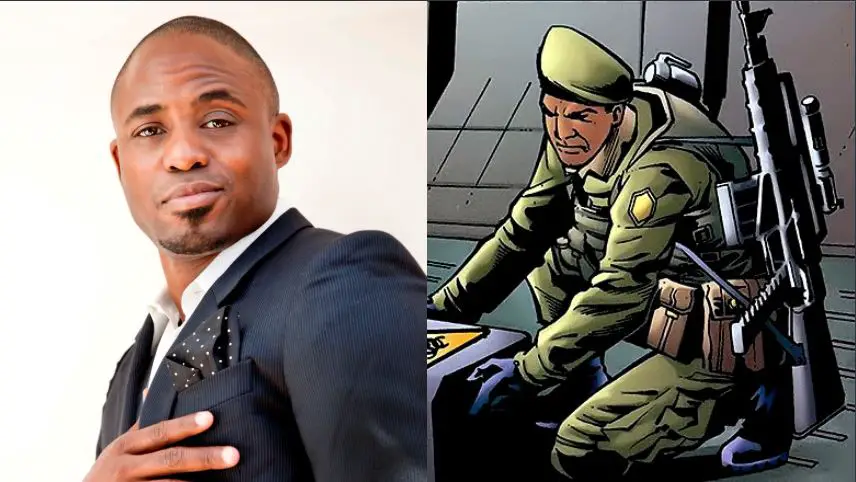 The CW's Black Lightning series is currently in a season of change. After the events of Crisis on Infinite Earths, the series is now set in the Arrowverse and on the same earth as The Flash and Supergirl. As first revealed by Entertainment Weekly, fans now have their first look prolific comedian Wayne Brady as the villainous Gravedigger in an upcoming episode
Take a look below.
Debuting within the pages of DC Comics in 1977's Men of War #1, Gravedigger is the alias of two soldiers. Ulysses Hazard and Tyson Sykes, two African-American soldiers in the United States military, have gone by the name. First, Hazzard was trained in the ways of military commando and is an ace marksman. Additionally, Sykes utilizes the codename later on and develops telepathic abilities following an alteration to his DNA.
However, Brady, the winner of Fox's The Masked Singer Season 2, will play a new adaptation of the character. According to Entertainment Weekly, "Tyson Spikes, a World War II super-soldier, defected to Markovia after the war instead of returning to segregated America. He dreams of creating a sovereign land for metahumans within Markovia, which obviously puts him at odds with both the Pierce family and the ASA."
Brady is best known for his work on Whose Line Is It Anyway? However, the actor is well-versed on stage as well. Additionally, he has starred in Rent, Kinky Boots and Hamilton over the last few years. Moreover, his film credits include Roll Bounce and 1982.
What do you think of the character's look? Will you tune in to check out Brady in Black Lightning? Let us know in the comments below!
Brady will debut as the character in the 13th episode of Black Lightning season 3. It will premiere on the CW Network on February 10th.
---
Trending Now