'Arrow' S8, Ep 7: "Purgatory" Recap/Review
Posted On January 15, 2020
---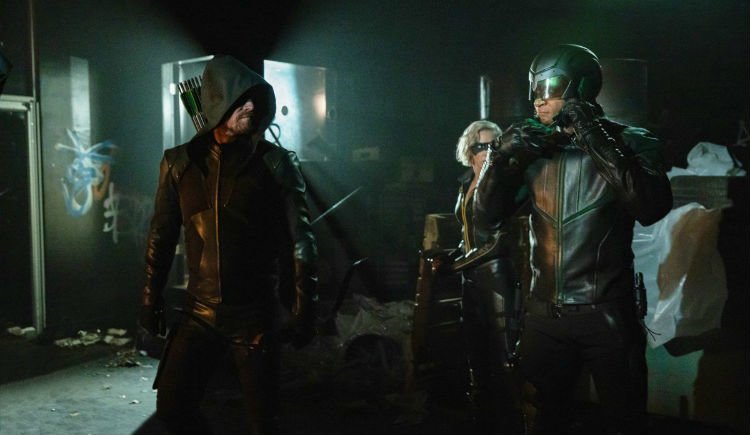 In its last episode before Crisis, Arrow attempts to go out on a high note. Purgatory, which aired back in December, was a fantastic episode. With Oliver attempting to harness energy for the Monitor that has been building up on Lian Yu. A side effect of this energy, however, is the resurrection of the villains that occupied the Island in season 1. It's with this interesting set up that Arrow uses its last regular episode to have a mostly decent send off.
While the focus is still on Crisis, the episode still has a personal focus on Oliver. The main interactions come from Oliver and Yao Fei, his teacher and savior his first year on the island. Yao Fei, now resurrected, can see the man Oliver has become . This situation makes for great interactions. Oliver reflects on who he used to be as well as the looming consequences of crisis. On top of that, we get some amazing action as Fyers and his men battle team Arrow.

Along with doing this final mission for the monitor, Oliver has to come to terms with saying goodbye. On a thematic level, it makes perfect sense to have this happen on Lian Yu. However, the reasons for being on Lian Yu are poor. Besides that point, watching Oliver face some of his oldest ghosts and learning to say goodbye made for some strong thematic moments.
Laurel continues to get some great development as well. Her interactions with Mia were one of the highlights. The continued conflict of Oliver being a hero first and a person second has been intriguing. This has been even more of a problem since Oliver became a father. His recognition by the end of the episode that he needs to make amends with family is emotional.
READ: 'Arrow' S5, Ep6: "Reset" Recap/Review

After a final bombastic action sequence, the true plans for the energy in the island is revealed. It is used on Lyla, making her the Harbinger in the process. By the end of the whole ordeal, Oliver says goodbye to all of his friends and family. We get a moment with Roy, Diggle, Mia, William and more. It's a touching close to the episode. We end with the skies turning red, a sign of the coming crisis. Despite inconsistent storytelling for being on the island, Purgatory is a good closing chapter for Arrow with strong themes and arcs before the series finale. – Ernesto Valenzuela
Grade – 7.5/10
Arrow airs Tuesday Nights on the CW
---
Trending Now