'Star Wars: The Rise of Skywalker' Spoiler Review – "A Compromise of Sorts"
Posted On December 22, 2019
---
We've hit a milestone marker. The end of an era. The end of the Skywalker Saga. The Rise of Skywalker is the ninth episode in Lucasfilm's newly termed Skywalker Saga, putting an end to the Skywalker family and the Star Wars as we know it. I found Star Wars Legends books as a 12-year-old and I have adamantly loved Star Wars ever since. It was tough to come to terms with changing the dynamic of a generation when Disney bought Star Wars and wrote their own journey. There have been both some successes and some failures. If you'd like to revisit the full glory of Star Wars, click HERE for our Celebrating Star Wars series. But enough there, let's talk about the journey of our sequel trilogy characters.
This review will contain spoilers. If you're looking for the spoiler-free review, check out The Rise of Skywalker Showdown. I highly recommend seeing the movie before reading any review but to each their own. Scroll below the picture to read the review!

The Rise of Skywalker seemingly shattered my expectations for the film and built them back up in a way that matches filmmakers' intentions. As a result, I hated and loved the film for what it was. It explores lots of new territory for Star Wars. There were clear Star Wars Legends influences which I genuinely appreciated. It clearly defines Rey's lineage. Though not precisely what I had envisioned, it happened truly. And a complete, and utter shout out to my dad, who said Rey was a Palpatine as we walked out of the theater after The Force Awakens Christmas Day 2015.
There were definitely some fan service moments, though that doesn't mean they were bad at all. Wedge Antilles' return I clapped for, and "Reylo" even got their moment. A frustrating part for me was the redemption of Ben Solo, but Harrison Ford's return as Han Solo won me over. That honestly surprised me, and providing a "light side" reenactment of The Force Awakens bridge scene brought me to tears. The eight minutes with Leia (Carrie Fisher) brought me to tears, and honestly, I wanted more so badly. Fisher was a light that we lost way too soon. I'm grateful the team was able to keep her in, and her sacrifice for Ben's redemption was honest and clearly showed her dedication to her son.

Speaking of Leia, the movie felt resoundingly like a film honoring the character's legacy. It was pragmatic, full of hope. The Rise of Skywalker said screw you, we had a plan, we threw a wrench in the plan, so here's the new plan. It felt like the get-down-to-business princess we met in A New Hope, and I loved it. The Force Awakens felt like Han: comfortable, always wanting to stay in his lane. The Last Jedi felt like Luke: wanting something new, throwing a curveball! I'm glad the team was able to represent Fisher on screen, even with what little time she had on the screen. Luke and Leia as force ghosts at the end was a nice way to give Rey approval for the future. Though it would have been ten times better with the presence of Ben Solo, and Anakin Skywalker.
The pacing was a little off, especially the opening sequence. Up until about Endor, the plot feels very choppy. The main trio moments are phenomenal, but it was definitely a little too rushed, even for me who knew mostly what was going on. After Rey and Ben's fight on Endor though, the pace was much more stable, and I had no qualms with it after the fact.The lightsaber fights, and even just the training choreography in the film were absolutely great. A few of the leaps and bounds Rey took felt like some unfinished graphics work was afoot. But most scenes looked flawless and really well done.

Daisy Ridley took Rey's arc and transformed her, carrying her emotional turmoil quite well. From a wanderlust girl, wanting to return for her parents; to a girl who was told her parents never mattered, that she was a nobody; to now, knowing she's the granddaughter of one of the most notorious bad guys in history. That is a roller coaster to go through, with a trilogy plotline that doesn't carry those turns well at all.
Still, this was a planned plot. Kylo manipulated Rey into stating she was a nobody. He could have said it himself, but he stops short, specifically because he's not certain that is who she is. He states that in The Rise of Skywalker, that he wasn't certain. But he needed to bring Rey down somehow, to try and get her to join him. So he lied, as all villains inevitably do. Rey admitting she was a nobody was one of the hardest things she had to do. But it prepared her for something that truly rocked her world: being a Palpatine.
Sheev Palpatine was one of the most powerful force users, and it explained Kylo's fear of Rey. He knew Rey was powerful, that that kind of strength only comes from legacy. But she herself could not know that. Not unless she was on his side. When Rey wouldn't join him, and Kylo was left with killing her, the resolve to tell her strengthened to try and convince her to use her power for the benefit of all. Providing her what she always wanted in the end, knowing she wasn't nobody. Rey's choice to ignore that fact in the final moments of the movie is her defining factor. It proves the legacy of The Last Jedi to a fault, be your own hero. Rey didn't have to be someone like she always thought she had to be. She could choose to be whoever she wanted to be.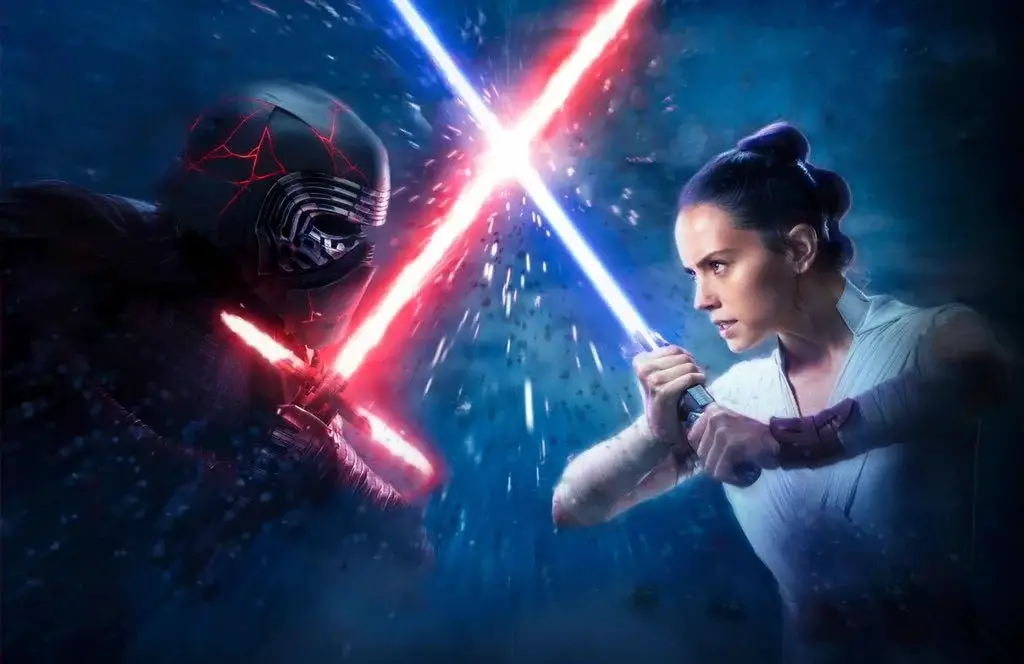 Rey's lineage is something that obviously could have been predicted. In a Saga, it's unlikely to just ignore coincidences. Yes, proving the Force belongs to everyone would have been cool, having her be no one. But that makes the idea of defining the nine episodes as one Saga null and void.
Rey's ending lightsaber color also supports The Last Jedi's intent of creating something new for Force users. The yellow lightsaber is indicative of the Jedi Sentinel, predicted by Dark Rey's double bladed lightsaber mimicking the one shown in Star Wars Rebels. The Jedi Sentinel represents the middle Jedi, one who was a formidable combatant, strong in the Force, but focused more on "real-world" skills. The Force is for everyone, and felt by all, indicative of the group with Jannah, and Finn. Leia sensing Han's death shows that everyone has some sort of presence in the Force, even minute.
The filmmakers execute Palpatine's return very well. But it feels teased looking back on The Force Awakens, and The Last Jedi. Number one, because Snoke felt like Palpatine himself. Specifically they are both strictly holograms in The Force Awakens and The Empire Strikes Back. In The Last Jedi Snoke's appearance feels eerily similar to Palpatine's in Return of the Jedi. He acts like Palpatine. The removal of his desire to appear Sith-like instantiates my thoughts for a cover-up. One can attribute his appearance to his remarks in Revenge of the Sith, with his tale of Darth Plageuis and comments on saving Padmé.

The plot points have been there all along. It can include the prequel trilogy, and even Allegiant General Pryde (Richard E. Grant). Pryde could have easily necessitated pulling Palpatine from his fall on the last Death Star before it exploded. It represents this best in Chuck Wendig's Aftermath trilogy, where there was a plot to rebuild the Empire. There could have easily been a secondary part with a cloning factory in hand, to initiate Palpatine's recovery. It also represents Palpatine's survival through Ben's fall and climb back to the top.
Speaking of Ben, his redemption is completed in the best way possible given the circumstances. I enjoyed getting to see what Ben, instead of Kylo, could do. I was not hoping for any kind of redemption, but because it happened, he should have absolutely lived. Him saving Rey at the end fulfills the definition of redemption, but the comparison between Anakin and Ben here frustrates me to no end. To differentiate between the two, as well as set a course for the future of Star Wars, Ben really should have survived. Especially considering Leia died for him to return. His death makes the redemption feel cheap. It would have validated all the sacrifices the Skywalker have had over the ~70 year period.

The rededication to Finn was immensely necessary. While I think his journey in The Last Jedi was mediocre, the one point he did need was the face-off with Phasma to become a leader. And he is a leader here. He's a general who's making decisions for the last hope of the free people of our galaxy far, far away. He's impressive. For a point of reference for those interested, it was confirmed he was trying to tell Rey he believed he was Force sensitive (he definitely is). Rose becoming a background character I was not a fan of. She represented the hope of everyone building back up, she was the spark that helped maintain the Resistance. She's a leader in the Resistance now yes, but her presence could have been felt more in The Rise of Skywalker.
The Rise of Skywalker ultimately feels like Star Wars. Insecure Star Wars, but we all are insecure at times. The space battles are epic beyond proportion, with the callbacks to previous films, as well as the animated shows for goodness sakes will leave you excited beyond belief. The only thing that would have made the callbacks more exciting would have been if we could have seen who was piloting the Ghost. I'm hedging my bets on Jacen. The cohesion between The Force Awakens, The Last Jedi, and The Rise of Skywalker definitely is a highlight of the worst parts of the sequel trilogy. The series works, but it definitely feels off in places.
The scenes on Exegol are quite frankly some of the best of Star Wars, feeling like second nature, with lightsaber action, starship battles, and really awesome force moves that got my theater roaring. Specifically when Ben pulls the lightsaber through… well I haven't quite figured that force power out yet. The force healing was awesome, and I appreciated the subtle explanation of how it worked, transferring some life force between the two beings.

Overall, I truly enjoyed The Rise of Skywalker. But it feels like a compromise in a sense. A better mapping out of plot lines would have helped immensely, making things flow more smoothly. Because in its current form, The Rise of Skywalker feels like it needed another hour to truly make the sequel trilogy flow. I don't fault Lucasfilm for choosing to go forward in time a year to allow for things to change up. It's a precedent that has been set, and The Last Jedi changed things up by taking place right after The Force Awakens. Ben Solo should have been handled better throughout the film, but that is the biggest negative I take away. I have a great love for Star Wars, and The Rise of Skywalker still brings a great conclusion the The Skywalker Saga.
The Rise of Skywalker is in theaters now. It stars Daisy Ridley, John Boyega, Oscar Isaac, Adam Driver, Carrie Fisher, Billie Lourd, Kelly Marie Tran, Naomi Ackie, Keri Russell, and Mark Hamill.
---
Trending Now