Celebrating Star Wars: 'Solo: A Star Wars Story' – A Small Scale Success
Posted On December 16, 2019
---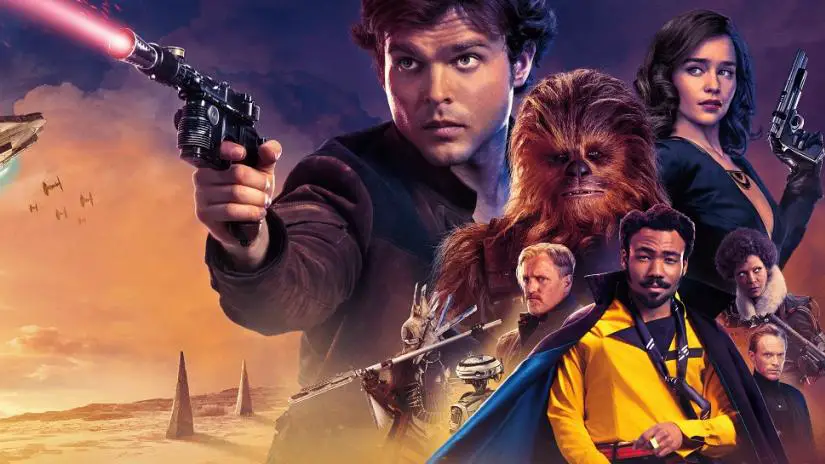 As we approach the end of the Skywalker saga with Episode IX: The Rise of Skywalker, we here at Full Circle agreed it was time to take a look back. Every day until The Rise of Skywalker's release, we'll be discussing every single theatrical project in the Star Wars franchise, in canonical order. For this latest entry in our retrospective, we will look at the movie that brought the "Star Wars Story" movies to a current end: Solo: A Star Wars Story.
When it comes to Solo: A Star Wars Story, it does not take long for someone to mention its production history. With original directors Phil Lord and Christopher Miller fired and Ron Howard taking their place, it has become infamous in its reputation. Because of this, a lot of people dismiss the film. However, I have always seen the film as something special. A film with heart, amazing performances, and so much more, Solo is a solid entry in the saga.
From its opening scene, it gives us a certain feel that is different from any other Star Wars movie. While the epic forces of good and evil are at play in other stories, this one is of smaller scale. The opening chase on Corellia is thrilling and introduces Han (Alden Ehrenreich) at a different period in life. It is with this opening scene that we are given a brief insight into Han's childhood.
One common complaint about Solo is that it takes place too close to A New Hope to provide any sort of new context to the character. However, I believe this opening scene proves the opposite. Just this small glimpse into what Han's childhood could have been like is more than enough. Seeing him live underground and use his wit to survive is charming on the surface. Looking deeper, though, and you see the struggle Han has had to endure.

The introduction of Qi'ra (Emilia Clarke) as Han's childhood friend and love interest is pivotal to the story as well. Her relationship with Han is what drives the story forward, and also makes him the character we know in the original trilogy. Their separation from each other also leads to the creation of the moniker Han Solo. However, the moment comes off as a bit forced and silly. At this point we see Han on the front lines for the empire, serving as a means to an end to reunite with Qi'ra. Again we are given the galactic civil war from a whole new perspective. The front lines of the war have never been seen like this, and it's thrilling.
Unable to conform, the Empire nearly kills Han after trying to join a swindling crew of bandits. It is here that Solo meets his life-long companion, Chewbacca. This fateful encounter is both humorous and tense. The fight between the two and eventual team up is what makes it so endearing.
It's interesting to see how the film covers nearly every milestone in Han's life. Solo is even given a mentor figure in Tobias Beckett (Woody Harrelson). Beckett is an interesting character solely because of Harrelson's performance. However, the characterization is inconsistent throughout the film and bogs the story down at times. Qi'ra is a character essential to the character of Solo, so her development is interesting enough.
The story of Solo shows Han's descent into a cynical smuggler with little to no trust. Part of this is because of his relationship with Qi'ra, whom he trusts and is in love with but who constantly betrayed him. It's a compelling and tragic story that I believe isn't given enough credit.

Donald Glover as Lando Calrissian is a welcome addition as well. His introduction and the buildup to the Millennium Falcon is the best part of Solo. Seeing the iconic ship in near brand new condition was a fun moment of the film.
The entire first half of Solo is all a build up to the Kessel Run, reinforcing the small scale stakes of the film. It's a much more smaller and personal story about Han Solo's fall from optimist to cynical smuggler. Moreover, watching Chewie and Han pilot the Falcon together for the first time was an amazing experience.
The film culminates in a third act last minute triple cross between characters that feels a bit too ridiculous. However, it does the job it needs to in moving the character of Solo forward. In a powerful moment, Solo shoots Beckett before even giving him a chance to react. Han always shoots first.
The film has an old school 1940's aesthetic in its shot compositions. The final shot of Qi'ra in the film speaks volumes to this. Watching her see Han from afar as the score blares gives the film an old Hollywood vibe. It is a beautiful film with a grimey but 'old school cool' aesthetic. The setup of Maul is a random inclusion and bogs the film down with setup for potential sequels.

The film ends with Han and Chewie winning the Falcon from Lando. It's a fan service moment that begins to show the Han Solo we know and love from the original trilogy. In all fairness, inconsistent characterizations bog down Solo as a film. However, it is also a solid entry in the Star Wars franchise with amazing performances and great cinematography. The score by John Powell is one of the best of the new era of Star Wars films. Moreover, it tells a meaningful story about Han Solo that is more than deserving of attention and love. – Ernesto Valenzuela
Grade – 8/10
Solo: A Star Wars Story stars Alden Ehrenreich, Emilia Clarke, Donald Glover, and Woody Harrelson. It is available now on DVD, Blu-ray, and Digital HD.
---
Trending Now