'Crisis On Infinite Earths' Part 1 Recap/Review
Posted On December 9, 2019
---
The CW's Arrowverse started on October 10, 2012, when Arrow first premiered. To this day, I assure you no one knew that it would lead to such an expansive universe, one that would one day be able to recreate the iconic DC Comics event Crisis on Infinite Earths. However, fans' dreams were realized as Part 1 of the epic crossover finally aired.
This is by far an over-used "meme" saying at this point, but Crisis on Infinite Earths is clearly the most ambitious television event in history. The crossover takes place over five nights spanning five different CW television shows. To tie the Arrowverse together after hints about the event being placed in various shows for years is truly an amazing accomplishment for this interconnected universe. So, let's not wait any longer and dive into Part 1 of Crisis on Infinite Earths.
SPOILERS BELOW FOR PART 1 OF CRISIS ON INFINITE EARTHS!
The crossover began tonight with the Supergirl portion of the event. Although I am not up to date on Supergirl, Crisis wastes little time dealing with issues from the previous shows and jumps right into the issue at hand. The cold opening provided by the Monitor was amazing, with LaMonica Garret's monotone portrayal of the character setting the tone perfectly. Every time the character is seen or heard on screen the attention is immediately drawn to him. During this opening monologue by the Monitor, DC fans will certainly be excited as he reveals other Earths currently being affected by the event. These alternate versions of Earth all have classic DC connections. Earth-89 is the Earth of Tim Burton's Batman as we see Alexander Knox, with what may be a Batman Beyond logo in the sky. Earth-66 is also featured revealing Burt Ward's Robin walking his dog. Additionally, we get to return to Earth-X as The Ray is seen flying, and unfortunately, we get Earth-9 which features the DC Universe show Titans.
READ: 'Arrow' S5, Ep6: "Reset" Recap/Review
Next up, we see heroes rounded up from their respective locations in the multiverse and brought together to make their stand to save the universe on Earth-38. This leads to several characters being introduced to one another, something The CW has become famous for. Unsurprisingly, most of them just feel useless and drag on the show, not really helping progress the narrative. Luckily, there are some good scenes such as Oliver and Mia's several moments together and Tyler Hoechlin's Superman and Supergirl's heart-to-heart. Hoechlin's Superman was a standout for me in last year's Elseworlds crossover and he already looks to be one again in Crisis on Infinite Earths.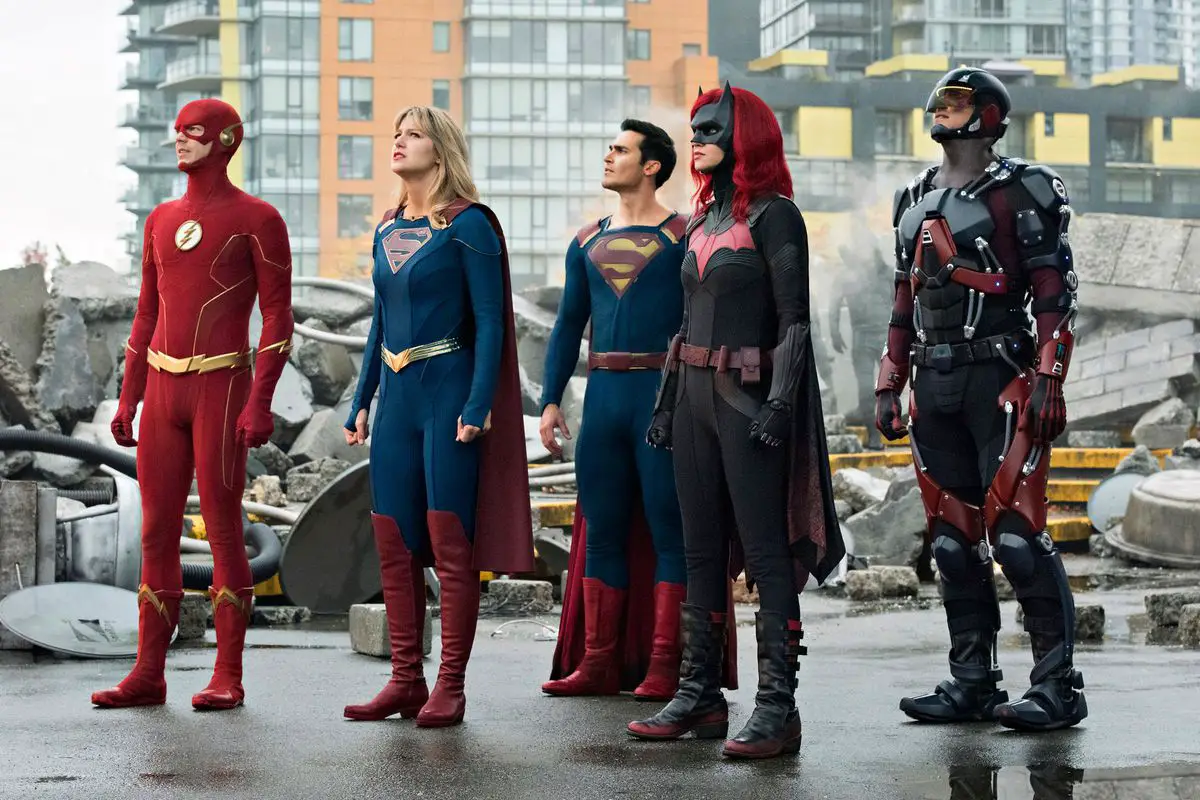 A major component of the crossovers has always been the action. This being Part 1 of Crisis, the outing wasn't heavy on the action. But when there is fighting, it's Ruby Rose's Batwoman stealing the show. From her introduction in the episode to the gang of heroes fighting off the Anti-Monitor's army, Batwoman is consistently providing the best action in Crisis on Infinite Earths. My one complaint would be that the episode was lite on combat compared to other opening outings of crossovers in the past. The fans want to see our heroes fighting alongside each other not just having conversations.
The performances in Part 1 of Crisis all stick the landing, except maybe that of Brainiac 5. His character has always made me uncomfortable, but given I'm not a fan of his show maybe his performance is good? That being said, there's one clear standout among the cast. Stephen Amell's Oliver Queen is BY FAR the best performance in the crossover. His acting steals every scene he is in, with Oliver being the best part of the episode in nearly every way. That's what made his death at the end so unexpected this episode and absolutely heartbreaking. The entirety of Oliver's death scene was perfect, with everyone in the scene acting their butts off. From The Monitor's narration of Oliver's heroic acts and hauntingly claiming this isn't how he foresaw his death to Grant Gustin's single tear, the moment worked on all fronts. Everything about the scene was perfect and beautiful and I truly believe Oliver's death could have been handled better.
Overall, I believe this was an amazing episode of television. If Part 1 is any indication of how the remaining four episodes of Crisis on Infinite Earths will be, I expect nothing short of praise from all those who watched it. If you aren't tuning it then you're missing out on some great content and an amazing moment in television history. I highly recommend watching this episode and continuing to watch the crossover as it continues. –Collin Stetzner
Crisis on Infinite Earths Part 2 airs tomorrow at 8 pm on the CW.
The crossover stars Stephen Amell as Oliver Queen/Green Arrow, Grant Gustin as Barry Allen/The Flash, Melissa Benoist as Kara/Supergirl,  Ruby Rose as Kate Kane/Batwoman, Tyler Hoechlin as Clark Kent/Superman and Brandon Routh as Ray Palmer/ The Atom.
---
Trending Now