'Playmobil: The Movie' Review: "For Anya Taylor-Joy Fans Only"
Posted On December 7, 2019
---
I never played with Playmobil toys as a kid. I am not sure if I knew anyone that ever did. They were always in the periphery of my memory, always lining the shelves without a child to lovingly take them home to adventures outside of their boxes. They never collected dust like my favorite toys. I saw them only for the boxes that kept them, kept free from being played with and forgotten of later when toys become only toys. It seems like most people share this same experience with Playmobil. And I predict Playmobil: The Movie might share the same reputation.
Unfortunately, this movie does suffer from the beginning. Playmobil: The Movie opens unexpectedly with tragedy. Marla (Anya Taylor-Joy) and her younger brother lose both of their parents in a car accident. It is a bold choice, and one that could have made this children's movie cathartic if it did not seem so calculated to progress the story. This plot beat is this movie's greatest weakness. We never see the parents, nor see their relationship with their children. It is strictly an ends to a means for Marla to lose her spirit of adventure. She can no longer afford to have fun, she has to take care of her brother. I do believe that children can handle mature subjects, but this is just cruel and callous. Only an adult could write a script that treats its characters like pawns.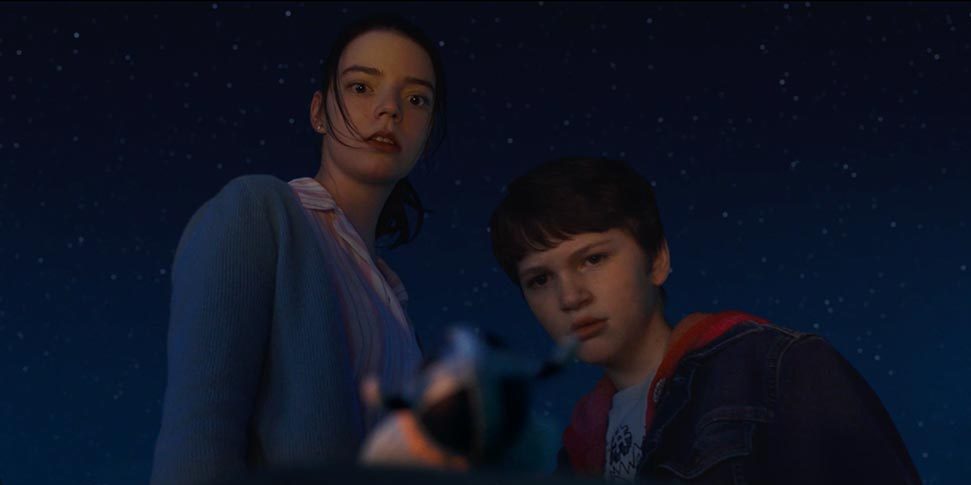 Despite my serious grievances, Playmobil: The Movie does not side-step the emotional toll of grief. Taylor-Joy carries this movie where the script fails to by asking us to empathize with her loss of purple extensions (a symbol of child-like innocence). Gone are the days when she can break out into song and fill her passport book, she has to support her family. And when I say support, I do not mean having fun. Rarely does this struggle leave any room for fun and toys. Marla is tired, not because she wants to be, but because she has to be to make ends meet. Only her brother can ignite this feeling of adventure in her again when he runs away to the Playmobil exhibit.
He succeeds, alright. Our characters get thrown into a cartoon world colored with the sense that anything could happen at any given time in these soft pastels. And the world itself is huge. If I were to name every place encountered in this movie, it would just come out to a long list. It is so liberating! There is so much freedom to be felt in knowing that you are not bound to any one thing, it is all right there for you to dance between the borders of entire worlds. And not even the pacing of this movie can keep up with this world-building. We zigzag our way through a whole cast of characters and environments so quickly that it all becomes a dazzling blur. I can appreciate this world's earnestness, the characters deserve it after what they had to go through.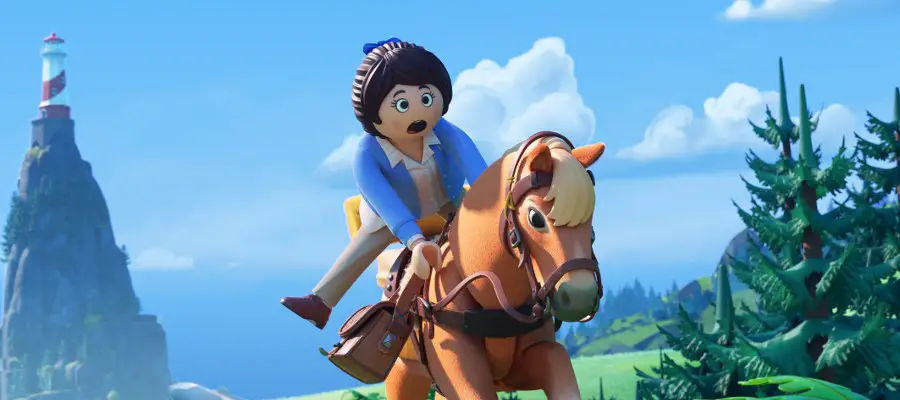 And so, the story follows Marla on her quest to save her brother from Emperor Maximum (Adam Lambert). This could have been so much more emotionally resonant. After all, her brother is the only family Marla has left. But not once does the movie ever frame it that way. It is a missed opportunity, that fails to make the death of their parents count towards something other than a plot catalyst. What is frustrating is that I know that there is a better movie here behind the corporate sheen of it all. All of the pieces are there for it to be moving. But the filmmakers played it safe, losing sense of not only their audiences, but their characters as well.
I was the only person in my theater's audience. If I did not show up, maybe it would have played to an empty theater. This is sad, much like my memory of the toys. I cannot see this movie changing anyone's mind about them. And I do not suspect Anya Taylor-Joy will change anyone's preconceptions either. – Daniel Hrncir
Rating: 5/10
Playmobil: The Movie is now in theaters.
The film stars Anya Taylor-Joy, Jim Gaffigan, Gabriel Bateman, Adam Lambert, Kenan Thompson, Meghan Trainor, and Daniel Radcliffe.
---
Trending Now