'Frozen II' Movie Review: "A Delightful Surprise"
Posted On November 29, 2019
---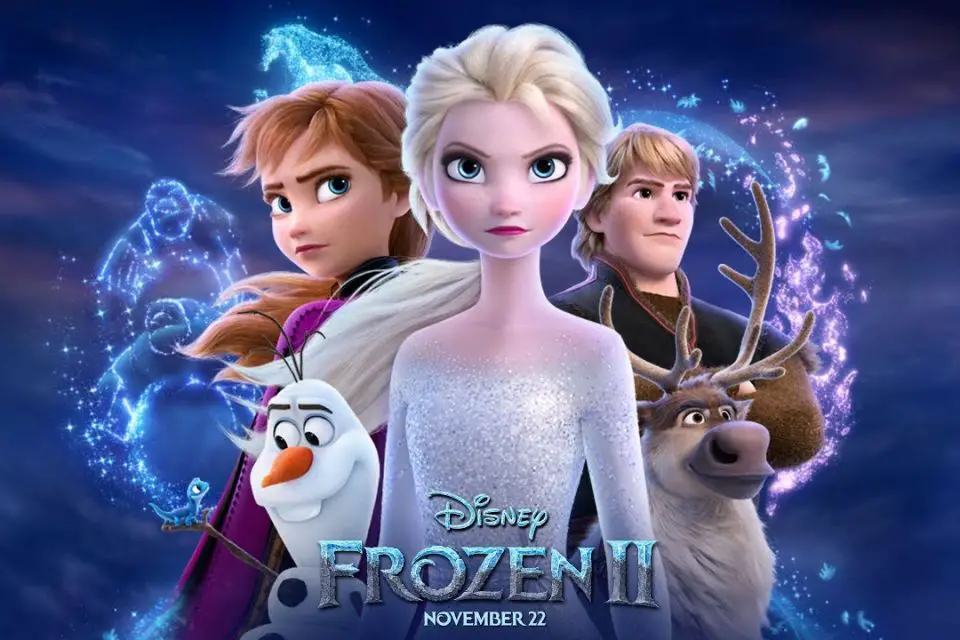 When Frozen came out in theaters in 2013, some people had a hard time "letting it go". Apparently, they had such a hard time doing so that Disney saw fit to make a sequel of it. So now we have their newest animated film, Frozen II, which was a delightful surprise. It brings yet another great story to a world that most people cannot get enough of.
Frozen II takes place after the events of the first film with Elsa still ruling Arendelle. After Frozen, many people online had theories about what happened to Anna and Elsa's parents since their ship had sunk. Those questions are answered here where Anna and Elsa must confront a mystery about their parents' past and how to save Arendelle from this threat. Together, they go on a journey to discover how an enchanted forest is the key to it all.

The biggest reason I loved Frozen was because of the most lovable snowman around Olaf! In the first film, Olaf was charming, funny and loveable. For this sequel, he even became more knowledgeable! After Frozen, I  thought I could not love the snowman anymore than I did but after Frozen II, I can say he's one hell of a snowman. He honestly had me cracking up every time he was on the screen.
What became a big part of Frozen were the hit songs like "Let it Go". In Frozen II, the music and score are not only as amazing as the first but the songs bring deeper meaning. There is a particular song called "Show Yourself" that Elsa sings that genuinely gave me goosebumps because I felt the emotions she was feeling. Each song had a genuine purpose and did not feel forced just because it is a musical. Olaf did get his chance to sing as well, but I wish I got a little more from that funny snowman.

Something about the theme of Frozen that I loved was the true love between the sisterly bond of Anna and Elsa. My worry going to see Frozen II was that they would lose sight of this theme because Anna was now with Kristoff. So it was exciting to see the writers expand more on this theme. And as common as this saying is, I love that the film shows how independent Anna and Elsa are. They did not need a man to save them and Anna did not lose sight of that even being with Kristoff.
It is a great message to show young audiences around the world watching this movie because the true theme to this film is love and finding yourself. Much to its benefit, both Anna and Elsa embody those two aspects. Therefore, seeing this story unfold was great because they both discovered their own independence.

But what made this movie even better than it could be was how visually pleasing it looked. From the scenes to the characters to even the animals in this movie, it all had a theme. Simply put, Elsa's new look is jaw-dropping. It truly brought out the Elsa she was always meant to be: freeing and confident. Coming from shielding her powers in Frozen to embracing every aspect of herself in Frozen II was a full circle character arc for her and it worked really well.
Overall, Frozen II was what I expected for a sequel. It was solid but was not better than the first movie. From a story perspective, this is certainly a predictable movie. However, it is unique in a fair amount of ways. Incorporating Anna and Elsa's parents in this sequel was not a surprise since their story was incomplete. But I did not expect the writers to execute this element so beautifully. Seeing how Anna and Elsa are the women that they are now all came together wonderfully. While it is not one of Disney's best, this aspect truly enriches the film to be one for the books.
Rating: 7.5/10 
Frozen II is playing in theaters now!
The film stars Idina Menzel, Kristen Bell, Jonathan Groff, Josh Gad, Sterling K. Brown, and Evan Rachel Wood.
---
Trending Now