'The Mandalorian' Episode One Review: The Start Of Something Special
Posted On November 13, 2019
---
It's hard to believe that in the 40-year existence of Star Wars, there's never once been a live-action television series set in a galaxy far, far away. One would think that with the many films, cartoons, games and toys Star Wars has spawned, something like The Mandalorian would have come along ages ago. Being the first of its kind, expectations for the series are understandably high. The idea of a live-action Star Wars television show is something that I'm certain has been bouncing around in the minds of fans for a very long time. Jon Favreau and his creative team have been promising us something special, and I'm happy to say that The Mandalorian was absolutely worth the wait.
Set five years after Return of the Jedi, the series thrusts us into the criminal underworld of the Star Wars universe. We're introduced to a time period mostly unexplored in the new canon set up by Lucasfilm. The Empire has fallen, and there's good money to be made by bringing in the villainous wretches hiding in the dark corners of the galaxy. Enter the Mandalorian (Pedro Pascal), a tough as nails bounty hunter in search of his prey, willing to cut down anyone and anything standing in his way.
The pilot episode immediately hooked me with its setting. Every new planet was evocative of the dirty, lived-in feeling one might expect from the original trilogy. Droids and species of all kinds roam the filthy streets, while the more devious and sinister inhabitants lurk inside the shady cantinas. To no surprise, the production value is incredible. The effects, makeup, and costumes look just as good as anything you might see in any Star Wars film. I found myself searching every corner of my TV screen for any secrets or easter eggs as the title character strolled through the crowded marketplaces of a downtrodden world. For an avid Star Wars fan like me, it's the icing on an already delicious cake.
Director Dave Filoni once again proves to us just how much he loves this universe and its characters. Having developed both The Clone Wars and Rebels, the man is a Star Wars guru whose passion for the franchise has always shown through in his work. Shots are beautifully composed in and around the strange new landscapes. The action is tight and hard-hitting, exactly the right kind for a show centered around an intergalactic bounty hunter. Though it's only chapter one, it's evident that Filoni and Favreau have both poured every bit of love they have into this show, and I can't imagine a better creative team for the Western-inspired series.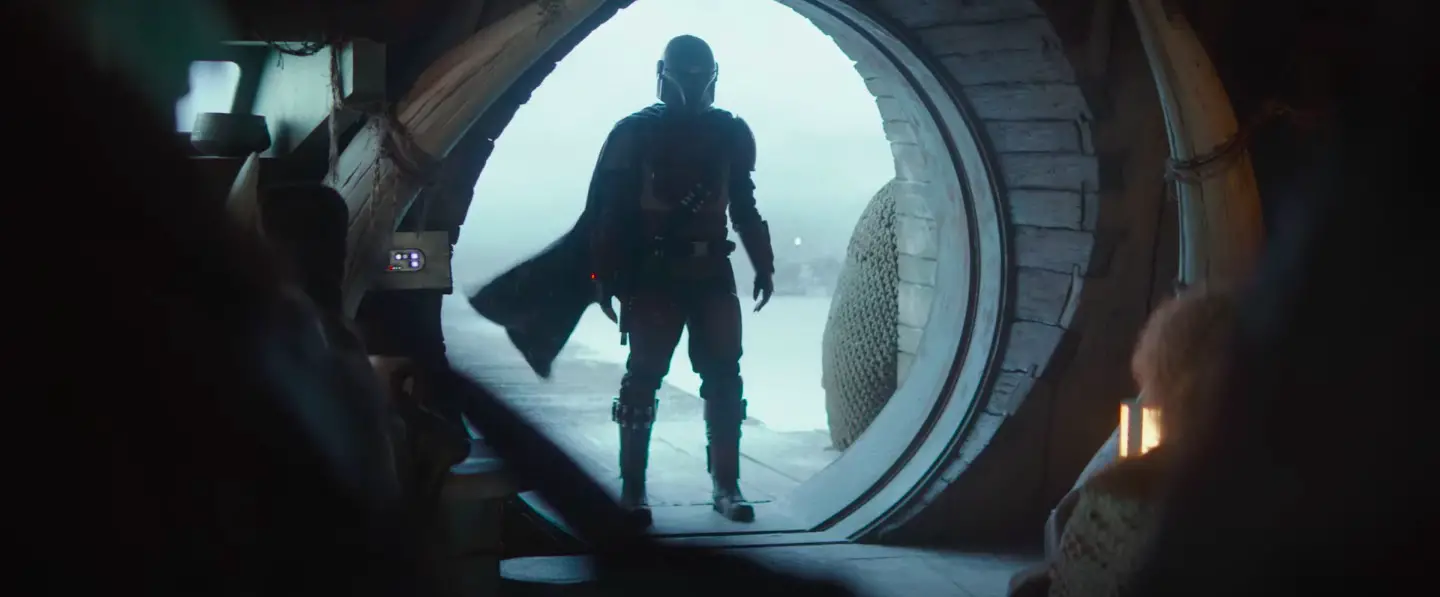 Though his face is hidden, Pedro Pascal still manages to provide a strong enough performance to give us a sense of what his character is feeling. His mysterious Mandalorian carries a Clint Eastwood-like swagger and a subtle sense of humor that I found extremely likable. There's a troubled past symbolically hidden under his sleek armor that I'm curious about, and I'm excited to see this character evolve as the season progresses. Taika Waititi's IG droid is every bit as funny as you might expect, and he makes for a wonderful companion for the show's more serious feel.
With that said, there are a few moments here and there that clash with Mandalorian's overall tone. One, in particular, occurs towards the beginning of the episode right after a brutal showdown. There are also one or two campy sequences towards the midpoint. Yet, The Mandalorian never loses that sense of good old fashioned Star Wars adventure that we've come to know and love. The final few minutes are an absolute joy to watch unfold, and I highly recommended staying away from spoilers so that you can experience it for yourself.
Though tonally uneven, The Mandalorian's first episode is undoubtedly the start of something special. The characters, setting, and exceptional effects are all the makings for one of this year's best new shows. If the following episodes are as good as this one, the series could end up being the Star Wars western we've always wanted. –Danny O'Brien
Rating: 8.5/10
Excited for The Mandalorian? What do you hope to see in the second episode of the Disney+ series? Let us know in the comments below!
New episodes of The Mandalorian release on Disney+ weekly.
The series stars Pedro Pascal, Gina Carano, Nick Nolte, Giancarlo Esposito,  Carl Weathers, Bill Burr, Taika Waititi, Ming Na-Wen and Werner Herzog.
---
Trending Now