Full Circle Flashback: 'Ghost World' Review
Posted On November 10, 2019
---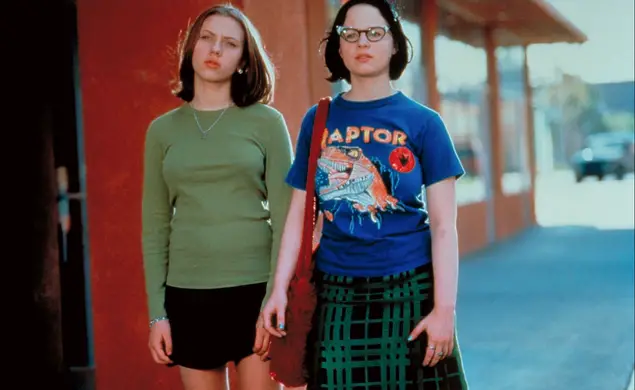 Some movies are like windows, others are like mirrors. I would like to think that Ghost World fits into the latter for its delicate reflection of life after graduation. It can be a confusing, listless time. The idea that everything familiar to you has been irrevocably changed, that your friends might only be your friends in the memories you have left of them, that what you took for granted is no longer there; it is not easy. And these feelings do not ever go away. They quietly accompany your every move as they pass between wall and plaster to consider you, just as a ghost considers an old friend.
I would like to make a confession before I begin this review: I am Enid. Never have I ever connected with a main character as closely before. She embodies, for better or for worse, my anarchic streak. Business Administration with a minor in communications? Boring… Pseudo-Bohemian academics? Boring with a dash of annoyance sprinkled on top. She lives in the fashion of her irony, which separates her from all the phonies and sell-outs with their three-in-one shampoos. The only sympathy she can (rightfully so) muster is for all of the genuine weirdos and authentic dorks.

Take, for example, Enid's friend Dennis. Director and co-writer Terry Zwigoff asks us to empathize with him at a graduation party, even though we never see this character again or know much about him. By the time the movie is finished, you might have already forgotten about him. But I have not forgotten. Wistful moments like these cling to you and never let go. Dennis does not have any friends, and it is not going to get any easier for him in the "real world". But for now, Zwigoff asks us to consider these last few moments with him on screen and remember twelve years of unspoken, unseen memories. I knew a few acquaintances like Dennis in high school. I have not seen them since the day of graduation, nor do I know whatever happened. Four years is enough time for all sorts of things to happen to somebody…
Behind the cold exterior of this movie, there is a kindness here that feels honest and true. Enid and her other friend Rebecca later stumble on another weirdo named Seymour in a personal ad. It is because of Seymour that Enid and Rebecca drift apart. Rebecca has to start considering her future, while Enid would much rather spend her lackadaisical afternoons in 50's themed diners and adult video stores. And for Enid, Seymour is her escape from responsibility and the complacency of being an adult in a ghost town. Lucky for her, Seymour turns out to be more of a kindred spirit, a soul mate without the slobber of romance, than a means of passing time.

Steve Buscemi is Seymour. There is not a single person in the entire world that fits the very look of awkward better than him. And I write all of this with absolute sincerity because aren't we all a little bit like Seymour? Haven't we all 'masterfully' stumbled our way through a conversation before? Maybe some of us cannot dance. It might be too much credit to call whatever we do on the dance floor 'dancing', call it 'flailing'. Buscemi embodies this clumsiness. You cannot help but feel pity for the guy and the need to stifle a laugh for that exact same reason. But we never quite feel contempt for him and his inability to relate to the rest of humanity either. We care for Seymour through Enid's eyes. She roots for the loners, and it is through Seymour that we come closest to empathizing with Enid.
All of the characters in Ghost World are brilliantly realized. None of them stands for any one idea or concept alone. Instead, behind their zaniness and quirks, there is a sense of something so truthful that I find joy and pain as I see fragments of myself in them. Pain, because I see my faults. Joy, because others have experienced them too. Zwigoff understands the restlessness of what it means to grow up. He understands what it is like to confront our identities with a question mark rather than a period, how we can condemn the entire world for being beneath us when in all actuality it may have been above us the whole time. How else can we distinguish ourselves from a world filled with ghosts if we cannot act contrarian? I empathize with Enid, even though I do not always agree with her decisions.

The only issue I have with Ghost World is that it lacks the same subtlety with regards to race and a particular plot device. This is one of the few instances where Zwigoff pulls us away from our sympathetic alliance with Enid, and asks us to make our own conclusions. Now, I do think that all great movies have mysteries about them. We should always engage with art. But this plot device has such harmful implications that it should not have been treated so haphazardly with its neatly bow-tied resolution. Unfortunately for Zwigoff, not every subject can be swept aside so easily.
Punk rock is supposedly dead in Ghost World. All of the rockers are ditching their patchy denim jackets for business corporation starch. It is sad, really. It is sad to see how people grow up, sometimes. There is this general sense of malaise when I think about settling down and living life complacently. I know Enid thinks about this too, which is why I find so much comfort here. My life will inevitably change with each passing year. These changes will inevitably color my life in palettes unknown to me. And who knows who I might depend on ten years from now. But I can depend on this movie, always. – Daniel Hrncir
Rating: 9/10
Ghost World is available on Blu-ray and Digital HD.
The film stars Thora Birch, Scarlett Johansson, Steve Buscemi, Brad Renfro, and Illeana Douglas.
---
Trending Now