'Doctor Sleep' Review: "A Perfect Mesh Of King and Kubrick"
Posted On October 31, 2019
---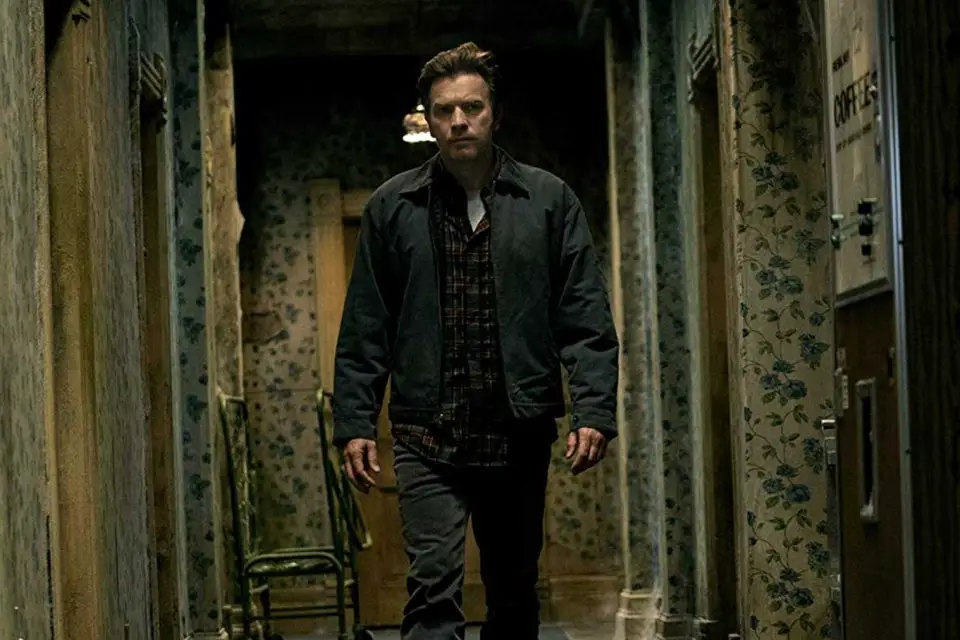 Stephen King's disapproval of The Shining isn't news to any film fan. His hatred of the adaptation of his novel is palpable in the TV-Mini Series he did to try and one up Kubrick. That probably would have worked, if it had been any other director that wasn't Stanley Kubrick. The Shining is a phenomenal film that stand in its own right, away from its adaptation but still a part of The Shining in all of its forms. Now, with the sequel Doctor Sleep, a sequel to the film, based on the King Novel of the same name that is also a sequel to The Shining, director Mike Flanagan had a lot to accomplish. Would he be able to appease Stephen King with the adaptation of his novel? Would he live up to the now iconic film that Kubrick created? The answer to that is yes.
Doctor Sleep takes place around 40 something years after The Shining. We're re-introduced to Dan Torrance (Ewan McGregor) who has now become a drifter. He moves from place to place, with no clear direction. He is obviously trying to get away from his inner demons. It isn't until after a series of events that we are introduced to Abra (Kyliegh Curran), a young girl who shines as well. When a group known as The True Knot, led by Rose (Rebecca Ferguson) comes after her to feast on her shine, Dan must attempt to face his inner demons and use his own powers to do the right thing. This is all I can say, because the plot of Doctor Sleep is something someone needs to experience for themselves.

In truth, Doctor Sleep is a film that is a perfect mesh of King and Kubrick. The film has an epic feel to it, in no small part thanks to its runtime. The deep lore and characters all feel straight out of a Stephen King Novel. It doesn't feel as bleak as The Shining. Visually and aesthetically though, it feels like a true ode to Kubrick himself. It never comes off as distasteful or forced. Rather, it's a continuation and building upon the world that Kubrick had created in the Overlook Hotel with The Shining. We see what the life of Dan Torrance would look like after what happened to him in that film. Speaking of Dan, McGregor's performance is all around solid.
READ: The Fanatic' Review: When Good Fans Go Bad
McGregor as Dan comes across through a nuanced and subtle performance. He plays the psychologically damaged person great. When push comes to shove, McGregor also knows how to channel the energy to really seem like he is the son of Nicholson's Jack Torrance. Rebecca Ferguson as Rose is a standout performance as well. If anything, she is the Nicholson of this film. She comes across as both crazed and in control. It's unsettling, watching her work as the leader of her group. She is a truly great antagonist and the film wouldn't be what it is without her. Curran as Abra is a welcome addition that brings her A-game and is able to stand her own with her more experienced co-stars. Cliff Curtis also plays a great supporting role and is a part of the film's more emotional moments as well.

DP Michael Fimognari does an excellent job of building a chilling environment for Doctor Sleep as well. With slow pans and a static setup, everything feels a whole lot creepier. There are really interesting camera movements sprinkled throughout, and makes the power of 'the shine' feel that much more real. With the camera work, you can nearly feel how it is to have the shine yourself. The use of toned down colors in certain locations and re-invigorated light in others help you keep an eye out for some clever callbacks. Imagery which involves homages to The Shining is prevalent throughout. Moreover, it is done as tastefully as possible. There are extremely clever ways in which Doctor Sleep mirrors The Shining and makes the legacy and rewatch of it so enjoyable.
The tension and stakes always feel real throughout as well. The score by the Newton Brothers helps with that, being at the same time nostalgic and something new and creepy. Overall, Doctor Sleep makes the world it inhabits feel real and like something that could happen. The lore it expands upon is faithful both to Kubrick and King. Fans of either of the two creatives are sure to be pleased with Doctor Sleep. A complaint I would have is that there are some story beats that at times drag the narrative down a bit, but otherwise Doctor Sleep's heavy runtime is justified. With that being said, the story of Dan Torrance comes to a conclusion in the most beautiful way.
Overall, Director Mike Flanagan managed to do what seemed impossible. Honoring the legacy of what came before, and creating something wholly new and in the world of Stephen King. With Doctor Sleep, Flanagan finds the middle ground and creates a truly epic Stephen King adaptation. One whose world is filled with great performances, a compelling narrative, and impressive lore that makes it all feel real. The world will shine again indeed. – Ernesto Valenzuela
Grade – 9/10
Releasing in theaters November 8th, Doctor Sleep stars Ewan McGregor, Rebecca Ferguson, and Kyliegh Curran.
—
Do you want to win a digital code for Stanley Kubrick's The Shining? Leave a comment below telling us why you're excited for Doctor Sleep to enter!
---
Trending Now