13 Slashers Through the Ages: 'Hostel' Review
Posted On October 29, 2019
---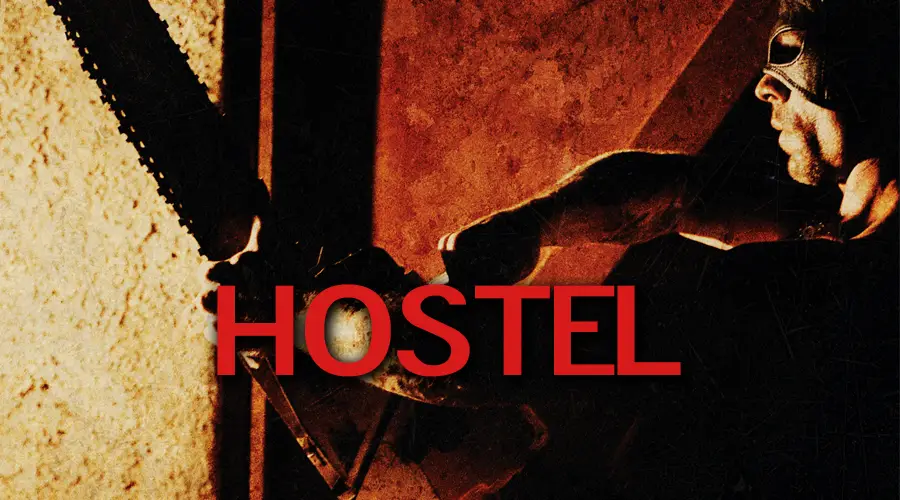 Between October 19th and Halloween, we at Full Circle Cinema will be celebrating 13 days of slashers. Tonight's program is a bit of a bloody return to form. You won't find very many goofy slashers in the early-to-mid 2000s. The humor and over-the-top sensibility were replaced with grit and realistic violence that could make just about any hardened horror veteran cringe. I'm still afraid to get into this period of horror. Let's take a breath and step into controversy with 2005's Hostel.
When writer-director Eli Roth's Hostel hit theaters in 2005, it cut straight to the bone of audiences. Making over $80 million on a budget of less than $5 million, the film's success heralded a new era of slasher film. Specifically, an era full of nihilism and extreme violence. Some critics gave this new form of slasher the unfortunate moniker "torture porn". These were films that, in their eyes, were nothing more than gory violence for the sake of itself. But I don't think this is fair. To be sure, Hostel brings the blood. But it also brings a surprising amount of commentary on the unchecked violent impulses many carry within them.
Hostel is not an easy watch. For one, its leads are three almost comically unlikable backpackers (Jay Hernandez, Derek Richardson, Eythor Gudjonsson) making their way through Europe for little reason other than to do drugs and have sex with whatever women they can. These three men are total pests, through and through. Following them through the film's opening stretch actually feels more like a sex comedy than a horror film.

We roll our eyes as they make their way to Slovakia and are seduced by the beautiful Natalya (Barbara Nedeljáková) and Svetlana (Jana Kaderabkova). Little do they know, however, they are being set-up and are soon drugged and taken to a seedy facility. It is here that the rich pay to murder captured tourists in any way they see fit. Here's where Hostel truly becomes something special.
Hostel gives gore hounds plenty to feast on. The practical effects work on display here is simply exquisite. Under Milan Chadima's sharp camerawork, the tearing of Achilles' tendons, chainsawing of fingers, and tearing of eyeballs all come to visceral, disgusting life. These scenes certainly make the audiences squirm. However, they never go too far because the focus is nearly always on the victims' reactions to them. Eli Roth masters sensory horror in a way none of his later work ever could, and part of that is because his unique take on slashers is terrifying in and of itself.
The villain perpetrating these acts is not some sort of supernatural killer or even a colorful lunatic. Instead, it is simply businessmen looking to take off steam by taking a human life in the most gruesome way possible. The sheer disregard for life the patrons of the facility have is chilling. This is just a hobby for them, with one character (famed cult director Takashi Miike) saying something to the effect of "Be careful, you'll spend all your money in there". They treat dismembering a person like playing a round of golf, while our protagonists try (mostly in vain) to fight for their lives.

They're being treated like objects, not dissimilar to how they treated the Slovakian women as objects for their sexual escapades. It's an interesting form of cinematic karma that, while not a 1:1 correlation, draws a distinct line between the initial attitudes of the American tourists and their captors. It's as if this is where their disregard for the people around them could lead.
I'd be remiss if I didn't mention the controversy the film has attracted with citizens of Slovakia. Most crucially, they have criticized the film's depiction of the country as a hub of moral depravity. However, Roth has stated his intention with this film was not to provide an accurate portrait of a country. Rather, his intention was to show Americans unaware of their surroundings coming up against a horror they can barely fathom. By that trade, Hostel succeeds in what sets out to do.
When I think of Hostel, I don't think of the gore and exploitation that would mark later "torture porn" films. I think of the scene where Paxton (Jay Hernandez), disguised as a guest of the facility, comes across a fellow guest, an American tourist (Rick Hoffman) who nonchalantly questions him as to how he should kill his victim. Nonchalant isn't the right word. He's excited, ecstatic to find his own depraved way to murder somebody. The barely suppressed look on Paxton's face – horror, confusion, and disgust – is one that will always stay with me.

Hostel, for all its guts and seedy characterization in its opening, is a slasher I can't get out of my head. While the style of slasher it allegedly forged finds itself much-maligned, this film is a grand thesis in favor of using graphic violence to make a wider point.
Rating: 8/10
Hostel is now available on home video and Digital HD.
The film stars Jay Hernandez, Derek Richardson, Eyþór Guðjónsson, Jennifer Lim, Barbara Nedeljáková, and Jana Kaderabkova.
---
Trending Now