'Chained for Life' Review: "A Great Story About Truths"
Posted On October 28, 2019
---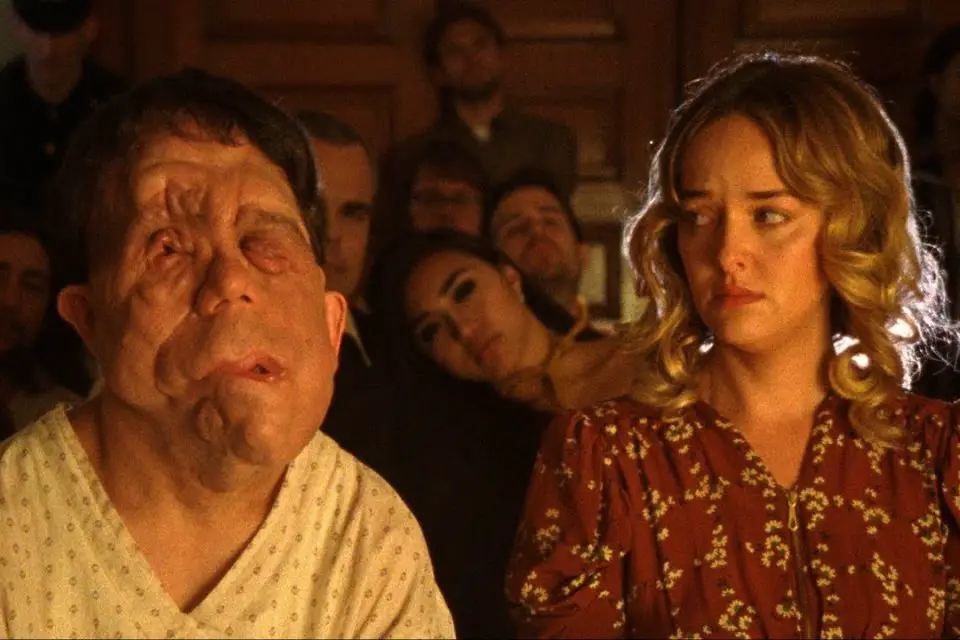 "Actors and actresses who are beautiful start with an enormous advantage because we love to look at them."
This opening quote from Pauline Kael on the beauties of actors and actresses is more than enough to set the tone for the film to come. However, it's a somewhat ironic quote in the context of a movie like Chained for Life. Here, it's something of a preemptive meta commentary for the very meta film to follow.
Chained for Life, the directorial effort from Aaron Schimberg, focuses on a star of a European auteur's English film debut. Mainly, it is about her interactions with her disfigured costar. The film is a multilayered meta narrative that cleverly delivers a heartbreaking message on exploitation in the film industry. It's an anthem for any and all sort of minorities in the movie making business. It works on nearly every level as well.
Mabel (Jess Weixler) is the lead of the film, acting opposite her disfigured co-star Rosenthal (Adam Pearson). Pearson himself is an activist involved in campaigns to prevent bullying of those with deformities. His presence and performance in this makes the movie even more authentic. The meta narrative of Chained for Life being about the process of making an exploitative film is interesting as well. There are scenes that you think are real, only to discover that it was actually just a scene from something the crew is filming. This sort of unreliable narrative form of storytelling is prevalent through the film.

Continuing on that point, the script plays well into that environment. Whether it involves set conversations, individual scenes, or interviews of the cast members, Chained for Life makes sure to have something to say. The interrogation of the types of exploitative films people make and the definition of 'beauty' in film is intriguing. The way the film breaks reality every now and then is playful, and makes the scenes they're filming Ironic. Mabel is playing a blind person, someone with a disability. Rosenthal, who actually has a disability, makes their interactions interesting enough.
READ – '13 Slashers Through the Ages: 'Scream' (1996) Review'
Pearson as Rosenthal is the highlight of the film. His dry line delivery really helps build up to his stronger line delivery in later points in the film. The way his character deals with the ignorance of his co-stars and fellow actors in the film make for humorous moments. You see how those of minorities or disabilities are use to cliche and ignorant statements. So while humorous, it is also a bit sad and telling of the underhanded exploitation of it all.

On the technical side of things, Adam J. Minnick as cinematographer does amazing work in the film. From the opening long take and the repetition of it in reverse a scene later, it works fantastically. Minnick uses his camera cleverly to hide certain details and make reveals even more surprising. The old school Hollywood feel makes Chained for Life all the more intimate. Also, the camera remains steady and precise throughout the film. You see exactly what the camera wants to show you, with slow pans to add another layer to each scene. By the time any given shot stops panning, it leaves you with a great twist leaving you satisfied with what you just watched.
The only problem that I would have with Chained for Life is its necessity to sometimes be too ambiguous. There are several points in the film, including the ending, that could leave general audiences confused. I myself was left a bit confused at the sudden ending of the film. In particular, the last scene towards the end had some semblance of a bigger meaning, but didn't make too much sense to me. The main narrative of the film also makes a couple of jarring jumps in its story that, while compelling as hell, still can throw a viewer off.
Overall, Chained for Life is an amazing and original film. Director Aaron Schimberg managed to make the film with thoughtful commentary and make an interesting drama. The film is comedic when it needs to be, and the structure of the film, despite its sometimes inconsistent story beats, is rock solid. It's a great story about truths on exploitation and beauty. Truths both seen and unseen that, in Chained for Life specifically, are eventually revealed in satisfying ways. – Ernesto Valenzuela
Grade – 8.5/10
Chained for Life stars Jess Weixler and Adam Pearson, and released in theaters September 11th, 2019.
---
Trending Now