13 Slashers Through the Ages: 'The Texas Chainsaw Massacre 2' Review
Posted On October 26, 2019
---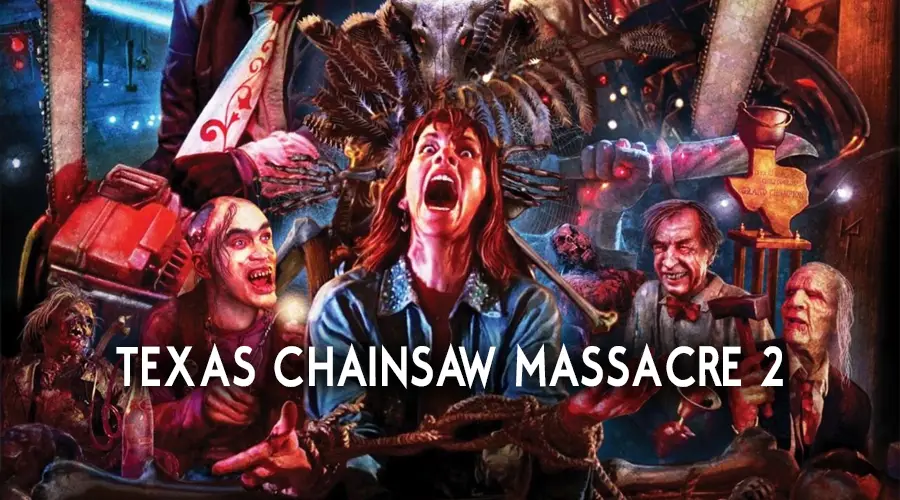 Between October 19th and Halloween, we at Full Circle Cinema will be celebrating 13 days of slashers. Tonight's program is The Texas Chainsaw Massacre 2. Although my first review for Full Circle Cinema was for The Violence Movie, I strongly considered making this my first one. The Texas Chainsaw Massacre is my favorite horror franchise and the sequel is not only my favorite in the franchise, but my favorite horror movie of all time! When fellow critic James Preston Poole asked if I would take on this review, I couldn't say "yes" fast enough.
Before 2013's Texas Chainsaw 3D became the official sequel to 1974's The Texas Chainsaw Massacre, there was 1986's The Texas Chainsaw Massacre 2. It was Tobe Hooper's attempt to add to the dark humor of the original film. For god sakes, the theatrical poster is a parody of the Breakfast Club! Tobe Hooper had an idea and really ran with it! I cannot begin to tell you how much I respect that.

Like the original, The Texas Chainsaw Massacre 2 starts off with an opening crawl. I adore these monotone Texas Chainsaw openers. I have them memorized. The way the narrator reads the opening and tone is just so creepy. In a way, it's what makes that so memorable.  The second one isn't as good as the first, but it picks up right where the original left off. Despite the sequel taking place 13 years later, it feels like a proper continuation. The sequels to come were a bit too loose with continuity, but not this one.
The movie opens with these two yuppie frat types, Rick (Chris Douridas) and Buzz (Barry Kinyon), speeding down a Texas highway, shooting guns, and being the worst people possible. That really says something considering which franchise we're talking about. Lucky for us, this is a horror movie and therefore, we know they'll be the first to get the axe… or the saw.
The two call up a radio station request line hosted by Stretch (Caroline Williams) and decide that they're just going to bother her for a while and play chicken with some random truck. Do you see what I mean by "worst people possible"? After a day of being just awful, they call Stretch to bother her again!
By this point, we're not even 15 minutes in and things are about to get good. While the two motorists are getting their kicks by harassing a woman just trying to do her job, they run into the truck from earlier. From the truck bed arises a corpse. At first, I didn't know what to think of it. Why would a zombie be in a Texas Chainsaw movie? It didn't make any sense. Then the corpse falls over and Leatherface is behind it using it like some sort of costume! Again, we're not even 20 minutes in and this film has already upped the ante from the first!

A quick bit of trivia: the corpse is actually the corpse of the hitchhiker/brother from the beginning of the original film (Edwin Neal). We also find out that he had a name the whole time. Although the film credits him as "The Hitchhiker," his official name is Nubbins Sawyer.
Leatherface, played in this scene by Tom Morga, rips the motorist's car open and saws through Buzz's head live on the air. It also just occurred to me that Tobe Hooper may have made the best pun in the entire franchise with that character name. The effect is gruesome! The original Texas Chainsaw never showed any actual gore and left the details to the viewer's imagination, but they went all out here.
This is what's expected when you hire makeup and effects legend Tom Savini. The kill here was done by creating a prosthetic head and putting a balloon under it. When the balloon inflated, the scalp would come sliding off slowly. It remains one of my top 5 cinematic kills of all time.

The local police get involved and rule it out as an accident until Lieutenant "Lefty" Enright (Dennis Hopper), the uncle of Sally and Franklin from the original, comes in to investigate. The police tell him he's out of his jurisdiction, but he refuses to leave or rule it out as an accident. His presence alone just tells you that he's a badass. He's a man on a mission and God help anyone who gets in his way.
Lefty finds a way to contact Stretch and tells her to meet him in his hotel room. He tells her she needs to play the audio of the murder on rotation. He believes that this is the only proper way to find out who killed his nephew, Franklin. He's a firm believer of "If you play it, they will come."
Stretch, against her better judgment, plays the audio over and over. Here, we cut to Drayton Sawyer (Jim Siedow), who, although is his father in Texas Chainsaw 3D, is actually his oldest brother in the original canon.  We see him winning a chili cook-off. If the franchise has taught us anything, it's that the meat is definitely mad out of people and I'm here for it.

He gets a call from someone. We never actually hear the call, but we assume it's about the radio playing the murder tape. He sends someone to deal with it. I always really liked how Hooper keeps this ambiguous enough for us to not know what's going to happen or who called him. We know Nubbins is dead. Leatherface can't speak. Grandpa Sawyer isn't gonna do anything. It leaves you wanting to know more.
Meanwhile, in the Life of Lefty, we see him shopping for Chainsaws. A Texas Sheriff, who has firearm training, wants to take these guys out with chainsaws? Uhh yes! If you think I'm going to sit here and watch a grown man of the law buy chainsaws and pretend they're swords, you're absolutely right. It's like that opening scene in Batman and Robin where Bruce Wayne and Dick Grayson are suiting up to fight crime. He's suiting up to fight the Sawyers, hell yeah!
Back at the radio station, after closing up, we meet the last Sawyer Brother. This is the introduction of my single favorite horror movie antagonist of all time. We meet Chop-Top Sawyer (Bill Moseley), twin brother of Nubbins Sawyer. He's the fast-talking, comedic one of the family. He's unnerving, creepy, and completely unforgettable. While everyone was working on their best Heath Ledger Joker impersonation, I've been working on my best Chop-Top.

Another bit of trivia: Bill Moseley was cast as Chop-Top because of his fan film, Texas Chainsaw Manicure, where he played Nubbins Sawyer. Tobe Hooper loved it so much, he immediately made the character just to have him in it. When asked if he'd shave his head to make the makeup process quicker, he did it with no questions asked. Moseley has gone down as saying "I would have shaved my butt and walked backward for that role. I would have done anything to be in that movie."
Coming back to the film, Chop-Top introduces himself to Stretch as a "far out fan" and tells her that he and his brother listen to her show every day. Stretch, obviously uncomfortable, tries to get him out of the station. He keeps insisting that he should get a tour. She eventually does and does her best to get this weirdo to leave. Once they get to the record room, Leatherface, now played by Bill Johnson, jumps out and slashes Chop-Top, revealing the metal plate in his head.
This scene is approximately seven minutes long and just builds up tension. You don't know what's gonna happen, what he's gonna do, or how. You just know he's creepy. It's slow-paced and you feel every second of it. It's something every aspiring horror filmmaker should take notes on.
I usually hate jump scares due to how cheap and unnecessary they feel, but Hooper executes them the right way. It works on dread, timing, and it seems like the Sawyer brothers got together and planned the jump scare for the character and not the audience. As many times as I've seen this movie, I still get caught off guard. It's just done so perfectly.
The only thing I like as much as this jump is the interaction that follows. Chop-Top turns to Leatherface and says "You dented my plate. Dammit, Leatherface, you ruined my plate cover. You're gonna have to buy me a new Sonny Bono wig!" I love this! We're seeing two brothers actually having the "You broke my thing, now you have to buy me a new one." argument. It's also funny to picture Leatherface having an actual income or allowance, much less walking into a store to buy a wig for his older brother. "Uhh, excuse me, ma'am. Where are your wigs?"

Leatherface chases Stretch through the radio station before trapping her in some sort of pantry, and for some reason, he gets some weird sexual urge. This is nothing short of disturbing. He rubs his chainsaw on her… area… and runs away to do some sort of mating dance. He decides to let her live. This sounds all fine and dandy until L.G (Lou Perryman), Lefty's co-worker and boss, gets captured by Chop-Top and taken to the Sawyer home.
Lefty follows Chop-Top and Leatherface to their lair, which is a series of tunnels underneath an abandoned amusement park. Up to this point, she's been getting by on luck and nothing more. You start to notice this when everything starts going wrong for her. She gets L.G. killed, gets captured, and now she's in a revamped dinner scene! This scene does well to replicate the original dinner scene, while still keeping it fresh and exciting. Just like the original dinner scene, we get to meet Grandpa Sawyer (Ken Evert), who was actually the youngest of the original cast underneath all of the prosthetics.
Just before you think her luck has run out, we find out that Lefty has been following her the whole time. He goes in, chainsaws blazing, and ready to get his revenge. He finds Franklin's corpse and promises to avenge him. I always wonder what happens to the families of the killed teens in horror movies. It's nice to get that closure for once.
In a very action movie kind of way, Lefty busts into the dinner scene and just unleashes hell! He's swinging chainsaws, taking control of the situations, and gets a good whack at Drayton! The most tongue-in-cheek part of the fight scene is my absolute favorite moment. He pulls out two smaller chainsaws and dual-wields them. It doesn't stop there! He throws the mini saws on the ground, pulls out a massive chainsaw, and has a sword-styled fight with Leatherface!

This is the only time in the franchise we meet a character who can actually go one-on-one with the family. This franchise has a way of making you feel as helpless as the Sawyer's victims. It's cool to have someone on screen that you can root for. If this guy was Judith Myer's dad, there would be no Michael Myers! It's easy to say that he fights the family, but a fight means that there was some sort of challenge. Lefty just mows them down!
Drayton, knowing that they're no match for him, pulls a grenade out of Nubbins' corpse and blows everyone up. The Sawyer family is done! Stretch, continues to get away only to find out that Chop-Top survives. He intimidates her by slitting his own throat. Yeah, she's scared, but she's not giving up. She wants to live! Stretch gets hold of a saw and murders Chop-Top and does her best Leatherface imitation, revving the saw above her head, and all. Thus, we say goodbye to my favorite character. Roll credits.
The Texas Chainsaw Massacre 2 is a movie that knows exactly what it wants to be. It gives you someone to root for. It scares and excites you. I've always had a love of red and green lighting in horror films and this movie is filled with it. The opening crawl is as memorable and creepy as the original. I even use it to remember my girlfriend's birthday. "On August 18, 1973, an idyllic, afternoon drive became a nightmare." Okay, her birthday must be August 18. The characters feel a little goofy, but that was the point. I would go as far as to say that without Texas Chainsaw Massacre 2, there would be no House of 1,000 Corpses. In fact, Bill Moseley plays Otis Firefly in that franchise. Without Texas Chainsaw 2, we wouldn't have Bill Moseley!
Rating: 10/10

On a final note, Tobe Hooper can be seen in the hotel scene as a hat-wearing, cigar-smoking party goer. RIP Tobe Hooper. You are, and always will be, a legend.
The Texas Chainsaw Massacre 2 is available on stream, Blu-Ray, and DVD.
The film stars Bill Moseley (yes I'm billing him first), Caroline Williams, Dennis Hopper, Bill Johnson, and the late, great Jim Siedow.
---
Trending Now