13 Slashers Through the Ages: 'A Nightmare on Elm Street' Review
Posted On October 25, 2019
---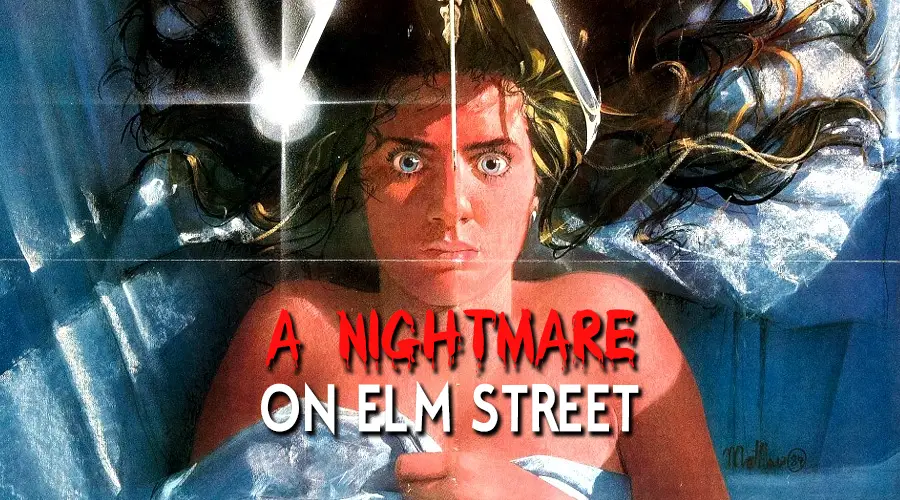 Between October 19th and Halloween, we at Full Circle will be celebrating 13 days of slashers. Tonight's program is anything but a sleeper hit. In fact, it is one of the most creative entries in this series for pushing slashers to supernatural heights. Let's enter REM and see what A Nightmare on Elm Street is all about, shall we?
It was a night like any other. I remember fumbling in my sleep between the weighty sheets of my comforter, fumbling in aggravation as if I was trying to fall asleep in a strange room unconditioned by habit. But as far as my eyes could tell, there wasn't anything different about this room. That is until my eyes met the farthest corner of the ceiling. It was like looking into the deepest shade of black, deeper than any night sky abandoned of its stars, like shutting your eyes without all of the colored lights floating underneath your eyelids. I felt as if I was being sucked into the lips of my bed. But I could not move, I could not move so much as a finger to pull myself from out of its depths as I sunk into the rift of my familiar surroundings.
This nightmare startled me. It resembled nothing that I had ever experienced before. And then it hit me upon writing this review: I shared the same fate as a character in A Nightmare on Elm Street. Even after all of these years, Freddy Krueger still manages to wheedle his way into our dreams and imaginations, capturing them in the most mind-bending of ways. It just goes to show just how creative the original Nightmare movie was in the wake of realism and grit.

Like with any other slasher, the story is simple. We follow a group of terrorized teenagers who repeatedly share the same nightmares each night. There isn't any context or reasoning for these nightmares, either. They suddenly occur and now our characters have to deal with them, it is as simple as that. This premise might sound absurd, but it does give me shivers to think about the sheer inexplicability of a child killer coming back from the dead. Not as a zombie, that would be too easy. But as a crusher of all your wildest dreams… and your life, as well. Compared to Jason and Michael, Freddy is the wise-cracking uncle of the bunch. Though, I would not expect your actual uncle to cut off his own fingers to spook you.
Of course, if you die in your dream, then you die in reality. However, that isn't quite an option for our final girl, Nancy. And I have to say, she is without a doubt my favorite final girl of all time. She faces a purely psychological battle but is not afraid to give Freddy a little taste of reality while she is at it. Some might even say she is into "survival" with her knack for building "booby traps and anti-personnel devices". Unfortunately, there are some clunky realities in Nightmare on Elm Street that keep it from being perfect. For one, the subplot surrounding Nancy's mother was unneeded. It complicated the plot, and didn't offer a satisfying resolution to what could have been a sensitive character moment. Nancy's situation is already hard to believe, her mother didn't need to be an alcoholic to illustrate that simple point.

That really is my only complaint, and I may be in the minority here, but I can excuse the rushed ending too. It is abrupt, strange, foggy, funny, and terrifying like all good dreams should be. Dreams should be messy like blotchy watercolors awash with pastels and cold coffee imprints bleeding circles on paper. I do not expect my dreams to make sense or be in good taste, either. They are dreams. Craven has captured the essence of something so intangible and mysterious; lighter than any thought or feeling, that we have to celebrate Nightmare. And he did it all in the confines of a predictable slasher format that could appeal to any taste, from high-brow to the lowest of brows.
It is no surprise then that we get to see some imaginative, reality-bending kills and sequences. There are just too many to name, and if I were to write about them, it would just become a great, long list. Like with any dream, Craven opens up the possibility for anything to happen at any moment. This overflowing creativity carries with it so much joy that it is guaranteed to convince you that life is a little bit like a dream too. There is so much cartoonish happiness to be found in this hour and a half that you may forget for a moment that it is actually a horror movie. When the credits roll, you might even feel like you woke up from a happy dream. Such is the sad truth of my favorite movies: my favorite dreams that all have to end.

Rating: 9.5/10
A Nightmare on Elm Street is available on Digital HD and Blu-Ray.
The film stars Heather Langenkamp, John Saxon, Ronee Blakely, Amanda Wyss, Nick Corri, Johnny Depp, and Robert Englund.
---
Trending Now