13 Slashers Through the Ages: 'Slumber Party Massacre' Review
Posted On October 23, 2019
---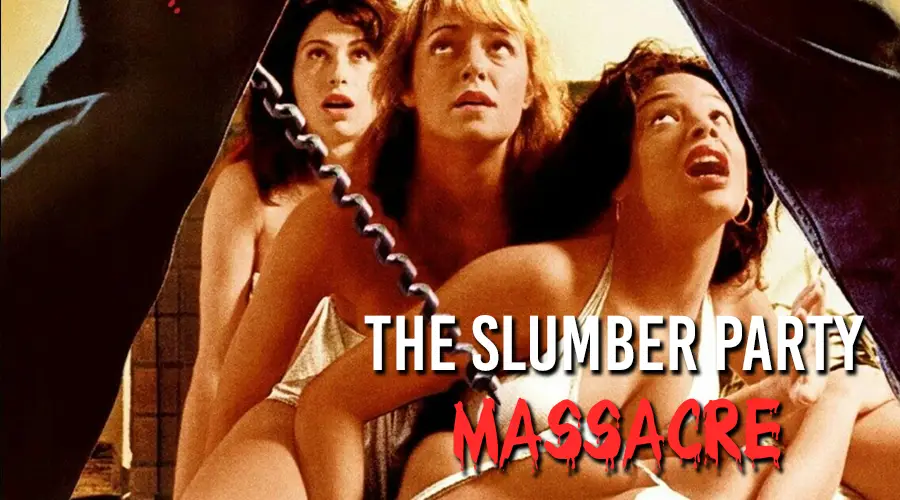 Between October 19th and Halloween, we at Full Circle will be celebrating 13 days of slasher movies. Tonight's program is a love letter to video stores everywhere. I would not have discovered this kooky gem if it had not been for the good people at I Luv Video in Austin, Texas. And now, without further ado, let's take a trip down memory lane with Slumber Party Massacre. 
It is a quiet Friday night at the video store. There is little to do, little to say, little to think. A shower of cold air blows from the AC. The scent of plastic lingers through the aisles, and lulls you with its sweetness. There are so many different titles. Some new, some old, with each movie containing a treasure trove of memories. One night in 1984, a movie rental is put on at a sleepover so late at night that it is actually morning. One afternoon in 2003, that same rental plays at a first date. Whatever the occasion might be, rentals pass through the hands of complete strangers, the only connection being the experience of having watched that same copy. You feel the soft carpet underneath your feet, and hold a VHS clamshell in your hands. It just might contain a pearl.
And that is how I first discovered Slumber Party Massacre. I picked it right off the shelf like many others did in the 80's, in the middle of a lazy night, without the faintest clue of how to spend a few long hours of quiet. And I did not expect Slumber Party Massacre to be good either, but that really was the least of my concerns. I wanted something gaudy, something so secret that I could feel as if I was the only person in the world to have watched it that night. I probably was. It hardly had any fanfare during its limited theatrical release back in 1982, but it did find its home in video stores across the country, along with many other long-forgotten slasher releases. And it even found a way into my heart as well.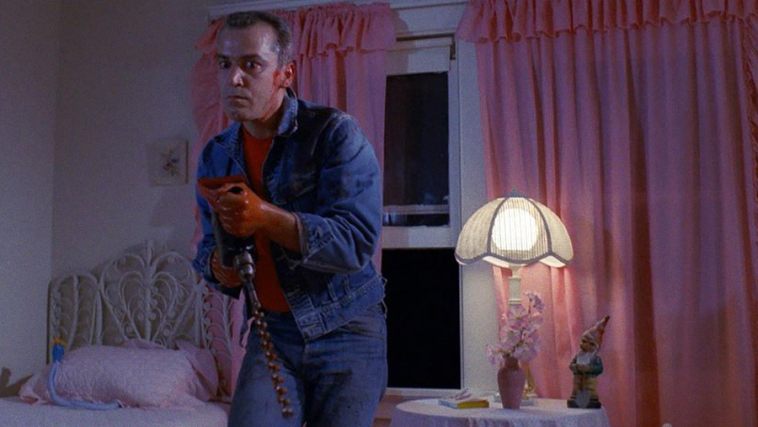 But before we get into this spunky movie, I have to share one important historical tidbit. The Slumber Party Massacre series was the first horror franchise ever to be directed by women. Yes, you read that correctly. This film stands as a rebuttal against many well-intentioned arguments that condemn the entire slasher genre for misogyny. Though, this film is only partially a rebuttal due to its unfortunate creative misdirection. Feminist Rita Mae Brown originally intended for this first installment to be a parody of slasher tropes. But that subversion is not what we got. Instead, we have the meddling producers to blame for the more self-serious end product (Think James Gunn and the live action Scooby Doo movie, it is the same situation).
Despite the creative differences or should I say because of them, Slumber Party Massacre is an oddly endearing blast of good fun, even if it follows all of the predictable beats of a slasher film. But I should also mention just how differently this film handles gender. From Playgirl magazines to 'locker room talk about boys', there is clearly something unique in the direction given. In spite of the producers, there is not a stigma to be found against female sexuality. If anything, Brown equates female sexuality with male sexuality to show that both are completely natural.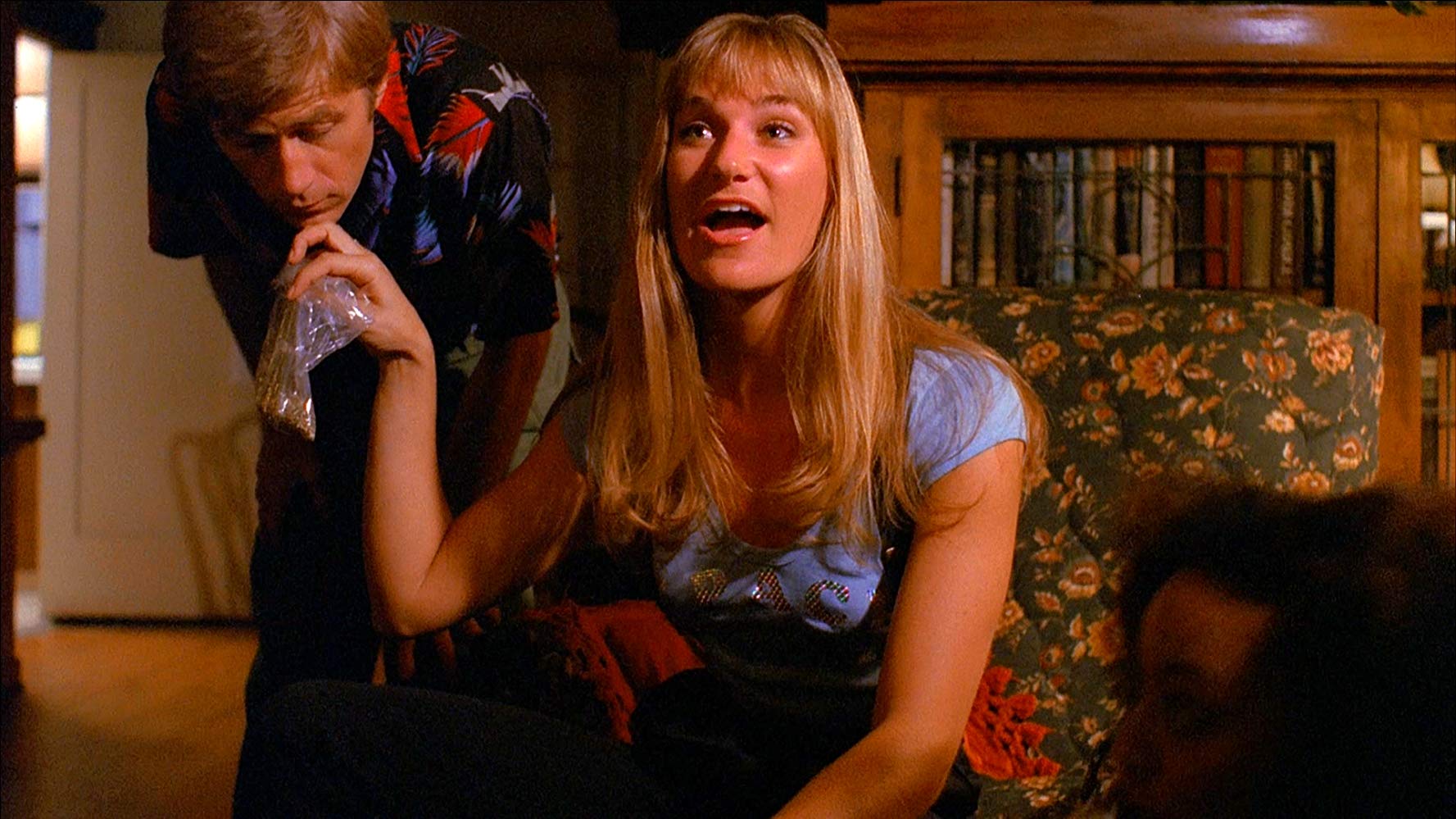 The plot is simple. Trish, a popular high school senior, throws a party for her friends. They smoke Maui Wowy (100% seedless primed bud), and do all of the things that a high schooler probably shouldn't do. That is, until Russ Thorn escapes from prison and terrorizes the girls with a drill. What a prick in the side of good fun! And that is all you really need to know. Yes, it does follow the same blueprint as many other 80's slashers, but I am willing to forgive it. There is a strange comfort to be had in knowing what to expect from a silly movie like this one. It is about as breezy as an autumn wind shaking up red and orange leaves outside your front door.
To excuse myself from bias, I would like to think that the characters themselves save this movie from its derivative pitfalls. Of course, they are not necessarily real people, but should we expect them to be? I mean, one of them eats pizza off of a dead body… Anyways, they are zany, and make up for the lack of personality found in the killer. In short, Russ Thorn is not that interesting. He hardly even looks like a serial killer (Besides the pointy drill and blue jeans attire). To Thorn's credit, his seemingly normal appearance and unspoken backstory give him some chilling implications. That is, if we consider his drill to be phallic.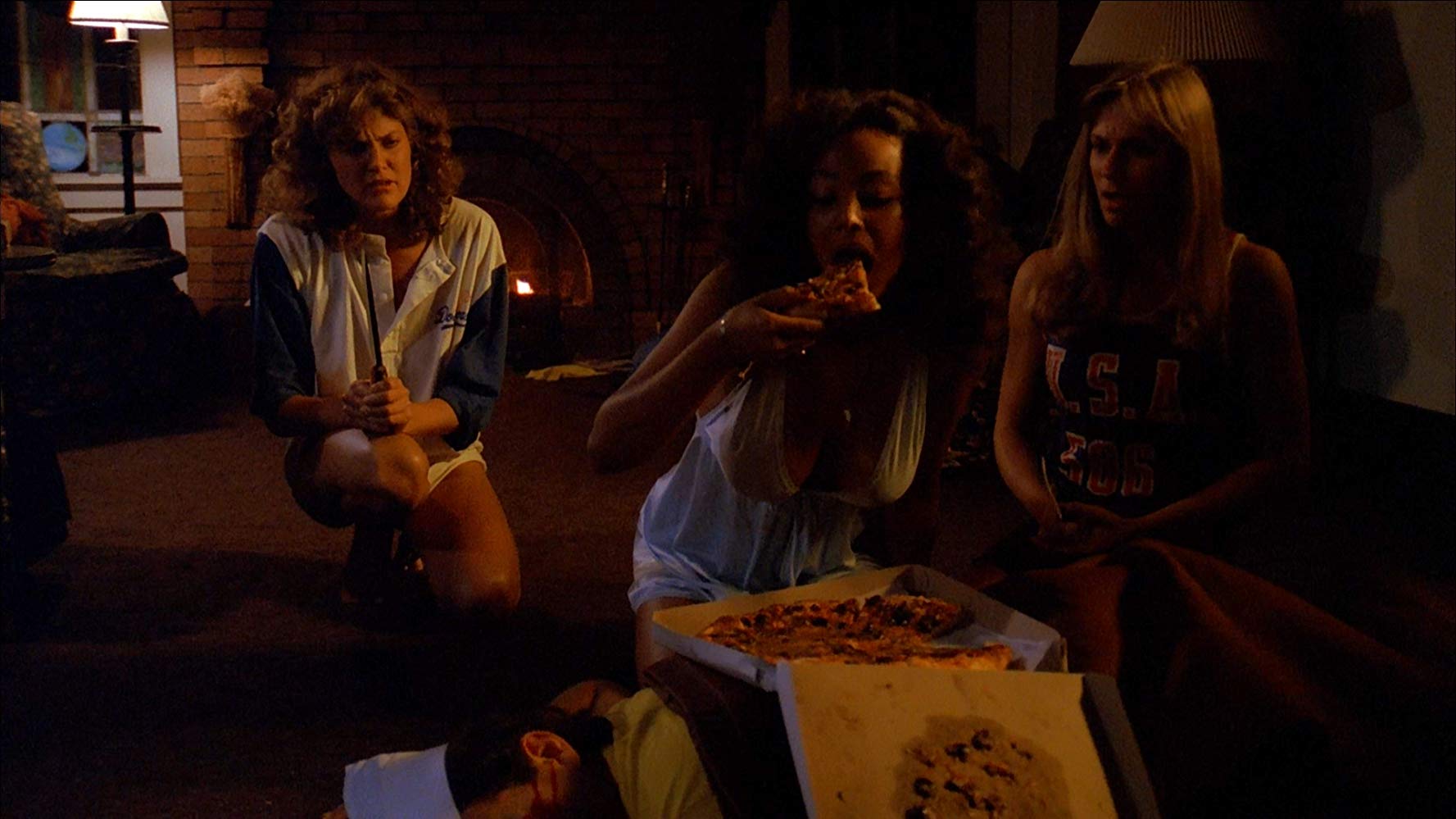 I would like to think it was fate that brought me to Slumber Party Massacre. It passed through nearly four decades of hands before it could get to mine at I Luv Video. To those innumerable hands, I say thank you. Thank you for being responsible rental customers, or else I wouldn't have stumbled upon it. And if I hadn't, there would not have been a slasher series to begin with.
Rating: 8/10
Slumber Party Massacre is available on Blu-ray and Digital HD.
The film stars Michelle Michaels, Robin Stille, and Michael Villella.
---
Trending Now