Trailer Park Terrors: 'Texas Chainsaw Massacre' (1974)
Posted On October 22, 2019
---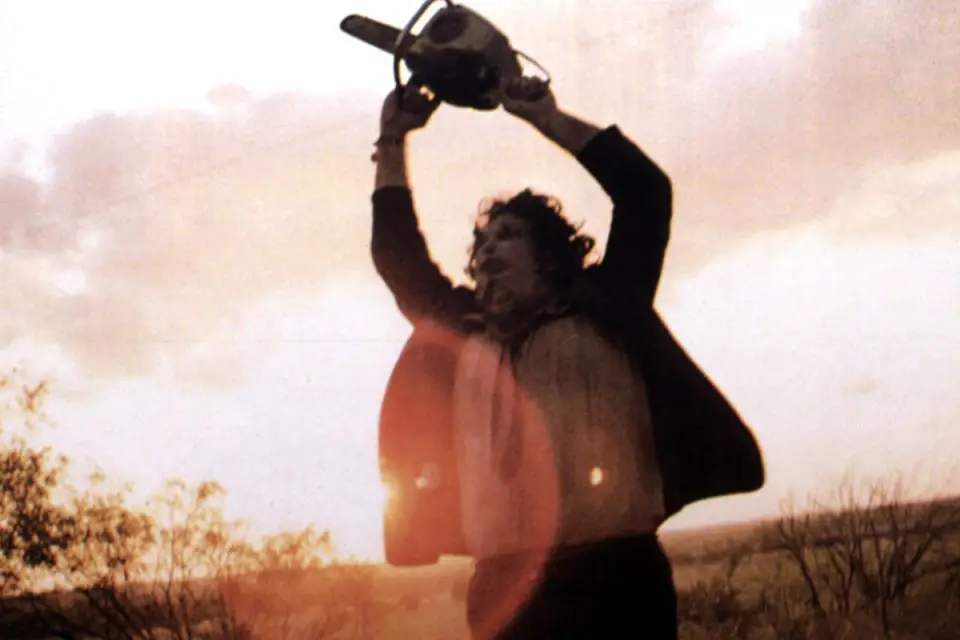 In late August, fellow Full Circle Cinema writer James Preston Poole, myself, and one of our mutual friends went to visit a horror landmark: the gas station featured in the original Texas Chainsaw Massacre.
Located in Bastrop, "The Gas Station" features not only the building in the film, but the van the ill-fated group of friends drove to Leatherface's lair. Inside, a variety of horror memorabilia is on display. Binders full of photographs from all iterations of the franchise are available to peruse at the counter, and merch from just about every horror movie you can think of stocks the shelves. Outside is a memorial featuring members of the cast and crew who are no longer with us, bearing the epitaph "The Saw is Family". They even serve barbecue, their menu listed next to a sign detailing the various cuts of meat you can slice from a human body (our intrepid group, regrettably, declined to order any).
After talking with the folks behind The Gas Station, it's clear that the spirit of the Texas Chainsaw Massacre is still alive: that is, the spirit of D.I.Y. horror.
Texas Chainsaw Massacre is one of my most beloved movies, due in no small part to the story of its production. In 1974, a small crew of Texas locals set out to film a horror movie in Round Rock, led by director Tobe Hooper. It was a brutal shoot, filmed during the peak of a blistering Texas summer. None of the costumes had doubles, and laundering might alter the color, so all of the actors wore the same dirty, sweaty clothes day in and day out. This was especially taxing on Gunnar Hansen, the actor behind Leatherface, who had to endure wearing his iconic mask in hundred degree heat. Plus, the iconic house had no air conditioning, thus trapping all the heat inside. This heat was only compounded by the large amount of lighting needed for the type of film they used.
Of course, the heat made both cast and crew irritable. Director Tobe Hooper has been quoted saying that everyone despised him by the time the production wrapped, and some held onto their grudges for some time after. Although you certainly can't blame them for being short with each other. TCM is a bloody, bloody film, and many of the stunts were incredibly dangerous. In some scenes, real blood was used. An actual running chainsaw was brought within inches of actor William Valli's head for one scene. In another scene, a real hammer was swung at an actor. By the end of the month, most everybody had sustained an injury or two throughout the course of filming (and a fair amount of contempt for Hooper as well). By the time the film was ready for release, the budget came out to less than $140,000.
Knowing that TCM was a D.I.Y operation in every aspect of production makes the finished product all the more sweeter to me. As a young filmmaker and lover of horror, there's something heartening in the story of this miserable, miserable production; that the cast and crew went through hell and high water and came out the other side with a monster of a film (of course, under normal circumstances, I don't condone unsafe production practices).
TCM set the tone for hillbilly horror to come. When you live in a place like Texas, this particular brand of country-fried horror feels more tangible. Driving down a dark, dusty road at night, stopping at a dilapidated gas station, getting dirty looks from locals in rocking chairs with shotguns in their laps; it's easy to take these common sights and elevate them to horror status. These motifs have been repeated several times since, becoming a new genre in their own right. Hillbilly horror is the modern filmic permutation of southern gothic, and like the name implies, it is brutal, dirty, and lurks on the outskirts of society. And Texas Chainsaw Massacre was the first to draw blood.
I could talk more about hillbilly horror— in fact, I will. James and I will be writing about some of our favorite hillbilly horror films for the remainder of October. So get your cutoff jean shorts on and sharpen your best knife, because we're going to be dissecting some more hillbilly horror classics this Halloween season. –Audrey Griffin
---
Trending Now