13 Slashers Through The Ages: 'Deep Red' Review
Posted On October 21, 2019
---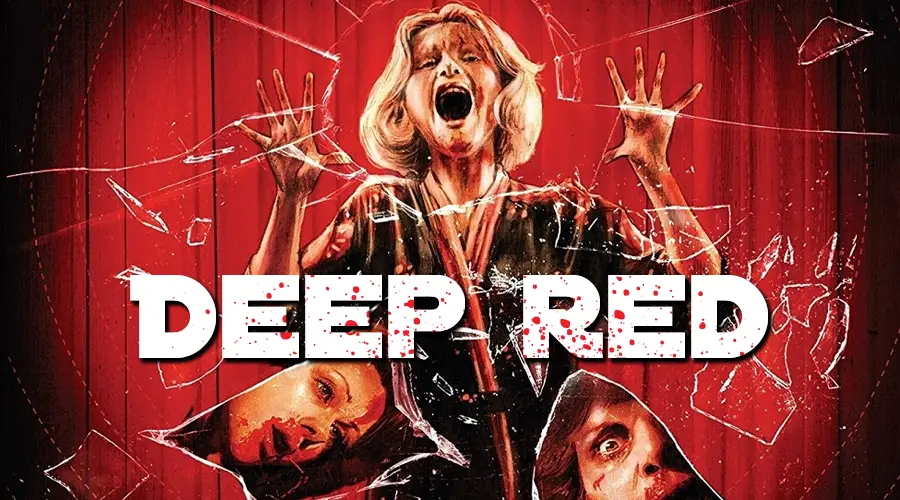 Between October 19th and Halloween, we at Full Circle will be celebrating 13 days of slasher movies. Tonight's program takes us all the way to Italy with 1975's Deep Red. For one thing, it is one of the only non-American productions that will be covered in this series of reviews. But more importantly, this brings us to one of the most revered variations of the slasher genre: the "giallo". Just when I thought that noir was the only genre named after a color, here comes giallo to take the spotlight!
First impressions on a piece of art are crucial to the overall experience, and there are few examples that exemplify this more than the opening credits of Deep Red. In the first few seconds, the film plays wonderfully minimalist music that repeats its melody at a frequent rate. On top of that, the credits themselves are displayed with a basic font that is more functional than stylish. With these two elements in unison, writer/director Dario Argento creates a mysterious tone that never wavers from this point forward.

In fact, the very first shot leans further into the conventions of the mysterious slasher. In the background, we see a person's shadow taking a literal stab at their victim. Furthermore, we get to hear the victim screaming their way to their death. Meanwhile, the foreground consists of a bloody knife falling on a wooden floor and a child moving towards it. This opening scene does not provide answers to the killer's motivation or identity. However, it conveys just the right amount of details to convince its audience to engage with the material.
Speaking of which, the material itself plays a key factor in the film's status as a giallo. Most giallo narratives center around a murder mystery, and this absolutely holds true for Deep Red. Once an unknown killer claims psychic Helga Ulmann (Macha Méril) as their latest victim, the story truly moves forward. It is now up to one of the witnesses, musician Marcus Daly (David Hemmings), to figure out their identity and stop them for good. Along the way, he teams up with reporter Gianna Brezzi (Daria Nicolodi) to find people that may have connections to the murder.

With that said, it is best to engage with the plot as a delivery system of tense mystery and horror sequences. For this movie, it would actually be unwise to invest in the narrative on the strength of its logic. This does not mean that the story beats are poor or even confusing. If anything, the clues and revelations are some of the clearest plot turns to ever grace a murder mystery. Still, it is clear that the filmmakers are better at crafting sequences than how each seamlessly transitions to the next.
Fortunately, this turns out to benefit the movie in huge ways. Simply put, Argento has created several genre set-pieces as visceral and exciting as the best of them. To top it off, plenty of them are great in their own way. For example, the mystery sequences are terrific at showing detective work, complete with a deliberately slow pace to solve problems. One scene in which Marcus scrapes paint off a wall to reveal a gruesome drawing is a prime example of this. By contrast, the bursts of violence keep finding unique ways to dispose of individuals. From the drowning of one person in hot water to a strategic use of a walking doll, one can fully grasp Argento's joy in creating sequences that work as shock value and as spectacle.

What also adds to the movie's fun factor is how Marcus functions as a protagonist. While he is more attuned as a music composer than as a detective, his transformation into the latter is quite engaging in its own right. A lot of this is due to how Argento writes him in such a simplistic way. However, it would be unfair to ignore Hemmings's sterling job at conveying both a sense of stoicism and insecurity. The latter of which comes to the forefront the more time he spends with the eager Gianna. It becomes so present, in fact, that he begins to complain about how she "cheated" her way towards winning an arm-wrestling match between them.
But perhaps Deep Red's most impressive aspect is Giorgio Gaslini's rather upbeat score. In all fairness, it does have instances of foreboding music – including Goblin's work on the main theme. However, the majority of the compositions lean more into groovy synth that dominated the mid-1970s. Plenty of these tracks, by the way, play during the major acts of violence! Hearing such a peppy track on top of Helga's gruesome death is fairly jarring, especially for those newer to Argento's work. But as the story progresses, the difference between the two emotional registers slowly disappears and becomes oddly fitting. As a result, the juxtaposition simply becomes part of the appeal.

In essence, what we have here is a basic murder mystery narrative brought to life with incredible gusto. Not to mention, it is a mystery narrative that somehow manages to save its most satisfying moment for the very end. If anyone else helmed this project, there would be potential for the material to feel tiresome. But with the finished product – especially with the two-hour Director's Cut – Deep Red is anything but that. By the tenth time that Argento and cinematographer Luigi Kuveiller use overwrought dolly shots to propel towards its subjects, it is almost impossible to see the film as anything other than trashy fun.
Admittedly, Argento's style is so rooted within its time period that it may turn off some viewers. Just the unconventional music choices alone are enough to make it an acquired taste. However, with this one movie, I can say that I am now a fan of both the giallo sub-genre and Argento as a filmmaker. Sure, it is easy to depict a version of the film that put more care into the narrative flow. But considering how much it excels on its own terms, dwelling on the blemishes would be a waste of time indeed.
8/10
Deep Red is available on Blu-ray and Digital HD.
The film stars David Hemmings, Daria Nicolodi, Gabriele Lavia, Macha Méril, Eros Pagni, Giuliana Calandra, Piero Mazzinghi, and Clara Calamai.
---
Trending Now