13 Slashers Through the Ages: 'Peeping Tom' Review
Posted On October 19, 2019
---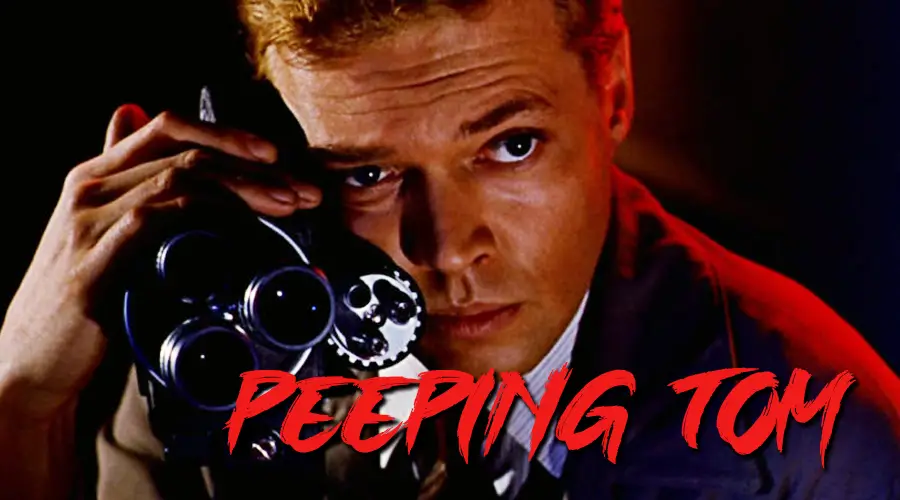 Between October 19th and Halloween, we at Full Circle will be celebrating 13 days of slasher movies. Tonight's program concerns the humble beginnings of the slasher genre as we know it today. But unfortunately, it was also the beginning of the end for an acclaimed director's career. One critic writes, "the only really satisfactory way to dispose of Peeping Tom would be to shovel it up and flush it swiftly down the nearest sewer." I disagree. Let's take a look into filth with Peeping Tom.
In 1960, upon Peeping Tom's original theatrical release, the film received nothing but hostility. Panicked reviewers' influence on distributors led the film to disappear from theaters. Peeping Tom became nothing more than a lingering controversy. It wasn't until years later that it got praise for being so ahead of its time. In reality, Peeping Tom is an intimately terrifying experience that doesn't let up. While this film may have killed the career of its director, it also at the same time established a legacy for him and his film. A legacy as one of the pioneers of the slasher genre.

With tight directing and an unsettling story, Peeping Tom has all the makings of a film ahead of its time. It is a movie about looking, in a similar vein to Rear Window but with much more sinister intentions. This time, the main character is a focus puller at a movie studio named Mark Lewis. Both in his regular day job and his strange fetish in the after-hours, a camera is at hand to capture and be something of a voyeur. If you look hard enough, there is some commentary here in how movies make us voyeurs. In fact, this film nearly forces you to think about that. It is probably why it works much better today than in 1960.
Director Michael Powell and screenwriter Leo Marks created a deeply unsettling portrayal of an obsessed man who regularly films real, candid reactions and emotions. More specifically, that of his victim's fear. The look in their eyes before dying. All the performances in this film are serviceable to the story. Though, in my personal opinion were hardly any standouts. Mark – played with subtlety by Carl Boehm – is likable to a certain extent until you remember what it is that he does. Even then, the film tries to get you to sympathize with him at certain points in the film.

The real monster of Peeping Tom is implied to be Mark's father, infamously played by the director himself. Throughout Mark's childhood, his father conducted twisted experiments on him, making him who he is today. While it is much more subtle and less far out than slasher origins in today's age, it is still just as unsettling. The focus and fascination of capturing and viewing expressions at the center of Peeping Tom are fascinating. In its themes and story, Peeping Tom does a great job of exploring voyeurism and violence. While its subject matter may have been too much for the time, it is hailed as a masterpiece today.
The camerawork and overall aesthetic of Peeping Tom are also impressive. Its use of the camera's perspective is almost as impressive as Hitchcock's Rear Window. The way Mark views his films that he creates at times looks straight out of a Bergman film. Cinematographer Otto Heller does a terrific job in using cameras as the main part of the story both aesthetically and thematically.
While slashers may not be a subject I entirely understand, I can somewhat see the significance of this film. For the film's release, it deals a lot with themes ahead of its time. While not something I would watch, it is something I am glad I opened up to. While not compelled by its performances but fascinated by its story, Peeping Tom is a piece of film history that had a lot to offer at the time and is rightly appreciated today. It is an interesting entry in the slasher genre that I will certainly not forget. – Ernesto Valenzuela
9/10
Peeping Tom is available on Blu-ray and Digital HD.
The film stars Carl Boehm, Moira Shearer, Anna Massey, Maxine Audley, Brenda Bruce, and Miles Malleson.
---
Trending Now