Fantastic Fest Review: 'Jojo Rabbit' Is The Movie We Need Right Now
Posted On September 21, 2019
---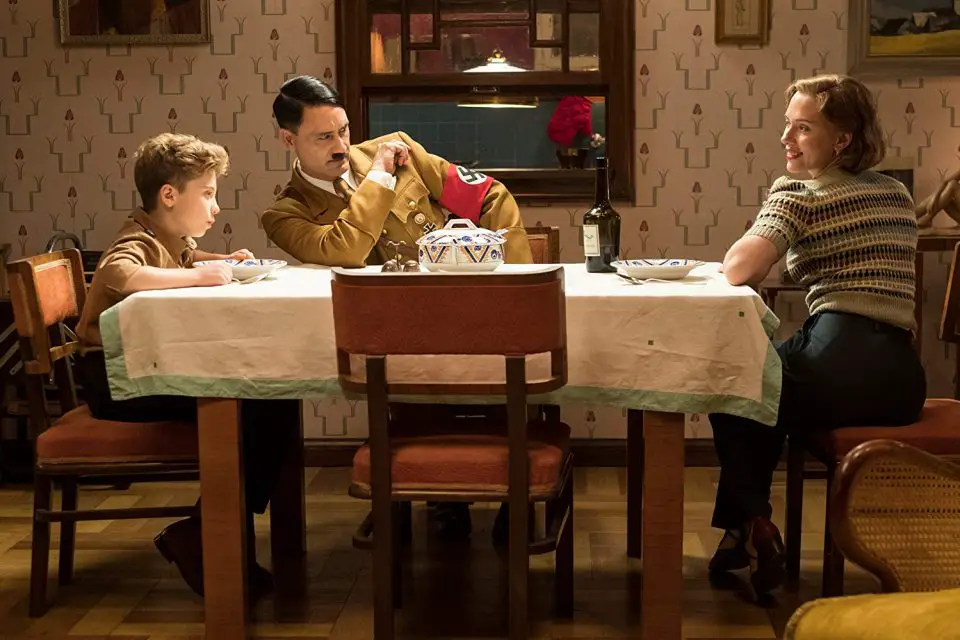 The following article is a part of Full Circle's coverage of Fantastic Fest 2019.
We're not born with hate, it's learned. In an age of political turmoil, where many look around and wonder just how we got where we are, it's hard to remember that the seeds of bigoted ideologies start in the youth. This is the crux of writer-director-star Taika Waititi's Jojo Rabbit.
Following in the footsteps of films like The Great Dictator, Jojo Rabbit is a satire of the Nazis that starts off with the intent of making a mockery of the regime. 10-year-old German boy Jojo Betzler (Roman Griffin Davis) wants nothing more than to prove himself a worthy part of the Nazi army. He goes to a Hitler Youth camp, where he engages in activities ranging from knife throwing to grenade throwing. His drive to prove himself to the fellow boys is bolstered by his imaginary friend, Adolf Hitler (Taika Waititi).

The first act of Jojo Rabbit is Nazi skewering of the highest order. Both as Hitler and as a filmmaker, Watiti plays up the sheer ridiculousness of the Nazi party. When authority figures in Captain Klenzendorf (Sam Rockwell) and Fräulein Rahm (Rebel Wilson) aren't blatantly lying to the children, they're being hilariously negligent. Then there's the blind fanaticism of the kids.
Jojo, who imagines Hitler as a kindly man of whimsy, "Sig Heil"s as if he's cheering for a WWE opponent. The children relish burning books. Most amusingly, the opening film likens the adoration for Hitler to Beatlemania, complete with a German version of "I Wanna Hold Your Hand". Some could see characters so indoctrinated into the Nazi party as offensive. After all, lampooning something doesn't always equal damnation. Yet Waititi has a trick up his sleeve.
As Jojo returns home from camp, he finds out a devastating secret: his mother (Scarlett Johansson) is harboring a Jewish girl (Thomasin McKenzie). At first, Jojo is enraged that such a person would be in his household, ready to report her. But something slowly starts to change in him.
From then on out, Jojo Rabbit becomes a story primarily about deprogramming hatred. You see this from three perspectives, and subsequently three dynamite performances. First, McKenzie's Elsa portrays various reactions to her predicament at once. She's standoffish towards Jojo, but fearful for her life at the same time, yet also not sure how to react. Furthermore, Jojo's mother is a good-hearted woman, staunchly against the Nazis, despite her incredible love for her son.
Her son, the title character, is a marvel to watch. Davis portrays a boy deeply indoctrinated, who has his entire way of life turned upside down. Of course, he plays the comedy well, though that's not what makes his performance special. Jojo's relationship with Elsa changes him, to the point where he's feeling something he's never felt before for anyone but his mother: love. And when hate is all you've known, that can be confusing.

Waititi slowly teases out Jojo's arc towards becoming a more understanding person, until he throws another curveball. In its final act, Jojo Rabbit grapples headfirst with the crimes of the Nazis. Gone is the playful atmosphere, replaced by deep unsettlement. It's harsh, but it's what we need to see. It's what Jojo needs to see.
Ultimately, Jojo Rabbit wraps up on a bittersweet note that made me reflect on how ideologies are perpetuated. Elsa says, early on, "you're not a Nazi, you're a 10-year-old boy". Seeing the look in his eyes, made me think – we learn to hate, but we can unlearn it. The only way to strive for a better future is through understanding, practicing love over hate. I know life is more complicated than that, yet we have to remember that core tenet.
Jojo Rabbit may not be some kind of ultra-complex meditation on everything related to hatred. It doesn't have to be one though. Taika Waititi has made his best film by reinforcing the idea of empathy, and that's a message I can firmly get behind. –James Preston Poole
Rating: 8/10
---
Trending Now