Full Circle Flashback: 'It' (1990) Miniseries Review – "Clowns & Nostalgia & Tedium, Oh My!"
Posted On September 2, 2019
---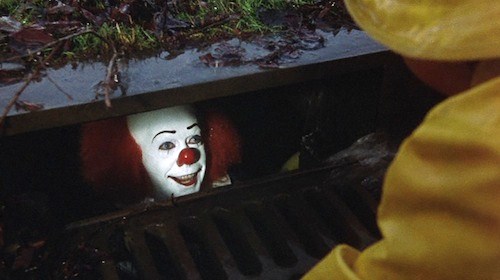 "Hey Georgie, want a balloon?!" These famous words echoed through my five-year-old brain. Having been exposed to very little at that young age, the scene of a demented clown beckoning a child to come forward before exposing his sharp teeth and hellish yellow eyes was something I never forgot. I had never experienced true terror like that. It kept me up at night – fearful, but fascinated. I had to have more, and because of the 1990 miniseries adaptation of horror maestro Stephen King's epic-length novel It, I became a bonafide horror fanatic.
This doesn't appear to be an experience exclusive to myself. Throughout my adolescence, the miniseries constantly came up in conversation. "Have you seen It?" "It is the scariest movie I've ever seen". "That clown gave me nightmares". The horrors of Stephen King's world live in the collective consciousness of those who grew up in the decade of the series' release, a bogeyman most of us were too afraid to revisit. Look no further than the box office smash that was 2017's It: Chapter One.

Revisiting the It miniseries in 2019 reveals an experience that's not quite what our impressionable minds remember. Akin to the glut of King-adapted miniseries that would come after, It presents no shortage of wild ideas that struggle against the weight of tedious pacing and characterization. The miniseries follows the self-proclaimed "Loser's Club", a group of seven friends who reunite 27 years after an entity that terrorized them as children returns to their hometown of Derry, Maine. This entity feeds on fear and can take the guise of whatever scares its target, most often assuming the form of a clown named Pennywise.
The strength uniting It's two episodes is Tim Curry as Pennywise. Dressed in old-fashioned clowning garb, he's all smiles, taunting the children while making jokes such as "Do you have Prince Albert in a can? Then you better let the poor guy out!". His over-the-top hilarity that can turn into a dead-eyed, unreadable creature at any moment. Every moment he appears is a heaven-send that the rest of the series struggles to catch up to. Tim Curry's Pennywise is a horror icon, plain and simple.

Time has conversely been kind to the visuals in the film. There are some real nightmare-fuel practical effects in here. Scenes like the blood bubble coming out of Beverly Marsh's (Emily Perkins) sink, the monster that comes out of the creek, the make-up for Pennywise, and the creature's grotesque final form still terrify! Richard Bellis' Emmy-winning score and the cinematography by Richard Leiterman forge an atmosphere that evokes the old-fashioned chills of Stephen King's novel. Beyond those elements, the rest of the series varies in quality from moment to moment.
The first episode suffers the most. Director Tommy Lee Wallace seeks to stick to the novel's format of showing each of the characters get a phone call from Mike Hanlon (Tim Reid) telling them to come back to Derry. Cue flashback to the 1950s. Rinse, repeat. This works in the novel because it's an exciting mystery for the audience to unravel, but Wallace can't replicate that sort of intrigue. Instead, we're just slowly being fed information that doesn't amount to that much since many of the big moments from the first half of the novel – including an entire cosmic mythology – were removed from the series.

At least the child actors do a decent job. A pre-fame Seth Green amuses while Emily Perkins handles some challenging material in a portrayal of Beverly Marsh that rivals Sophia Lillis's in It: Chapter One. Compared to that film, where the tension is on high at all times, the scares are few and far between here. So much of the running time involves wondering when Tim Curry or a neat practical effect will come up. Compounding the problem, we have very little idea of who these characters beyond a one or two-word description. By the time the admittedly entertaining climax, with the classic line "It's battery acid, you slime!" comes around, it's too little too late.
The second episode is a significant improvement. Now that the flashbacks are out of their way, we get to spend time with the adults confronting the creature once again. The characters in this episode are vivid, perhaps due to a heavy camp laid on thick by every actor involved. There's the alcoholic Ben Hanscom (John Ritter), hypochondriac Eddie Kaspbrak (Dennis Christopher), comedian Richie Tozier (Harry Anderson), to name a few. All are reduced to scared children – even more so than their actual child counterparts – every time the creature shows up and there's a glee seeing that.

Unfortunately, the pacing is still not there. Scenes wander on for far too long and there's no sense of build to this episode's climax. The climax, once again, is a great payoff, perhaps even more so this time. As the Losers Club wanders to confront the creature, things get seriously shlocky in a way that conjures up images of the B-movies Stephen King was inspired by as a child. When we get to see the creature's final form, it's ridiculous. But it is so incredibly imaginative that I have to be along for the ride, differences to the novel be damned.
Of course, It does not have the same impact it had on me as a child. It's a collection of great moments that is too inconsistent to recommend. Yet, it's an important part of the horror canon that drew many of us to a genre that can be hard to get into. Moreover, it helped popularize Stephen King as the name of horror for so many of us.
If Andy Muschietti sticks the landing with the second part of his adaptation of the novel, It: Chapter Two, that could go down as the definitive adaptation of this story. But that will never change the impact that the first viewing of this messy, flawed piece of horror history has had on myself and many others.
Rating: 5/10
It is now available on home video and Digital HD.

---
Trending Now