'Ready Or Not' Review: "Horror-Comedy At Its Finest"
Posted On August 27, 2019
---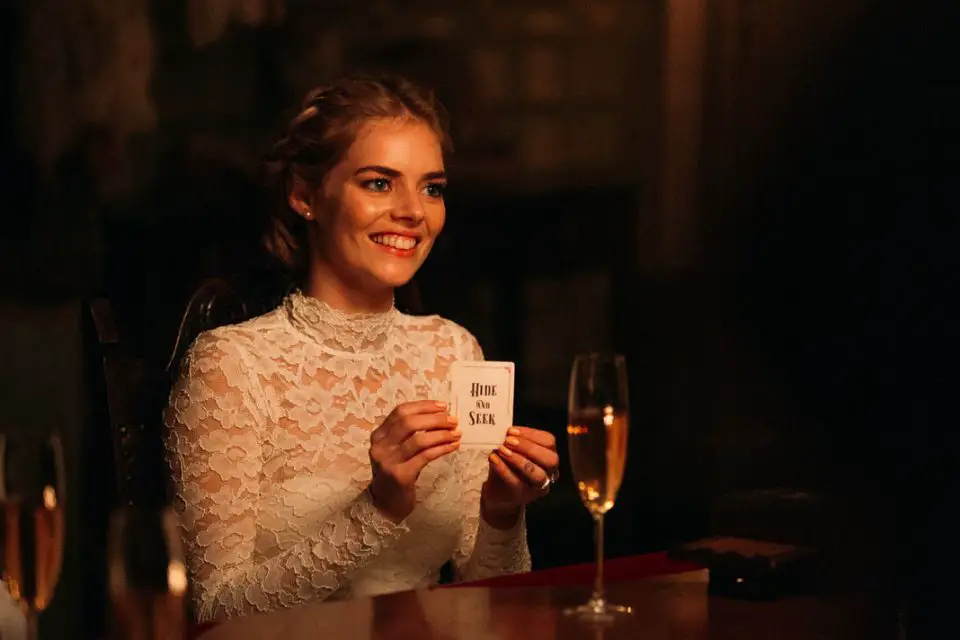 There was a period where every time an artist would release a music video, the public would point out evil symbolism throughout said video. Everybody thought (insert famous person) was a part of the Illuminati. How did you happen to join this rich and powerful devil-worshipping club? Sacrifice somebody close to you and the Devil will make you rich as long as you live. The elites of the world have all been accused at one point or another of being in the Illuminati. Does it exist? Maybe, but no one except those who are in it will ever truly know. Enter Fox Searchlight's newest release, Ready or Not.
The film focuses on Grace (Samara Weaving), who has just married into the Le Domas family. The family is this film's version of the Hasbros, essentially. They have created everything from card games, board games, to sporting goods. There's a method to their wealth. Anytime a new person weds into the family, they must play a game. Which game they play, solely depends on the game Mr. Le Bail picks.

Mr. Le Bail is the demon that the great grandfather of Grace's newlywed husband Alex Le Domas (Mark O' Brien) sold his soul to. This time, he chooses a game that hasn't been played in 30 years since Alex was a child, Hide and Seek. The rules are simple, kill Alex's wife before dawn and the family stays wealthy. In the event they do not kill her by dawn, who knows what will happen?
Ready or Not pokes fun at the elite or the 1%. Directors Matt Bettinelli-Olpin and Tyler Gillett who are known for their devil filled films, definitely keep up the pace in this film. This movie may be one of the better put together dark comedies. There is a lot to digest when you look at the screenplay from Guy Busick and Ryan Murphy. Pacts with the devil, human sacrifice, love for your family, and what are you willing to do to survive? As the film goes, you're impacted with many moral questions within yourself.

One thing that I absolutely love about this film is the cast. Weaving was the perfect lead female for this story. Her character was well written and very realistic given her circumstances. The Le Domas family is pure entertainment and everything you would imagine an elite family to be. The supporting cast of Adam Brody, John Ralston, Henry Czerny, Andie MacDowell, and company definitely do their due diligence. They all complemented each other so well that it drives the movie to all the way home.
This film was like an episode of Supernatural meeting The Purge and Adam Wingard's You're Next. While you can easily compare this film to the two named above, it simply stands out on its own. As far as suspense and thrillers go, this surpasses the films that came before by a mild margin. While the comparisons make sense they aren't warranted. The differences between the films severely outweigh the similarities.

My overall thoughts on the film, it was almost flawless. The flaws are few and far between, but they are there. The previews for the film gave away a few surprises a lot is still hiding throughout. There was so much attention to detail with the concept. As someone who's watched plenty of movies on devil pacts, this one takes the cake. There was so much originality woven into an old story and I couldn't do anything but appreciate it. If you're into high paced thrillers, this is a cup of tea I hope you thoroughly enjoy.
Rating: 8/10
Do you agree with the rating? Have you seen Ready or Not? Comment below and give us your thoughts!!
Ready or Not is in theaters now! 
The film stars Samara Weaving, Adam Brody, and Mark O' Brien. 
---
Trending Now