'Scary Stories to Tell in the Dark' Review: A Horror Classic In The Making
Posted On August 11, 2019
---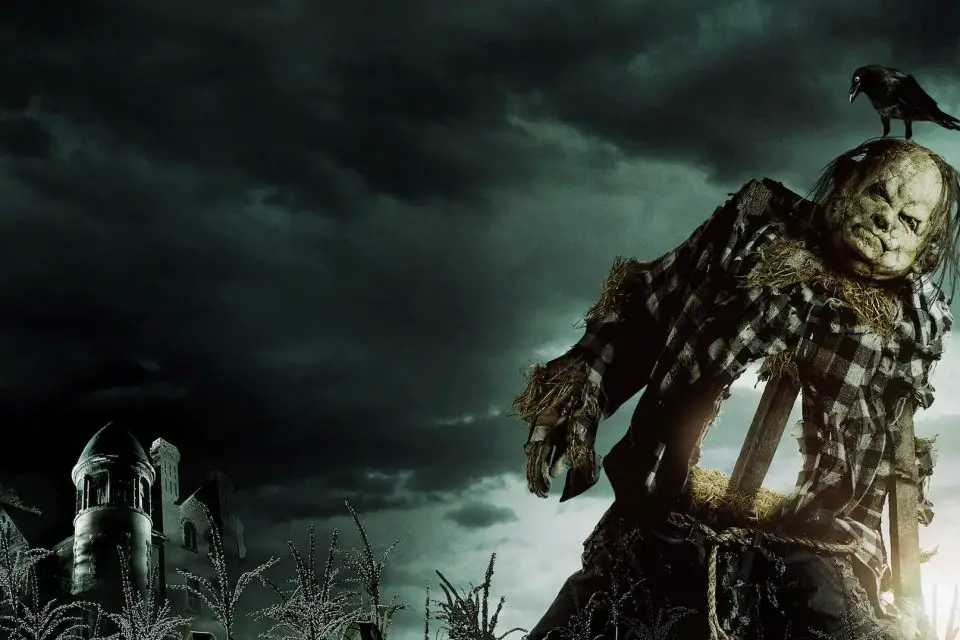 Before I get into Scary Stories to Tell in the Dark, allow me to explain the film the same way I would to a close friend. That is to say, through a few short words. After all, how else to describe a film of several parts than with sentences you can count with one hand?

Scary Stories to Tell in the Dark takes place in small-town Pennsylvania during Halloween in 1968. It opens up with an announcer talking about how it's now the "Season of the Witch." Could it be a Halloween 3 reference? It's actually, totally possible! The movie is filled with references of classic horror films and even posters of Bela Lugosi and Boris Karloff, who are famous for playing Dracula and Frankenstein's Monster. Being a huge horror fan, this was something I was losing my head over.
After a well-paced establishing shot montage, we meet our main characters: aspiring horror writer Stella (Zoe Margaret Colletti), Auggie (Gabriel Rush), and our comic relief, Chuck (Austin Zajur). The group is getting ready for their last "kid halloween." Meanwhile, school bully Tommy and his friends are beating up a scarecrow named "Harold" for no reason other than to establish that Tommy is just the worst person. Basically, we get to establish who our characters are very early on.

The group decides that the best way to make their first steps into adulthood is to mess with Tommy and his girlfriend, who just happens to be Chuck's sister. Tommy whips out a bat, as any sociopath would and threatens to murder the group. Oddly enough, Chuck's sister stands by, just kind of chill about the whole thing. He chases the kids through a drive-in screening of Night of The Living Dead (1968), where we meet a new guy in town, Ramon (Michael Garza), the final addition to our protagonist group.
After a lot of unnecessary exposition and cringe dialogue, the group is all "Hey, new guy who's way too old to hang with us, wanna go to a haunted house?" So, as you'd expect, the teens and this older dude explore the town's haunted house. As any small-town resident knows, there is always THAT house. Ramon asks what the deal with the house is, why is it haunted, etc. He pretty much asks the usual questions. The screenwriters used this as an excuse to give him and the audience some exposition that would have come off as cheesy any other way. After finding out that the house has a secret room, Stella finds a book that acts like the Necronomicon from the Evil Dead series and is full of scary stories.

One of the standout things about the haunted house scene, among others, is how Stella jumps at Ramon and yells 'Boo!" when reciting the house's history. I know that sounds stupid, but bear with me. In the book, there are a lot of parts that say "Jump at nearest friends and yell!" I had wondered early on just how the writers would handle these parts. Even the joke stories and songs are thrown in very casually without being out of place.

From here on out, the movie fires off with nonstop anxiety, dread, and actual scares. For the sake of me actually wanting people to go out and watch it, that is all I will say about the movie, plot-wise. The movie isn't just "tween scary" or "good for the kids." It is just scary in general. I actually heard a grown man screaming in the theater. Personally, I hate jump scares because, lately, they seem to be put in spots to create fear where it doesn't belong. Scary Stories strays away from doing that and scares you in all the right places at all the right times without feeling cheap.
The cast is nothing to write home about. They're the usual band of brats that every teen horror has. The girl who doesn't fit in, the cool guy, the nerd, and the comic relief. Their chemistry doesn't compare to movies like It or The Goonies, but it's not bad. It feels pretty genuine, actually. I mean, you can only put Finn Wolfhard and Jack Grazer in so many movies before I'm completely sick of them.
The monster design is legitimately frightening. From the scarecrow to the woman without eyes, the monsters look like they were plucked right out of the book. The amateur style drawing in the books was terrifying and I was afraid the producers would try too hard to make these ghouls look really good, but they didn't! They did the drawings justice and kept my childhood intact. As a kid, they were scary to look at. As a 25-year-old man, they're still scary to look at and this reflected well in a big-budget movie.

Overall, thanks to its aesthetic and scare factor, Scary Stories instantly justifies itself as a "It's Halloween time, we have to watch this" kind of movie. When TV stations do their "13 Nights of Halloween," this will be one of the movies in every lineup for years to come. It's a classic in the making! I saw a lot of reviews comparing it to Midsommar and Us for being surface-level and not using having any messages related to today's social climate. To them, I say "Shut up! I'm so sick of having to think when watching movies. Get off your high horse!" This movie does have some exposition that goes nowhere, but its "here's some scary stuff, take it or leave it" attitude is enough to keep things immensely enjoyable. If that's not a sign of a horror classic in the making, I don't know what is.
Rating: 8/10
Do you agree with this rating? Is it really a classic in the making? Let us know in the comments below!
Scary Stories to Tell In The Dark is in theaters now.
The film stars Zoe Margaret Colletti, Gabriel Rush, Austin Zajur, and Michael Garza.
---
Trending Now