'Dora and the Lost City of Gold' Review: "A Fun Adventure Comedy… In Pieces"
---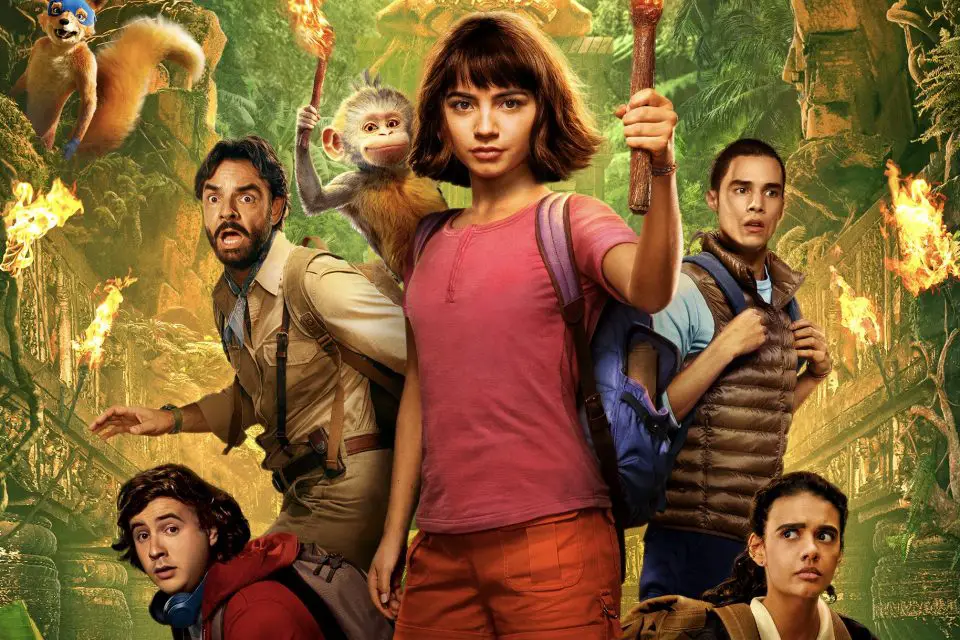 It is kind of hilarious that the world reacted to the idea of "Teenage Dora the Explorer" as if it was the weirdest thing ever. In fact, Dora and the Lost City of Gold is not even the first time the folks at Nickelodeon attempted to age up the child protagonists of their iconic shows. Back in the early 2000s, we had the likes of All Grown Up!, a spinoff series in which audiences got to see the Rugrats characters as teenagers. Granted, neither that show nor this movie serves as a masterful example of the adolescent experience. But Nickelodeon has made this hook common enough that we should not be shocked that a "Teenage Dora" movie exists.
If there is anything truly bewildering about Dora and the Lost City of Gold, it would be the attempts to lampshade the tropes of the original series. While the show is very sincere about engaging young viewers by having Dora speak directly to them, this movie treats such moments with winking irony. In an early scene, a young Dora looks at the camera and asks if the audience can say the word "delicioso". This results in her parents (Michael Peña and Eva Longoria) reacting with confusion. Additionally, the bulk of the runtime involves characters struggling to tolerate the extremely peppy personality of teenage Dora (Isabela Moner). So even when it is not copying from the show, Nicholas Stoller and Matthew Robinson's screenplay revels in the silliness of adapting a kid's show to cinematic form.

As it turns out, these self-aware jabs allow Dora and the Lost City of Gold to be one of the more fascinating films to come out of the Nickelodeon brand. Rarely has the studio tried this hard to modernize not only the star of the show. But it is even rarer that it tries to modernize everything that the show stands for. Oddly enough, the tone that Stoller and Robinson create often resembles the delightfully ironic vibe that James Gunn brought to the live-action Scooby-Doo movies. Not to say that the film's knowing sense of humor actually deconstructs the world of Dora. After all, many of these gags aim for the same shallow target and only hit some of the time. However, it is appreciated that the filmmakers spent this much effort keeping it from being 100% brainless.
In fact, there are stretches in which the movie becomes – dare I say it – enjoyable. Much of this comes down to Moner's keen ability to play the wide-eyed optimist that Dora truly is. Whether it involves Dora singing about what to do for an emergency bowel movement or Dora interacting with animals, Moner's goofy expressions make for a perfectly charming lead performance. Given her terrific supporting work in films like Transformers: The Last Knight and Sicario: Day of the Soldado, it is great to see her take center stage in a movie that uses her talents to such a degree. Simply put, the energy she exudes in every scene is almost enough to forgive the movie for all its shortcomings.

Too bad, then, that "almost" is the keyword for that last sentence. Because outside of Moner and a handful of fun nods to the show, Dora and the Lost City of Gold is a rather middling adventure comedy. Certain scenes are more fun than not, including an amusing section in which Dora ingests hallucinogens. But there are just as many moments that indulge in the most tired low-brow humor imaginable. This is most apparent with the character of Alejandro (Eugenio Derbez), who functions as the foolish adult that tags along with Dora and friends. It says a lot that his wildest scene involves him making farting sounds as he moves around quicksand. In addition, he resorts to crying like a maniac as soon as he resolves his little quicksand encounter. During this scene, it never stops being irritating, and it sucks there is no drastic improvement from then onward.
Whenever it focuses away from its juvenile sense of humor, the movie constantly shifts between two mediocre modes. The first mode involves Dora adapting to normal high school life and civilization as a whole. Meanwhile, the second mode is essentially "Baby's First Tomb Raider", as Dora and friends go through elaborately designed set pieces. None of this is insufferable, especially when Moner's cheery presence keeps things afloat during the first mode. Also, thanks to cinematographer Javier Aguirresarobe embracing the vibrant jungle setting, the movie at least looks nice in the second mode. But unfortunately, the relaxed vibe that director James Bobin brings to the table takes a toll on the overall pacing.

The movie also struggles with bringing a series regular to the big screen: Dora's cousin, Diego (Jeffrey Wahlberg). Most of his screen time involves him expressing annoyance at Dora's unwillingness to hold herself back and virtually nothing else. To be generous for a moment, it is interesting to see a new dynamic between Dora and Diego. If nothing else, this is where the film seems to develop relationships from the original show. It is just shameful that the script treats it with such little importance. It also does not help that Wahlberg is an extremely monotone and disengaged performer in his own right.
However, absolutely nothing comes close to the utter terror that is Dora's monkey sidekick, Boots (Danny Trejo). It's bad enough that the writers depict him as an obnoxious force of nature, complete with scenes of hijinx one would expect from a low-grade kids movie. Even worse, though, is the wretched design that the visual effects artists have conjured up. In essence, it is a combination of the soft design of the original drawings with photorealistic CGI fur. Sadly, this is not a pair that meshes well at all. As a result, this culminates in the single most horrifying creature of 2019. To think that Blarp from 1998's Lost in Space was forever going to hold the record of "most repulsive CGI monkey of all time"…

To its credit, Dora and the Lost City of Gold comes closer to being good than I expected, so long as one focuses on the Dora-centric aspects and nothing else. Also, in the recent string of Nickelodeon live-action adaptations, this is more charming and aesthetically pleasing than either of the Teenage Mutant Ninja Turtles movies. If only everything surrounding Dora were a lot better, then we would have something worthwhile. As it stands, the final product just exists for the world to see and shrug at when it ends. In simpler terms, it has all the traits to fall into the category of mildly amusing but forgettable fluff.
5/10
Dora and the Lost City of Gold is now playing in theaters.
The film stars Isabela Moner, Eugenio Derbez, Jeffrey Wahlberg, Benicio del Toro, Danny Trejo, Eva Longoria, and Michael Peña.
---
Trending Now