New Details About Sith Troopers In 'The Rise Of Skywalker' Have Surfaced
---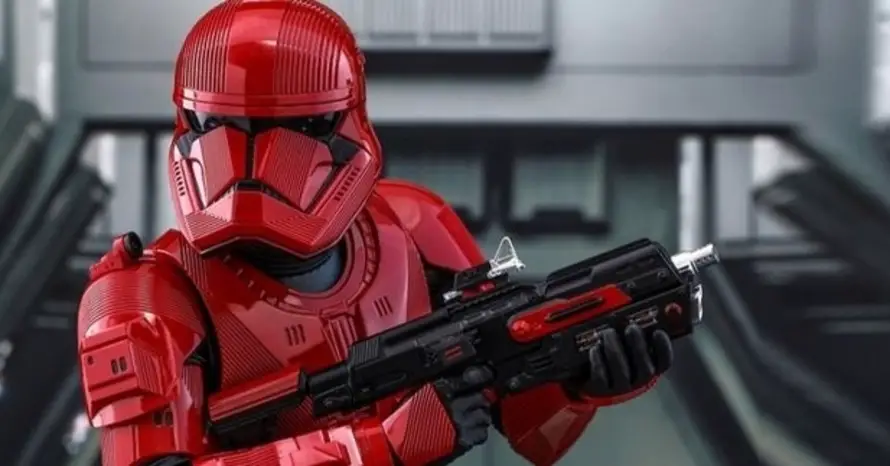 More details from the final chapter of the Skywalker Saga have been released. Recently it was revealed that a new type of Storm Trooper will appear in Star Wars: The Rise of Skywalker, the Sith Trooper. Now thanks to Bespin Bulletin we have some further info about their involvement and suits.
***WARNING POSSIBLE SPOILERS BELOW***
According to Bespin Bulletin and MakingStarWars, the Sith Troopers have been hidden away beyond the unknown regions. The area is said to be a Hellish wasteland full of danger and peril. It was also reported that the group reports to none other than Emperor Palpatine and have been in hiding since his death waiting to finish their mission.
Kylo Ren will go in search of them in hopes to find a powerful weapon that will answer only to him; only Palpatine has other plans in place. The Sith Troopers are part of a massive fleet that contains Star Destroyers equipped with planet-destroying weapons.
READ: 'Star Wars: The Rise Of Skywalker' Toy Features New Knights Of Ren
Bespin Bulletin later revealed some stylistic details about the new adversaries. Not only will the Sith Trooper debut in The Rise of Skywalker but a variant will also appear. This troop, which the report refers to as either a Sith Jump Trooper or Sith Rocket Trooper, looks very similar to the standard design save for an alternate helmet and a jetpack.
The Rise of Skywalker is stacking up to be one of the most exciting entries in the Star Wars universe. With the return of The Emperor and these new troops, The Resistance will have their hands full in the upcoming film.
Are you excited for Star Wars: The Rise of Skywalker? Let us know in the comments below!
Star Wars: The Rise of Skywalker hits theaters December 19, 2019.
The film stars Daisy Ridley, Adam Driver, John Boyega, Oscar Isaac, Lupita Nyong'o, Domhnall Gleeson, Kelly Marie Tran, Joonas Suotamo, Billie Lourd, Naomi Ackie, Richard E. Grant, Keri Russell, Mark Hamill, Anthony Daniels, Billy Dee Williams, and Carrie Fisher.
---
Trending Now