Shark Week: 'The Shallows' Review: "Fun Seagull-Infused Shark Cinema"
---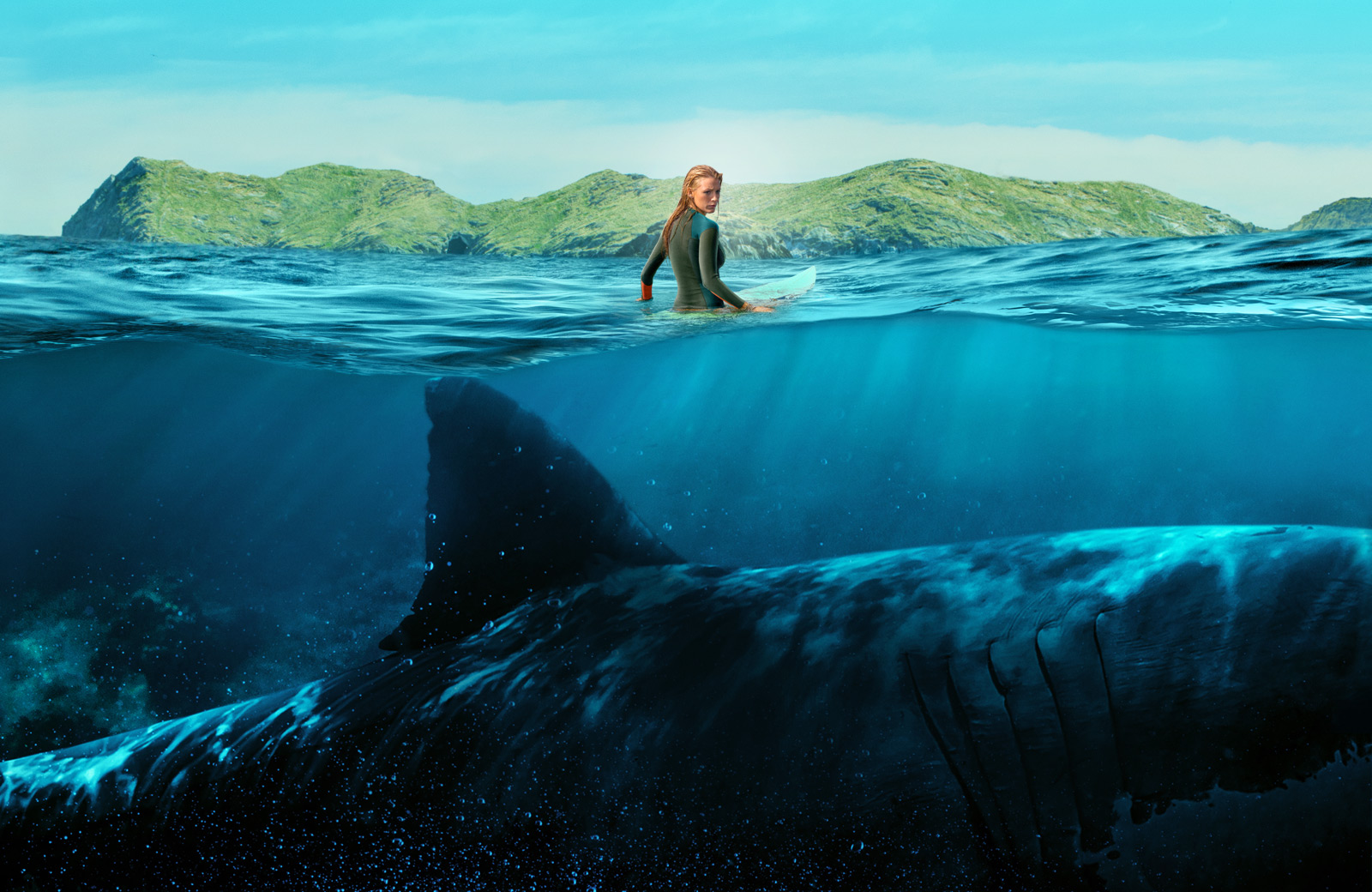 As the saying goes, "Another year, another Shark Week." Between July 28th and August 4th, we at Full Circle will celebrate by digging our teeth into a variety of shark movies. For this review, let us go back to a film in which a great white shark is up against a surfer, her ingenuity, and a seagull with the name of an action star. Of course, the film in question is 2016's The Shallows.
"What is a shark movie?" is a question that should be phenomenally easy to answer. In fact, the only literal meaning behind that phrase is "motion picture in which a shark is important the narrative". As such, even a romantic comedy about sharks should still count as a "shark movie". Yet for all the broadness behind this label, most of these films function more like thrillers than anything else. Simply reading through the other Shark Week reviews on this site is extensive proof of that.

It is odd to see 90% of shark movies as thrillers, even though nothing exists to prevent filmmakers from experimenting. But this is one of those cases where staying within a familiar territory is perhaps a good thing. Never mind that this territory comprises of a masterpiece like Jaws, the basic thriller tropes rarely fail to elicit high-octane entertainment for audiences. So it is with The Shallows that we get to witness the shark movie in such a familiar form.
In fact, "distilled" might be a better word to describe the premise. Forget about a huge cast of characters or an elaborate plot for this movie. As it turns out, Anthony Jaswinski's screenplay only uses the necessary elements to create the stakes. We have our main character, Nancy (Blake Lively), surfing through a beach until she encounters a rather hungry shark. Aside from an opening that hints at the film's climax, the plot really is about one thing only. How does Nancy get back to shore without the shark digging into some fresh meat? It is exciting already that its plotting features nothing but essential scenes. As a result, this clocks in at an astoundingly lean 86-minute runtime. However, the movie goes beyond that by improving upon some of the genre's most lambasted elements.

There are a countless number of monster-based thrillers that do not have a protagonist that is both engaging and intelligent. Sometimes they succeed at having the former trait, but this often results in the complete absence of the latter. With Nancy, we have an expressive main character that shows enough fear to exude some humanity. Better still, she shows a lot of resourcefulness to make her interesting to follow. In one nail-biting scene, we see her using parts of a necklace to stitch a few wounds, which provides insight into her unique way of self-preservation. It also helps this role allows Lively to convey a sense of vulnerability in ways she has rarely done in any other project.
The Shallows also proves itself to be a delight when it comes to its thriller sequences. Not to say that it breaks any ground, as it uses jump scares and chaotic camerawork much like its competitors. But director Jaume Collet-Serra compensates for the lack of invention with a surplus of strong execution. Even during the climax in which the ropey CGI shark effects take center stage, the filmmakers wisely use quick editing and numerous wide shots to convey the stakes at every turn. Combine this with its ability to get the most out of a single locale and you get a deeply fun experience that rarely gets stale.

In an unexpected move, the film becomes more than just a propulsive thriller in its second half. This largely manifests with the introduction of a lone seagull (hilariously credited as Sully Seagull) that tags along with Nancy. At first, this seagull functions as a warranted break from the intensity of everything preceding its introduction. But as it spends more time with our main character, it becomes clear that this seagull has quite the personality. In fact, it gets to the point where Nancy gives it the wonderful nickname of "Steven Seagull". Simply put, it stands out from other shark movies by also being the greatest seagull movie since Finding Nemo.
It would be a lie to say every attempt to expand beyond genre conventions works out well. For one thing, the script still feels the need to elaborate on certain parts regardless if it makes sense. In particular, the opening scene plays around with chronological order but does little to hook the audience into the story. At most, it shows a certain item that clearly has significance later on. But it spends more time on characters that are almost insignificant. Furthermore, the final scene relies a lot on a heavy-handed sentiment that feels at odds with the primal, tense vibe pervading in every other frame.

So yes, it would be a serious overstatement to call The Shallows "this generation's Jaws". If nothing else, this movie does not even bother to have a well-rounded ensemble cast. But we should be grateful that the movie ticks so many boxes in the shark movie formula while also being genuinely well-crafted. And in a career of nothing but trashy B-movies, we get to see Collet-Serra crafting a mindless genre picture with a stronger pulse than all his other films combined. To be sure, this could be several steps better. One can only imagine a version of this where the final surfing scene in Galveston actually had dirty water. But from this critic's perspective, there is no way to sit through this without enjoying the vast majority of it.
7/10
The Shallows is now available on Blu-ray and Digital HD.
The film stars Blake Lively, Óscar Jaenada, Angelo Corzo, Joseph Salas, Brett Cullen, and Sully Seagull.
---
Trending Now