'Fast & Furious Presents: Hobbs & Shaw' Review: "A Gloriously Goofy Spinoff"
---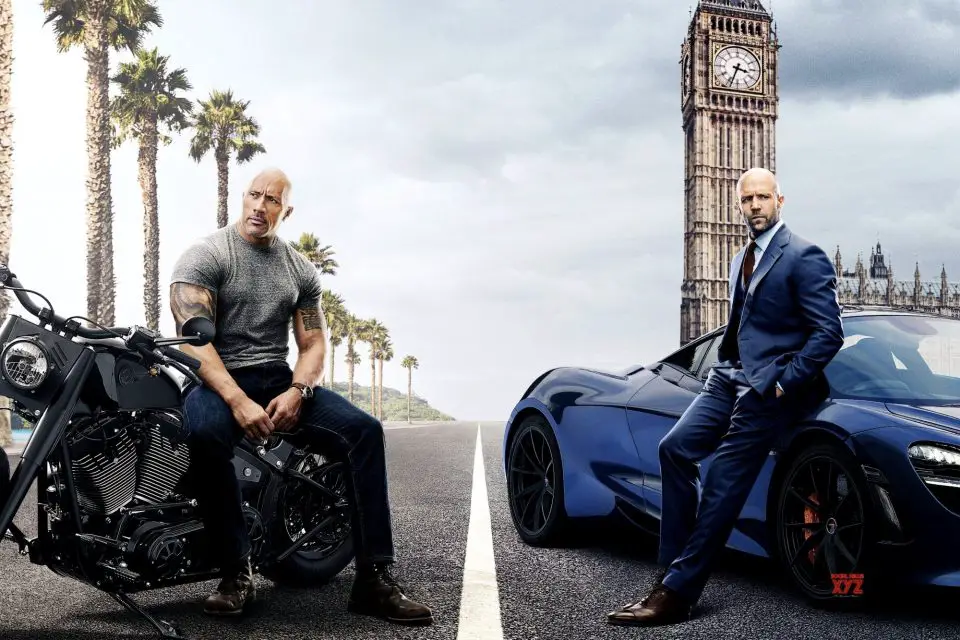 Whatever one might say about the meat-headed Fast & Furious franchise, you cannot deny the fascinating shifts it has made over the years. Not only do the middle films serve as a prequel trilogy to the third entry, it always tops itself in terms of unhinged spectacle. It is insane enough that the franchise conjured up a car chase that uses a bank vault as a weapon. But it becomes even more mind-boggling when two films later, we see cars literally fall out of the sky. So it is with Fast & Furious Presents: Hobbs & Shaw that the series makes a notable shift once again. This time, we have a Fast & Furious movie in the form of the tried-and-true supporting character spinoff.
As with most supporting character spinoffs, the concept of Hobbs & Shaw did not come out of anywhere. Besides, it was not long ago that Luke Hobbs (Dwayne Johnson) and Deckard Shaw (Jason Statham) teamed up in The Fate of the Furious. While a lot of that movie was overly dour, their scenes brought in a much-needed sense of fun. Between Johnson and Statham's delightful chemistry and Chris Morgan's snarky dialogue, the Luke and Deckard scenes in Fate are everything one would want out of a popcorn movie.

The good news is that Hobbs & Shaw wisely uses all that potential to create a solid and light-hearted feature film. Much of this is due to Morgan bringing back the duo's sniping relationship in full force. He gets many opportunities here to characterize Luke and Deckard as two intelligent, but mismatched people. In fact, their struggle to work together becomes as large of a roadblock as the high worldwide stakes surrounding them. So in a similar fashion to Fate, Morgan embraces the fun of two opposite personalities colliding by providing both Johnson and Statham tons of brash and flowery insults to throw at each other.
Another joyous thing about watching Luke and Deckard comes from Johnson and Statham's movie-star qualities. With Johnson's massive physicality, Luke becomes a larger-than-life figure that becomes more amusing. This becomes especially true whenever the script requires him to blend into his surroundings. Furthermore, the movie uses Statham's lean appearance to make Deckard appear as average even though his actions speak otherwise. In isolation, they have such a strong presence that they can carry a movie without anyone else. But when combined, they become a pairing that is as magnetic as the best duos in cinema.

As a fan of the Fast & Furious series, it is reassuring to see that Hobbs & Shaw replicates one of its trademarks: the goofy but sincere attempts at sentimentality. These films pride themselves about the importance of family, and this is no different here. In fact, this becomes evident early on in a scene with Deckard and his mother, Queenie (Helen Mirren). Within a few minutes, Queenie wishes for the days when Deckard spent time with the family than by himself. In addition, Deckard eventually reunites with his sister, Hattie (a scene-stealing Vanessa Kirby), since her presence kicks off the plot. By the time it gets to Luke's family in the climax, the thematic core solidifies the movie as being worthy of the Fast & Furious name.
Better still, the actual narrative brings in quite a delightfully simple message. According to this movie, machines may be perfectly constructed and efficient. However, they can never live up to the beating heart of the human. The film's technologically enhanced antagonist, Brixton (Idris Elba), serves as an argument for improving human physicality. At the same time, whatever humanity he once had is now gone thanks to the enhancements. Meanwhile, every other character favors the primitive over any sort of sophistication. Interestingly enough, this culminates in a final action sequence that sees Luke and Deckard using clubs and bare hands to defeat their enemies.

Speaking of the action, it would be a stretch to say that the set pieces in Hobbs & Shaw match the franchise's greatest moments. After all, how can one truly top the masterful bank vault chase in Fast Five? But even when compared to director David Leitch's previous works like Atomic Blonde, this feels like a regression in terms of crafting clear spectacle. This is not to say there are zero stand-out moments across its 133-minute runtime. Watching Kirby dispose of henchmen with such efficiency never ceases to amaze. On top of that, the climactic helicopter chase uses a select few cars to create striking imagery. Still, Leitch relies more on weightless CGI than elaborate choreography this time around, and not always to its benefit. It also does not help that the fast editing makes it challenging to comprehend what is happening.
But while Leitch is not providing his best work in the action sequences, he is at least evolving as a comedic storyteller. Early on, Leitch ingeniously uses split-screen techniques to compare and contrast the lives of Luke and Deckard. Providing insight into their daily lives using this method is genuinely amusing and efficient on its own. However, it gets even better considering this is the first moment either of them is onscreen. Moreover, he incorporates symmetrical point-of-view shots in the scenes where Luke and Deckard throw insults at each other. If that was not enough, these often involve Johnson and Statham staring directly at the camera with such passion. With these scenes, Leitch is really effective at conveying the cocky atmosphere these characters have when in close range.

That said, one wishes that the writing was as disciplined with its comedy as the filmmaking. Given how collaborative the production is, it would be unfair to point fingers to one specific person. But between the planned and improvised gags, it feels as if either Leitch or Morgan enjoyed themselves too much to remove the inessential bits. Although the verbal fights are funnier than not, it struggles whenever it mines jokes out of something else. This is especially apparent in the extended airplane scene, where it practically stops in order to get material out of a minor character. Admittedly, the gags themselves are relatively solid, but their presence also means that the movie's momentum is not as propulsive as it could be.
What we have in Hobbs & Shaw is not the most groundbreaking film in either Leitch's catalog or the Fast & Furious franchise. In fact, there is a more satisfying product that could be made by removing the least crucial moments. Still, it would be a lie to say that it ever becomes outright bad or even mediocre. Simply put, the film is a pleasurable experience that hits its peak every time it allows Johnson, Statham, and Kirby to be charismatic action stars. And thanks to Leitch and Morgan, rest assured that it hits that peak quite often. In short, this is exactly the kind of dumb fun movie we need for the last weeks of summer.
7/10
Fast & Furious Presents: Hobbs & Shaw is now available in theaters.
The film stars Dwayne Johnson, Jason Statham, Idris Elba, Vanessa Kirby, Helen Mirren, Eiza González, and Eddie Marsan.
---
Trending Now