Shark Week: 'Sharknado 3: Oh Hell No!' Review: "Oh Hell Yes!"
---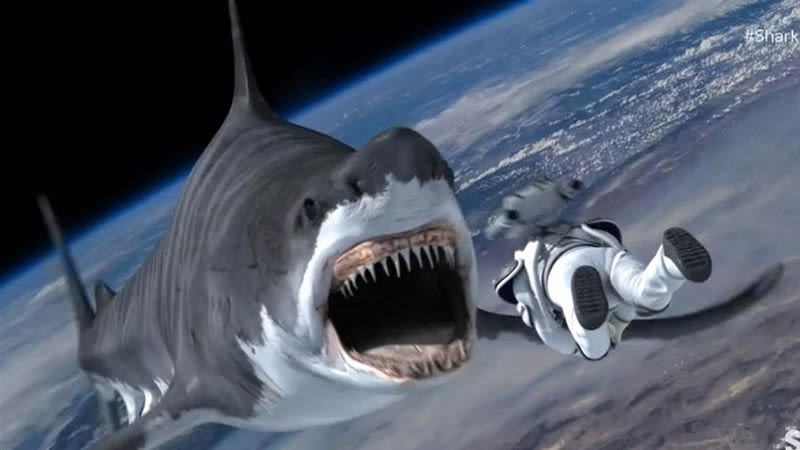 As the saying goes, "Another year, another Shark Week." Between July 28th and August 4th, we at Full Circle have decided to celebrate by digging our teeth into a variety of shark movies. For this review, we're going to be looking at a very different kind of shark movie: Sharknado 3: Oh Hell No!
Ladies and gentlemen, it is Shark Week, and yeah, I could do a review about Jaws or something. Hell, it would be easy to talk about a big budget, Hollywood film. Truthfully, that sounds boring. I don't want to talk about a highly respected film. I want to talk about Sharknado 3. No, I don't care about Sharknado, where Syfy thought they were going to make a really good movie. I want to discuss the point in time when they realized the franchise was laughing stock and just ran with it! 

The story starts off with our protagonist Fin Shepard (Ian Ziering)  in silhouette form, doing some James Bond-style opening! This movie knew what it was very early on and didn't shy away from it at all! Also, the dude's name is Fin! Ya know, like a shark fin!

So, he goes to the White House to receive the Presidential Medal of Freedom and a Golden Chainsaw, when the Sharknado storm starts up again. He warns the president (Mark Cuban) of the impending doom and, I kid you not, Mark Cuban says "You know, they used to call me a shark." That's right! The dude from Shark Tank is the president in a movie about sharks and he calls himself a shark! I think you see where I'm going with this.
Meanwhile, inside the White House lobby, Fin's brother in law, Martin Brody (Mark McGrath from Sugar Ray) is trying to help everyone to safety. The white house is falling apart and statues are falling. There is just total destruction right off the boat! Who knew that their 1997 hit "Fly" was a prediction of him being in this movie?!

Mark McGrath helps Ann Coulter to safety by ripping frames off of the White House wall and using them as surfboards to avoid stair sharks!
Meanwhile Fin and Mark Cuban are being escorted by the secret service to an underground bunker. Unfortunately, the sharks got into the bunker and eat the secret service! So, the President and Fin decide to deal with the sharks themselves! They go total 80's action movie on these sharks and one liners are being thrown around left and right! The president even throws a grenade directly into a shark's mouth! The confrontation ends when Mark McGrath, Mark Cuban, Ann Coulter, and Fin grab the American flag and stab a shark with it, while standing in that Iwo Jima pose.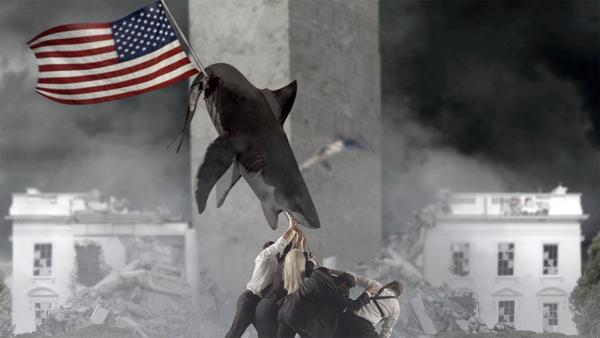 That sounds like an awesome movie right? That's just the scene before the opening credits!
Post opening credits, we see Fin's now pregnant wife, April Wexler (Tara Reid), and their daughter, Claudia Shepard (Ryan Newman) at Universal Studios, where she misplaces her phone and  loses all contact with both parents. In the most 80's "I have to save my daughter" kind of way, Fin decides he has to make his way to Florida. He runs into his assistant from the first two movies, Nova Clarke (Cassie Scerbo) and finds out that she is quite the experienced Sharknado tracker. She has this badass van and her own assistant, Lucas Stevens (Frankie Muniz).

By this point in the Sharknado timeline, Fin and Nova are pretty famous for saving the world multiple times. They're so famous, they can walk into an Air Base and fly a bomber jet to fight off the sharknado! Literally no questions asked! They're just like "I know how." and the airbase guards are like "Okay, sure. Why not?" Unfortuntely for everyone there, the base is about to be hit by a big one! Lucas decides to blow up the van so Fin and Nova can escape. This is the absolute best scene in the movie. Frankie Muniz gets his leg and arm torn off by a shark and crawls to the detonator and then gets his other leg eaten. Then his other arm!!! The dude has to, straight up, Bob Oblong press the button with his face!!!

I mean, Malcolm already knew life was unfair, but Jesus Christ! In all honesty, I chose to review this movie just for this scene alone!
The sharknadoS start forming into mega sharknados and Fin decides to call his estranged father, and NASA Colonel, Gilbert Shepard (David Hasselhoff)!

Fin tells him that the only way to stop the Mega Sharknado from destroying the east coast (now known as the FEAST COAST) is to attack it from space! Most franchises wait until they're out of ideas to go to space, but Sharknado decided that they were going to do it early! Even Jason waited 10 movies (Jason X)! Fin tells him that the plan is to blow up a large amount of rocket fuel to detroy the sharks, but the plan fails. They use "Plan B," which is this Reagan-era, laser defense system. Sadly there will be no way to return so Gilbery saves the world by stranding himself on the moon.

Fin comes back to Earth to find out that his pregnant wife is in a shark and pulls his now newborn son and wife out of it! Coolest birth scene ever! "Where were you born?" "Oh, me? I was born inside of a shark!" In honor of his father, he names his son "Gil." Yeah, he named him Gil! You know who has gill's? Fish! Fish have gills! They were able to squeeze one last fish pun in a shark movie!
Okay, this movie isn't going to win awards or be in anyone's Criterion Collection, but I absolutely love it. It's self aware in the sense that it doesn't pretend to be a great film. It's fun to watch if you're into the "so bad, it's good" genre. Combine that with the fact that you don't need to know anything about the Sharknado franchise to watch it, and you have B-movie bliss that is easy to just jump right in and enjoy.
8/10
Sharknado 3: Oh Hell No! Is available on DVD.
The film stars Ian Ziering, Tara Reid, Ryan Newman, David Hasslehoff, Mark McGrath, Frankie Muniz, Cassie Scerbo, and Bo Derek.
What do you think of Sharknado 3? Let us know in the comments below!
---
Trending Now