'Sherlock Holmes 3' Adds 'Rocketman' Director Dexter Fletcher
---
Looks like Dexter Fletcher has found a new Holme. The Rocketman director has come aboard Sherlock Holmes 3 according to Variety.
The filmmaker, fresh off of the success of Rocketman, has been brought on to continue the adventures of Robert Downey Jr's "Sherlock Holmes" and Jude Law's "Dr. Watson." Both actors are expected to return to their roles.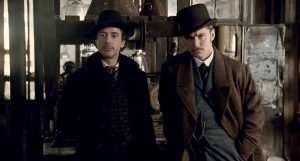 The previous film, Sherlock Holmes: A Game of Shadows, was released in 2011. Both "Sherlock" films have been successful which begs the question to why it's taken so long for a third outing to get off the ground. You can blame Iron Man for that. Downey's busy MCU schedule has slowed down the film's progress but, with a snap of the fingers, his schedule is wide open.
What do you think of this news? Are you looking forward to the third Sherlock outing? Let us know in the comments below!
Sherlock Holmes 3 comes to theaters December 21st, 2021.
---
Trending Now