---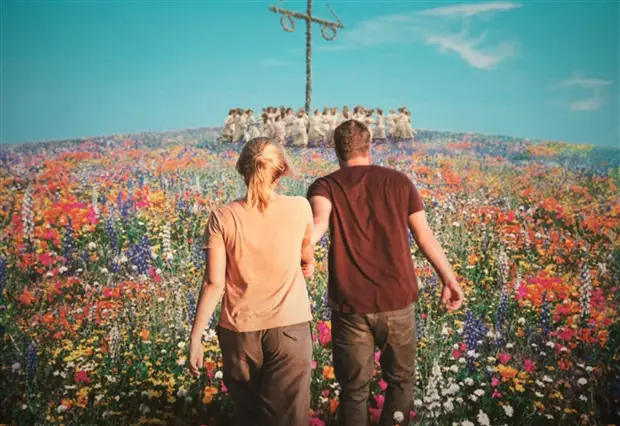 How does someone deal with trauma? Midsommar tries to address that, and more. It's about being stuck in a relationship that's doomed to fail. It's about how we deal with grief. It's the thoughts and concept of a cathartic revenge. All of this and more are in Ari Aster's latest breakup film hidden in amazing unsettling folk horror.
Midsommar's about all of those things said before, but also as said earlier it's basically a break-up film meshed in horror genre. Not just any sort of horror though. Folk Horror. A not as well known genre, those who watch Midsommar should be warned. This film is unlike the usual horror-fare and will most definitely trip you out. The well-executed vision of the director makes the trip much more worthwhile though. The similarity with Hereditary's themes and storytelling are also evident throughout the film too.
The film begins, in usual Ari Aster Horror Tradition, with a horrible family tragedy. Dani (Florence Pugh) and Christian (Jack Reynor) are in a relationship that is nearly at its end when the tragedy happens- Dani's sister takes her own life, as well as the lives of both her parents. This event changes what would've been the natural end to a relationship that isn't working, as Dani needs as much emotional support as possible. Christian, however, only gives it begrudgingly, always trying to avoid her. Even going so far as to book a trip to Sweden with his friends behind her back. When Dani finds out and is (justifiably) angry and not entirely aware of why he wouldn't tell her, Christian invites her along. With an already shaky relationship between two people in different states of mind, this might not be the best idea.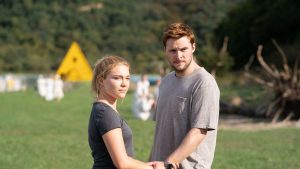 The trip is coordinated by Christian's friend Pelle (Vilhelm Blomgren), a Swedish native who also invites along Mark (Will Poulter) and Josh (William Jackson Harper). Each member of Christian's group of friends is going to Sweden for different reasons. Pelle wants everyone to see the celebration that happens once every 90 years at his remote village. Mark's looking for some beautiful Swedish women. Josh wants to write his thesis on the traditions of the village. Christian wanted to get away from his friends, but that changes when Dani finds out. The trip changes to a last-ditch attempt to save a broken relationship. No good can come from this.
As the film continues on from this setup, things only get worse and more unsettling. The remote village has an ominous feeling to it most of the time. The friendly residents are more off-putting than they try to be. The sun never sets. At one point, Dani and the group take shrooms, giving her a bad trip and making her more uneasy than she already is. Things build up to a ritual the group witnesses two days into the trip, traumatizing the group and changing the trip. Things take a bloody turn at that point, and in typical horror movie fashion, just head in a violent direction.
Most of the film is easily predictable in story beats, but that doesn't take away from the shocks that Midsommar has to offer. A lot of the gore that is expected from a horror film is in full effect in this film, especially towards the end. Ari Aster gets creative with the graphic imagery that is unnerving and effective. Despite all of that, Midsommar's biggest strength is the story it wants to tell with its characters. It's story of a broken relationship can resonate with anyone who has gone through a tragedy. It also works so well because of it's amazing cast.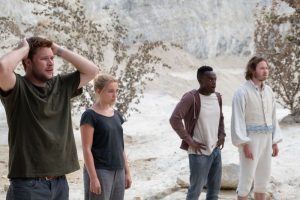 Performance wise, the entire cast brings its A-game to tell this story. The highlight is Pugh as Dani, though. Seeing her translate this hurt and broken character to the screen is an absolute pleasure. There was a possibility where Dani could've been another cliché horror trope, but Pugh avoided this with her performance. By the time the third act rolls around, her performance as Dani is proven to be not only the most difficult but also the best portrayed. Starring opposite Pugh is Reynor as Christian, who gives a more cowardly performance. Reynor carries himself with a sort of selfishness that makes you feel sad watching their relationship on screen. Overall, out of everyone in the ensemble, Pugh makes this her film.
The production design and overall aesthetic of the movie is such a fresh departure from typical horror as well. Playing with subverted expectations in both aesthetic and story, its fun to watch horror play out in broad daylight. If anything, it makes everything more unsettling and creepier than it already is. The architecture, furniture, and overall culture of the village feels off in more ways than one. Everything being so open and revealed makes it feel more threatening, and it works so well. The practical effects thrown in the film are shockingly disturbing and great as well. Overall, the production and costume design are top-notch and make this a very aesthetically pleasing film.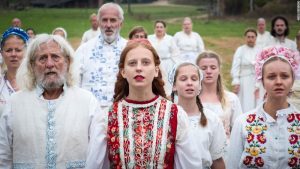 The score is a new subject altogether, as the music composed by Bobby Krilic takes Midsommar up a notch storytelling wise. The heightened effect the score has on the narrative makes it crucial, and luckily, it's a good score too. The different intensities of the music depending on what scene is playing is always an amazing touch. The music is also incorporated into some ceremonial chants in the film as well. From having a magical feeling in one track to sense of dread in another, this score does wonders for the film.
In the end, Midsommar has a lot going on. A horrible and tragic tale of grief and trauma, and how someone deals with it. Losing a family, and in a sick and unexpected way, finding a new one. Hidden inside Ari Aster's horror film is a story about dealing with grief. A cautionary and twisted fairy tale about the relationships you build with others. Thematically speaking, it tells a very powerful story, in spite of its predictable story beats. Midsommar is a beautiful and f*cked up piece of horror cinema. Underneath it all, besides trying to shock, Midsommar may even try and tell a meaningful story.
Grade – 9/10
Midsommar is now playing in theaters
Check out our latest movie review here
---
Trending Now