'Spider-Man: Into The Spider-Verse': A Lesson In Superhero Scores
---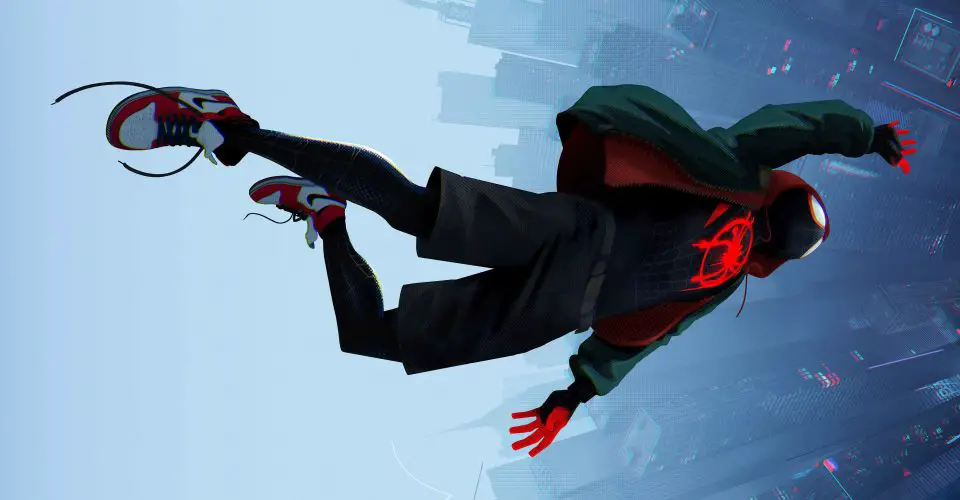 Spider-Man: Into the Spider-Verse boasts a broad, electric soundtrack that perfectly matches the vibe and aesthetic of its heroes and its city. Could it be a path forward for superhero films often dulled by basic, forgettable scores? 
Movie soundtracks are a specific type of magic that often goes unseen or even overlooked by the casual movie-goer. A soundtrack is an expected, natural part of the film experience, accepted by the audience just as easily as drawn out villain monologues, dramatic camera angles, and mascara that never seems to run (even if the actress is standing in the pouring rain.) 
And the music of superhero films is no different. The original Superman theme by John Williams is a full orchestral piece and is one of the most iconic soundtracks ever made. Danny Elfman's Batman theme is equally iconic, and the hair raising cello sounds of Wonder Woman have become a recent well-known musical suite. Each theme matches their hero – the classic wonder of Superman, the mysterious, gothic allure of Batman, and the epic warrior qualities of Wonder Woman. 
But an unfortunate overtook superhero genre over the course of the 2010s, just as superhero movies hit their stride, one that pushed music to the background in favor of grand action pieces. The Marvel Cinematic Universe in particular has struggled with creating scores that are cohesive across their shared universe, reflect their individual characters and the atmosphere of the film, and – perhaps most importantly – are memorable.
So when 2018's Spider-Man: Into the Spider-Verse approached things a little differently, people took notice.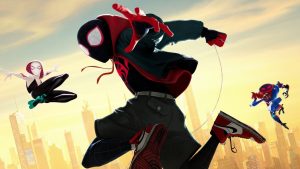 Daniel Pemberton's score is a masterpiece of sound, and accompanied by a critically acclaimed soundtrack featuring music by Post Malone, Nicki Minaj, and Jaden Smith. The soundtrack specifically was created with the idea in mind to find songs and artists similar to what "…a teen like [lead character Miles Morales] is listening to across the country."
Pemberton aids this mission with a score filled with reggaeton and hip-hop, classical symphonic and electronic beats. It's a score that stands up on its own even when not accompanied by a film, but with the visuals of Miles Morales dancing his way through 21st Century Brooklyn playing alongside them, it magnifies and enriches the setting tenfold.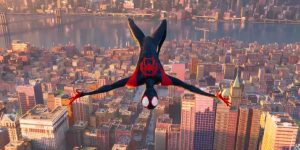 The score and soundtrack are not wallpapers in the world of Into the Spider-Verse, but a character unto themselves. Its particular focus on hip-hop, record scratching and jazz styles is specific and critical, reflecting Miles Morales' heritage as a Afro-Latino teenager, and is balanced by traditional superhero dramatic violins and blaring trumpets. 
What I like about it is that it matches the character from top to bottom; it's not just the theme that's in-character, but the entire sound of the film. It's young, it's urban, it's gritty and it's complicated – just like the film itself. It's a total rejection of "temp music" (the unfortunate trend amongst blockbuster films to borrow scores or styles from other films in lieu of new, original music.) It's not just Spider-Man that has a theme, but every character and every scene. "Green Goblin Fight" is a chilling sound filled with screeches and symbol crashes right out of a horror movie, while "For the Love of MJ" is a dramatic, sorrowful piano piece that brings you right into Peter Parker's head as he struggles over his divorce. Until – at last – we get to Miles' song, which borrows from Peter Parker's Spider-Man theme and infuses it with electronic beats. 
It should be messy, but it's a blend of perfectly controlled chaos that bounces from world to world just as much as its characters do.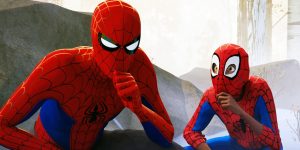 Please don't take this as any sort of bashing of more conventional soundtracks. I jam out to Hans Zimmer as much as the next fan. And more and more superhero films are taking baby steps into the world of unconventional soundtracks. As more film auteurs step into the superhero movie ring, their styles of music follow them. Thor: Ragnarok brought an 80s synth-wave sound to the table, and Black Panther paid homage to its own hero's African roots with Xhosa choirs.   
I hope we see more soundtracks like Into the Spider-Verse. Superhero movies have gotten the visuals of comic books down to an art, but can struggle with truly bringing audiences into their worlds where superpowers and aliens are normal. Music that represents into heroes to the key, and feels just as much apart of this world as the characters on screen helps with that. Into the Spider-Verse has opened a door for stories outside of Marvel's sleek, well-known style and DC Comics' gritty-to-a-fault heroes can truly thrive – both visually and musically. 
What's your favorite superhero movie soundtrack? Do you have any composers that you'd like to see try their hand at a comic book score? Let us know in the comments down below! 
Spider-Man: Into The Spider-Verse is available now on Blu-ray and digital.
The film features the voices of Shameik Moore, Hailee Steinfeld, Mahershala Ali, Jake Johnson, Liev Schreiber, Brian Tyree Henry, Luna Lauren Velez, and Lily Tomlin.
---
Trending Now