'Toy Story 4' Review: "Little Movie, Big Heart"
---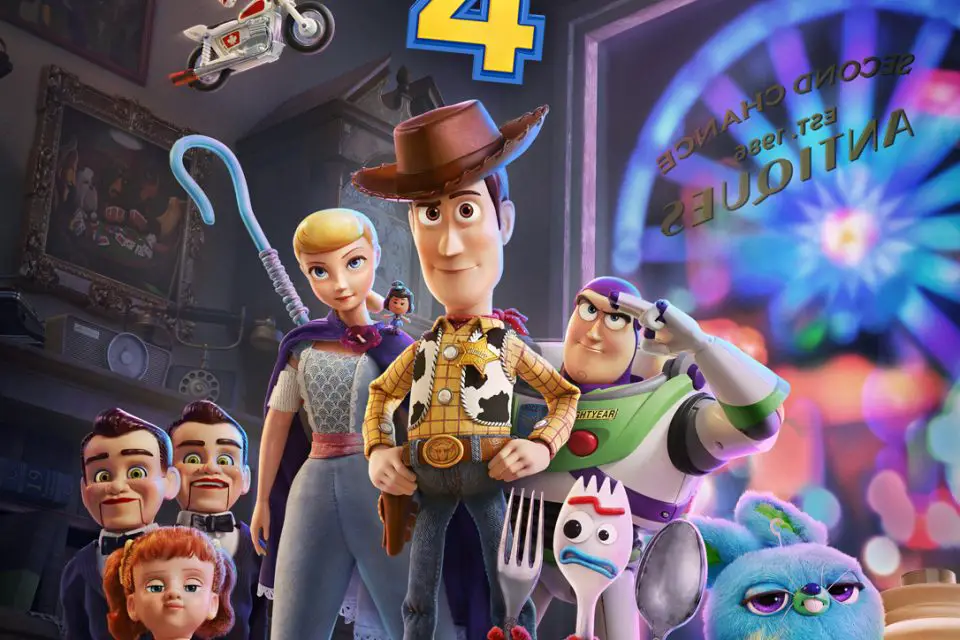 Disney movies always end with happily ever afters. We are all familiar with the explosion of joy of that last final kiss or the last musical number. Rarely do we ever consider what comes after "The End". What would such a story look like if the characters already feel resolved of their internal conflicts? Toy Story 3 may have been the closing of Andy's chapter, but it was not the closing of Woody's. If you look back at the final scene of Toy Story 3, you will find a loyal toy that lived his entire life for Andy. As Woody sits on that front porch looking out, we can tell he is fulfilled. But we can also tell that he feels uncertain of what the next phase of his life may bring. As it turns out, Toy Story 4 represents his next phase of life.
Toy Story 4 is a little movie with an enormously big heart. It may not have the size and scale of the previous installments, but I do not think that it needed to be for it to be moving. This story centers around Bonnie's own transitional hurdle: kindergarten. It is an understandably difficult moment for her, and she cannot do it all alone. So what does she do? She makes a new friend.  A new friend that she makes during arts and crafts out of trash, might I add.
Now we all have a purpose in life. Some of us spend our lives in school to be doctors. Others might find value in the arts to treat our hearts with different perspectives. Forky takes a humbler approach to life… he wants to be thrown away with the trash. And it is up to Woody to teach him his new responsibility as a toy. Yeah, I get it. Forky is just a plastic little spork, but Bonnie's love and affection for him makes Forky priceless. Hence the reason why Woody makes a big deal out of saving him from the clutches of an antique store. However, Forky is not the only character that needs a life-readjustment.
Woody so desperately needs reflection too from the habits and principles of his ways. He needs his life to be shaken up a little after Andy. After all, he is collecting dust mites in the back of Bonnie's closet, and it is through an old friend that Woody can feel complete again, even without Andy. Bo Peep makes a kickass return, and is there to give Woody a much needed reevaluation of the existential crises of being a toy. Her relationship with Woody is where this movie shines and dazzles, sometimes with such brilliance that sometimes I forgot that these are just toys and not actual human beings.
One of the best things about Toy Story 4 is that the script gives a little bit more leeway for the toys to be toys. The story does not frenetically zoom through plot point after plot point like an RC car on nitro. Instead, it gives enough breathing room for Woody to be Woody and for Bo Peep to be the Bo Peep that we had missed. I appreciate those little moments of Toy Story 4 where characters can simply just be. There is an urgency to the story, but it never suffocates all of the interactions between the characters.
Like with any other Toy Story movie, we get a few new toys to the bunch, and each of them are just as memorable as Andy's toys. Duke Caboom is my personal favorite addition. Caboom is a stuntman that never got a "big-break" from his previous owner. It has haunted the voice of Keanu Reeves ever since. And then there is Gabby Gabby… the proud ruler of the antique store. She is also the commander of ventriloquist dummies that give me horrifying flashbacks to those infamous Goosebumps episodes. Despite all of this, Gabby Gabby is an antagonist from her circumstances, and she makes a surprising character arc that not most Toy Story villains make.
In short, Toy Story has not lost its spunk after all of these years, especially during those long years when the franchise gathers dust mites in our closets with all of the other forgotten toys. Inevitably, we will grow out of toys, but not with these. Even after all of the cracks, tears, and stitches of Woody and friends, we will still find something new in their age. I found something new in Woody that I could not have seen 9 years ago on the cusp of teenager-hood. Woody is not getting any older, but those around him are. We are getting older. And what a joy it's been to grow older with these toys, but also to never lose sight of the child we once were.
Rating: 9.5/10
Toy Story 4 is now playing in theaters.
The films stars the voices of Tom Hanks, Tim Allen, Annie Potts, Tony Hale, Keegan-Michael Key, Jordan Peele, Madeleine McGraw, Christina Hendricks, Keanu Reeves, Ally Maki, Jay Hernandez, Lori Alan, and Joan Cusack.
---
Trending Now