'The Dead Don't Die' Movie Review
---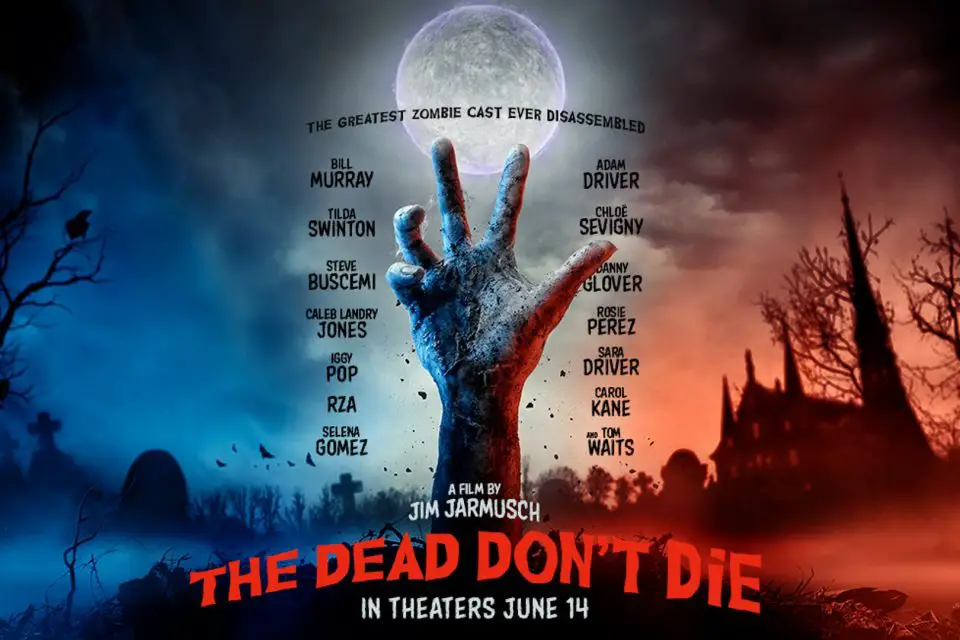 The Dead Don't Die is a prime example that cinema isn't dead. This may sound like an exaggeration, but Film Twitter seems to think blockbusters reign supreme and indie films don't see the light of day. Then there's Jim Jarmusch's latest arthouse film, with distribution from Focus Features and a wide release during the summer movie season. Cinema definitely isn't dead folks. The Dead Don't Die is a black comedy zombie film that takes place in a quaint and quiet town. Its odd story structure and comedic beats are carried by its impressive cast and while a bit droll, the film is endearing.
Starring Bill Murray, Adam Driver, and Chloë Sevigny, the trio do more their fair share of work carrying the film. The movie also features an ensemble cast alongside the trio mentioned in classic Jarmusch fashion. Almost every actor in this film has worked with him before on one of his many other films. Speaking of Jarmusch's filmography, The Dead Don't Die is special because it is his first foray into the zombie film genre. The concept of two icons of filmmaking, Bill Murray and Zombies, being put together in a film, was exciting. General audiences were excited to see it. Does the film deliver? The answer, is sort of.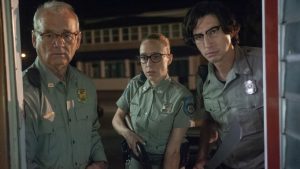 While we do get our fair share of Bill Murray and Zombies, this film is not your typical zombie film. With its cleverly political message weaved into the story and dry humor, it's hard to compare to any zombie film. Even films such as Shaun of the Dead don't quite compare to what Jarmusch has created here. This arthouse film, disguised as a zombie film, uses its cast to its advantage to tell its odd story. Bill Murray and Adam Driver take the main focus, with other interweaving stories in the film starring other talent. Steve Buscemi, Tilda Swinton, RZA, and Iggy Pop are some of the people who take part in this film. Each has their time to shine, and it is only with this cast that the dry humor manages to work.
The zombies are a big thing that need to be addressed as well. Jarmusch does his spin on the zombie genre in a fun and creative way in this film. The dead are stuck to repeating the same things they did while living, providing interesting commentary and hilarious situations. This could, however turn off some audiences to the film and maybe even confuse others. The story and characters in this film aren't exactly the most relatable at times. Seldom does a character in this film react how you expect them too. That is the charm of a Jarmusch film, though. It could even introduce the casual moviegoer to his work, too. There are plenty of crowd pleasing moments for fans of the zombie film genre, though. Hacking, slashing, and full on zombie carnage is present in the film too.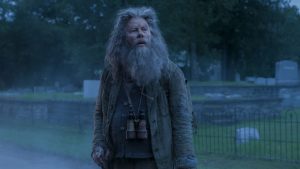 So, while the film has what you expect from a zombie film, it also has a lot that you don't expect too. This mixture of both zombie action and arthouse storytelling is something i'm not entirely sure general audiences will appreciate. It's something I'm not entirely sure if I appreciated or not. The droll humor eventually can take a toll on the viewer by the time the credits roll. The plot-lines in the film don't really have any sort of resolution or ending, which can leave some confused. The trio of Driver, Murray, and Sevigny shine in this film, as well as the ensemble, but that can't help the story. As much as Jarmusch deconstructs the zombie genre he also plays to it, making for a confusing but fun time. The multiple stops to ponder on the futility of it all makes the film lose momentum sometimes, too.
Still, The Dead Don't Die is a prime example that cinema isn't dead. Thanks to wide distribution, Jim Jarmusch's latest deconstruction of cinema will reach the mainstream audience. While some casual moviegoers come for the zombie gore and Bill Murray, there's a chance they will stay for it's odd commentary and explore more 'different' films like it. While there are odd choices made with The Dead Don't Die, there are more good ones to justify this film.If there's anyone to thank for supporting weird, different, "independent" cinema, it's Jim Jarmusch. Cinema isn't dead. At least, not yet. – Ernesto Valenzuela
GRADE: 7.5/10
The Dead Don't Die is now playing in theaters.
The film stars Bill Murray, Adam Driver, Chloë Sevigny, and Tilda Swinton
---
Trending Now