Of Marvel and Queerbaiting
---
After the release of Avengers: Infinity War, Marvel Studios head Kevin Feige hinted at the introduction LGBTQ+ characters in future movies – characters that had already been seen on-screen, as well as new ones. And when this character came and was revealed in Avengers: Endgame to be a small cameo, it was less than ideal.
For many, it was an exciting moment to know that a queer character would finally be. For others, it was a punch to the gut, another frustrating moment in over a decade of Marvel films with barely a hint of any actual gay characters. That the cameo character was played by one of the straight directors rather than an LGBTQ+ actor or activist was just another cause for 'disappointed but not surprised' sighs.
Like many studios, Disney and Marvel often hint at LGBTQ+ characters appearing in the MCU, without actually taking any steps to show them on screen. Sometimes Marvel just cuts the queerness altogether. Thor: Ragnarok initially included a scene with a same-sex romantic scene between Tessa Thompson's Valkyrie (who is canonically bisexual) and another woman, and Black Panther was reported to have cut a flirtatious scene between Okoye, the general of the Dora Milaje, and fellow warrior Ayo.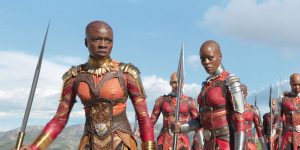 Other times, the MCU leads its characters into faux-relationships, indicating romance when, in actuality, it's just platonic feelings. It's a tactic called "queerbaiting," when writers use characters to hint at, but not actually depict, a same-sex romance in order to attract audiences interested in such a relationship.
While often found in marketing schemes that edit trailers or posters to feature a popular pairing (see BBC's Sherlock or the CW's Supernatural) often times it's also found in a narrative that gives LGBTQ+ people hope for representation, only to snatch it away. Such is the case with Captain Marvel.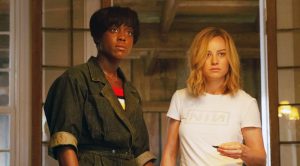 Captain Marvel relied heavily on the friendship of Carol Danvers and Maria Rambeau to help Carol rebuild her lost memories. They are close friends that served in the Air Force together, so close that after Carol's assumed death, Maria received all of Carol's belongings. It is also strongly implied that they co-parented Maria's daughter, Monica, together. Monica refers to Carol as "Auntie" but, as they flip through a photo album at one point in the film, all the photos show Carol and Maria as Monica's sole parental figures. There is no mention or sight of a father, not even a peep from the otherwise chatterbox Monica. 
If Maria Rambeau was a male character, I would bet cold hard cash that there would have been a kiss between them and Carol. But because it is two women, it remains heavily romance-coded and nothing more.
We can look even closer to Captain America.
After Captain America: The First Avenger and losing his first love, Peggy Carter, Cap steered clear of romance, committed to his duty and to movies too packed with action for much else. But a continuing thread across his films and narratives was Bucky Barnes, Steve's long-lost childhood best friend and trained assassin known as the Winter Soldier.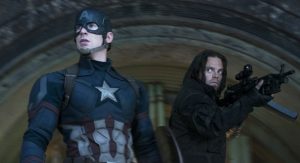 While Peggy Carter was a capable heroine and strong fighter, Bucky Barnes fit well into the traditionally romantic role of the damsel (needing to be rescued by Cap in The First Avenger, and as the Winter Soldier, he grows even more loyal to Captain America). Steve was even willing to die for Bucky, telling him they're together "till the end of the line" as a Helicarrier sinks to fiery depths at the end of Winter Soldier. It prompted many questions about the nature of their friendship, and fans quickly latched onto the pair, skyrocketing "Stucky" to the tops of fandom content. A hashtag was even created called #GiveCaptainAmericaABoyfriend.
Marvel attempted to downplay Steve's budding homosexuality by shoehorning in a forced romance with Sharon Carter – Peggy's Carter's niece. Needless to say, it didn't go over well with fans, and Marvel put Captain America's romance firmly on the backburners for several films.
That is, until Avengers: Endgame, when Steve Rogers is literally sent back in time to be with Peggy — essentially erasing her marriage, children and accomplishments in a new reality. It reduces her to the notion that she was waiting for Steve and eliminates a future Cap could have had but seemingly never considered – retiring to live without war, without the Avengers, and with his best pal Bucky.
Marvel has come a long way since its beginnings. Black Panther and Captain Marvel were critical and box office successes, and Spider-Man: Far From Home will feature the MCU's first transgender actor as one of Peter Parker's classmates. It's also rumored that upcoming The Eternals will feature the first gay superhero in the MCU, and, if true, that's incredibly exciting news!
But we're twenty-two films into the MCU and the lack of LGBTQ+ characters and tendency to queerbait characters is beyond frustrating at this point. If Marvel really claims to be such a diverse, progressive studio, they should give an LGBTQ+ hero a real chance. It's certainly one that fans deserve.  
Where would you like to see Marvel's representation go? Any stories or heroes that you hope to see in Phase Four? Let us know in the comments below!
---
Trending Now