'The Violence Movie': It's As Weird As It Sounds
---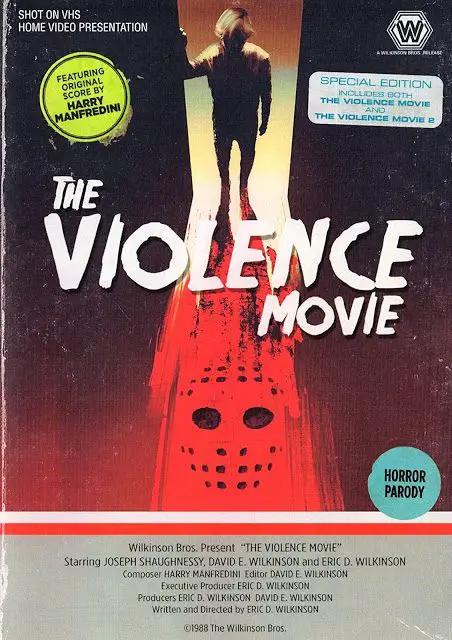 Almost every movie fan has toyed with the idea of grabbing their mom's video camera and making their own movies. In the summer of 1988, Eric and David Wilkinson did exactly that while paying tribute to their heroes, Freddy Krueger and Jason Voorhees. Lucky for us, all 14 minutes of their homemade project, The Violence Movie, made their way to DVD with original VHS quality.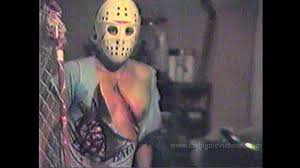 I wasn't kidding when I said "VHS quality."
Before you ask, yes… I actually own this DVD! I found this strange DVD sitting next to a Blu-Ray of Alfred Hitchcock's Psycho. Even weirder, Psycho was a couple dollars cheaper than The Violence Movie. I thought to myself, "This is either the worst movie of all time or the greatest film ever made!"

The Violence Movie begins with our hero "Joey Hammond" (Joseph Shaughnessy) driving home when a radio broadcast interrupts a song called "Hey Dentist," which was written and performed by a friend of the Wilkinsons. The broadcast continues to warn its listeners of a murderer who recently escaped prison. He is describes as a   "Man" who is "6 feet tall and wearing basic, everyday clothing." Yeah, that could be anybody! That could be the guy sitting next to me right now!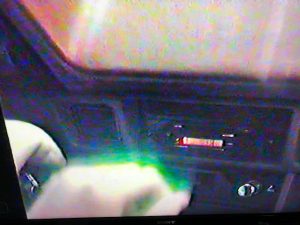 Lensman's hand makes a cameo during the scene. Take THAT, Stan Lee!
We cut to see the "man" roaming around the Wilkinsons' childhood home after he decided to break in for whatever reason.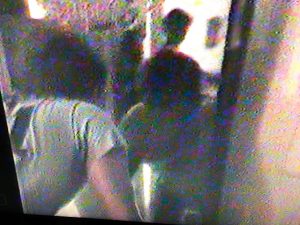 Nothing says home invasion like stopping to look into a mirror while a random family member walks into your shot.
From seeing cinematographers, family members in mirrors/backgrounds, and inaudible dialogue, all the home movie tropes are here. The break in scene is admittedly pretty drawn out, but Joey eventually arrives and fights the "Man". This is the only plot point of the movie that actually makes sense.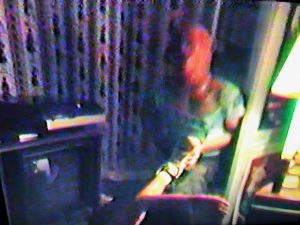 We've all thought about giving a villain to kick to the nads, they actually wen't for it!
During the movies less than intense fight scenes, we get to see the homemade effects the Wilkinson's were able to think up. From stab wounds in pillows, dummies used to simulate throwing someone out of a window, and fake blood everywhere, The Violence Movie has it all.

The scene that really stands out to me is the pool scene where Joey's "best friend" comes into shot and delivers this gem!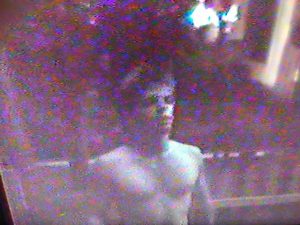 "Hey, Joey, it's me, your best friend!" (Actual line)
Shortly after, the man magically appears in back of  "Best Friend" and slashes his throat. I mean, it wouldn't be the first time this has happened in a horror film (looking at you Friday the 13th, Scream, and Halloween), so I'll excuse it.
Joey and the man continue to fight. That's actually the only thing that happens in this movie. They fight, stab, and find excuses to use fake blood. 

At 11:52, Joey's arm is dismembered only to magically appear in the next shot. It's pretty much everything you've come to expect in a homemade, horror film. I mean, I didn't think I'd be watching Kubrick or anything, but come on!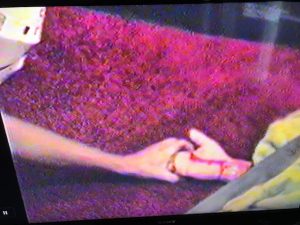 Say goodbye to your arm!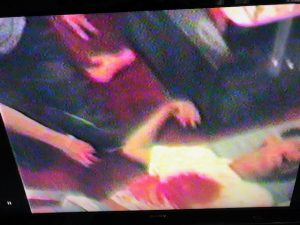 Say hello to your new arm that grew back… next to your… old arm?
Although The Violence Movie is littered with plot holes, awkward dialogue, cheesy effects, and shoddy cinematography, I can honestly say that this movie is the single greatest thing I have ever seen! This is the movie that we all thought about making when we were little kids getting that filmmaking itch. The cheesy, homemade effects have a lot of heart. The acting, camera work, and plot holes only add to it's charm. I find myself smiling and laughing every time I watch The Violence Movie. I've forced every single one of my friends to sit down and watch it with me. This movie is not just a love letter to horror, but a love letter to films as a whole. The Violence Movie is a film for film lovers and film makers. Even the ending credits are filled with jokes and quips.


Harry Manfredini himself (best known for the music in the Friday the 13th series) scored the music for the DVD release! I recommend watching it as soon as possible and I can't wait to review sequel, because of course there's a sequel. I give this movie a 10/10, not for the quality, but for showing us what your mom's camera, imagination, and a love of film can do. – Derek Flores
The Violence Movie was released in 1988 and re-released on DVD on October 1, 2017.
Have you seen The Violence Movie? How do you feel about this odd home project? Let us know in the comments below!
---
Trending Now