How 'Avengers: Endgame' Sets Up A Very Different MCU
---
Avengers: Endgame may be the culmination of the 22 films in the MCU, but the implications of the movie's ending could set the stage for an entirely different, exciting chapter for the universe.
*MAJOR SPOILERS AHEAD FOR AVENGERS: ENDGAME*
If you have seen the small indie film, you know the ending is completely bonkers. To recap, the surviving heroes save the day by using the new Infinity Gauntlet (Stark®) with stones they acquired by traveling through time. After a totally not complicated "time heist", the Avengers created a new reality for themselves in which the dusted heroes are able to return by the snap of Hulk's fingers. Here's the catch: those undusted heroes come back five years after the events of Infinity War. 
This means Spider-Man: Far From Home, and all future non-prequel films, will take place in or after the year 2023. This will have serious ramifications for our heroes as they adjust to a world that has moved on from them. We'll see it soon when Peter Parker and his friends have to reintegrate into their school when everyone around them has grown up. Although it will be a rough time for some, the time jump could bring in a new era of the MCU that's wilder than ever. Think about it – a lot must have happened in those five years we missed.
There's also the fact that Far From Home will introduce a character from another Earth, Mysterio. The Decimation brought upon a disturbance in the multiverse and it seems to have enabled people to be able to travel to other universes. This not only allows the MCU to introduce new characters that way but also set films in a version of reality different to the one we're used to.
Heroes and villains could be introduced to the 616 universe that otherwise would not be able to. In a world where it lost half of its heroes, you would expect some (evil) people to take advantage, or even new champions to take their spot. Here's a short list of possibilities:
Norman Osborn
The classic Spider-Man villain Norman Osborn has been noticeably absent in the MCU ever since Sony allowed Marvel Studios to integrate Peter Parker. To be fair, introducing him would be no easy task as a powerful and famous figure like Osborn would have surely made waves before Homecoming. Well, now they have the opportunity to have a developed Osborn actively operating and climbing his way to the top during the five years that were skipped.
They can take a page out of Batman v. Superman's book and have Osborn rise to power by fixing the damaged cities after The Decimation, similar to how Lex Luther helped repair Metropolis. Have him purchase that old Avengers tower in New York City and boom there you have it. Rumor has it that Marvel Studios has been looking to make him a huge part of the universe, and now is the perfect opportunity.
Speaking of Osborn, the next step the MCU could take is creating an all-new team of Avengers.
Dark Avengers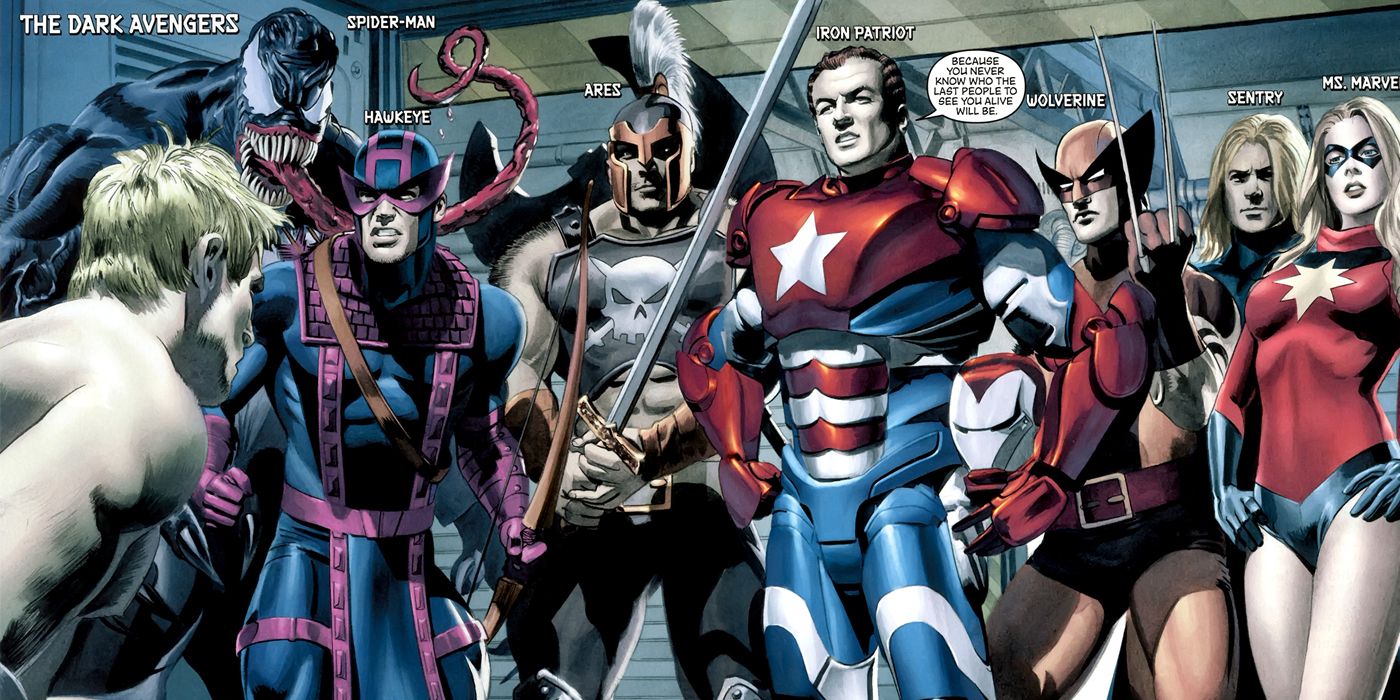 Although Marvel Studios is unlikely to do an Avengers film anytime soon, it could be time they go in an unexpected route. Feige and co. went absolutely massive with Infinity War and Endgame, so why not scale it down a bit and introduce new characters. Once you set up Norman Osborn as a major figure in the universe going forward, introduce a new team that will bring a new flavor to the MCU: The Dark Avengers.
Led by Osborn, the team was started to effectively replace the Avengers with villains. Each new member pretty much replaces the real version, such as Hawkeye for Bullseye and Venom for Spider-Man. Ares and Sentry are also a part of the team, two famous Marel characters that can be introduced in other MCU films. Replacing Iron Man would be Norman Osborn himself as a new version called Iron Patriot. In the comics, he gained access to Tony Stark's suits with the help of Ghost, a character who has already appeared in Ant-Man and The Wasp. The icing on the cake is having access to the Avengers tower, which would be easy to explain since it was sold when they moved to the now-destroyed Avengers facility. I mean, they have to do this, right?
Fantastic Four
Okay, this is the most obvious choice out of the list but it's the perfect time to do it. Not only is it because Disney recently acquired Fox in a mega-deal, but the recent events in the MCU totally allow it. Out of all of the properties Marvel Studios acquired from Fox, Fantastic Four is ripe for a reboot that finally gets it right. An easy and quick way to introduce them would be having them stuck in the Quantum Realm, but I think there is more you could do. After all, we have already dealt with A LOT of Quantum nonsense in the past few films.
It is totally plausible that after The Decimation, the Fantastic Four got their powers and progressed in those five years we missed. Perhaps the snap itself causes the accident in which the four heroes get their superpowers. The best thing about it is that the film does not have to be straight-up origin story thanks to the potential development they could have had in those years. Of course, it's still possible they are simply stuck in the Quantum Realm, rumor has it that this is the case, but I hope they take a more creative route.
Do you agree with our proposed ideas for the future of the MCU? Let us know in the comments below!
---
Trending Now