'Rocketman' Review: "A Terrific Memoir Of A Real-Life Fantasy"
---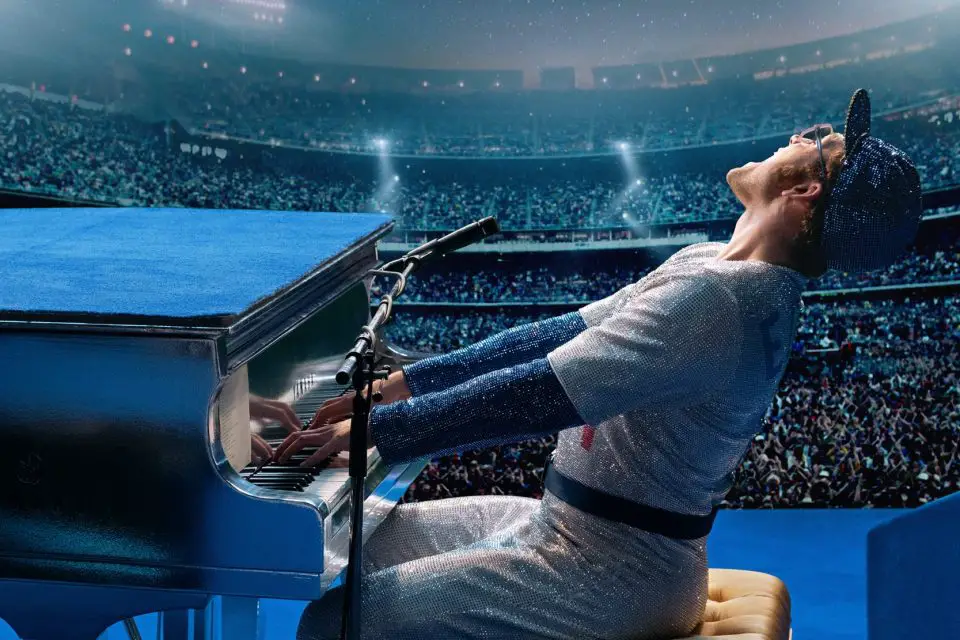 When it comes to movies about an iconic musician, filmmakers often use a third-person point of view to tell the stories. While movies like Walk the Line and Ray admirably create a realistic vibe using this method, rarely does this turn the musicians' stories into visually exciting cinema. Furthermore, by not committing to a first-person perspective, it becomes challenging to make them seem emotionally honest. With that in mind, it is refreshing to say that Rocketman – which focuses on artist Reginald Dwight, better known as Elton John – distinguishes itself from the pack by being a memoir in musical form.

In the first of Rocketman's several ingenious choices, the film establishes this from the opening scene. We are introduced to Elton (Taron Egerton) talking about his many addictions to a support group. On top of that, he is wearing an elaborate demon outfit from one of his concerts. From this setup, the movie makes it clear this story will only be told from Elton's unique viewpoint. Best of all, Elton is the kind of person who is extroverted in public and introverted in private. Therefore, it makes sense for him to emphasize key moments in his past and gloss over the irrelevant parts.
However, the film does not settle down with just showing a heightened version of Elton's life with the script alone. Much to its benefit, it also conveys this from a filmmaking perspective with considerable skill. Even the way it transitions to Elton's childhood is delightful. We see him literally walking through his past, as desaturated colors cover up everything but him. From then on, director Dexter Fletcher spends every chance he has crafting strong visual storytelling for every emotional beat. One notable scene involves editor Chris Dickens cutting between young Reginald waving a flashlight around and an orchestra at work. In just a few cuts, the filmmakers convey that he has a bright future without the need to overstate it with words.

To the surprise of no one, the effective direction reaches its peak during its plentiful music sequences. It already gets by due to the smart usage of Elton's classic songs to propel the story. In particular, the scene where songwriter Bernie Taupin (Jamie Bell) listens to "Your Song" for the first time is especially powerful. But it manages to go beyond that thanks to elaborate choreography and cinematographer George Richmond's dramatic lighting. With these elements working together, every musical number hits emotional heights deserving of the legend himself.
Of course, Rocketman would crumble if Egerton failed at capturing Elton's "extrovert in public, introvert in private" persona. Fortunately, his performance is stellar at showing the discomfort and confidence that Elton experiences. If that was not enough, it turns out he also has a great singing voice. Keep in mind, this is not the same as saying that the actor outright becomes the real-life musician. For one thing, Egerton has a much boxier face than Elton ever did. Yet the differing physical appearances are not enough to overcome how effortlessly his acting slides into the character's multi-faceted personality.

What is genuinely impressive about Rocketman's story approach is that it still has the strength to embrace Elton's controversial side. Most importantly, it is nice to see a mainstream movie spotlight Elton's homosexuality in such a matter-of-fact way. Fletcher and company portray Elton's intimate moments with John Reid (Richard Madden) as an emotional rush, which culminates in a passionate yet tasteful sex scene. Moreover, the script depicts those who look down on his sexual preferences as antagonists. Prime examples would be Elton's parents, Stanley (Steven Mackintosh) and Sheila (Bryce Dallas Howard, struggling under the English accent). Both find him to be 100% unworthy of love whether that love comes from a significant other or themselves.
The movie does not dodge every biopic cliche, though. Like much of its competition, Rocketman concludes with a list of bullet points that detail the musician's life after the film's story and a side-by-side comparison of the main actor with the real deal. It would be one thing if the movie had a less interesting narrative structure or weaker characterization. But due to the movie's vivid depiction of Elton, it feels like a betrayal to end it the same way as dozens of other movies.

On the upside, explaining What Went Down In Real Life™ does not take away from its many strengths. By the time we see Elton shoot to the sky as he performs "Rocket Man", its magical realism becomes its greatest asset. It is also hard to complain when the flashy musical numbers are some of the film's most entertaining sections. Simply put, Fletcher and company have made a movie which proves that biopics can excel with energetic filmmaking.
Under the hands of another filmmaker, this could have turned out as a typical biopic that inadequately celebrates its subject matter. Worse yet, it could have been something that buried Elton's edgy lifestyle. In the age where mainstream movies strive to appeal to international audiences, potentially offensive things are often cleaned up. But thanks to everyone involved, it makes a strong case as a terrific memoir of a real-life fantasy. If only all movies about iconic musicians were as exhilarating and insightful as Rocketman.
8/10
Rocketman will be playing in theaters on May 31, 2019.
The film stars Taron Egerton, Jamie Bell, Richard Madden, Bryce Dallas Howard, Gemma Jones, Steven Mackintosh, Charlie Rowe, and Stephen Graham.
---
Trending Now