Full Circle Showdown: 'Ghost Rider' Review
---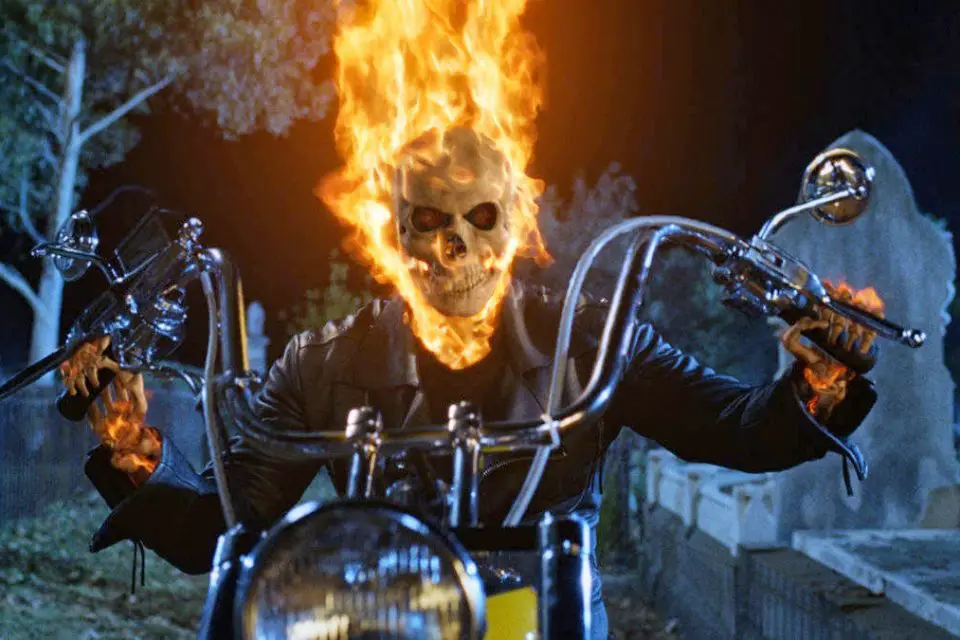 The writers here at Full Circle Cinema know that opinions on films are divisive and can get pretty argumentative. But to encourage friendly and lively debate we have Full Circle Showdown; an in-depth discussion and collaborative review from two writers who have different opinions and ways of seeing films. Given the recent news surrounding the upcoming Ghost Rider television series for Hulu, we thought it would be appropriate to revisit the previous onscreen appearances of the character in media. The topic this time around is 2007's Ghost Rider, featuring the enigmatic Nicolas Cage as the title character.

Review #1: Mark Tan (News Writer/Critic)
When it comes to actor-driven studio blockbusters, the relationship between its lead and the project exists in two forms. We have the kind that allows an underexposed actor to gain recognition among audiences. Also, we have the kind that allows a big-name one to flex their stardom by playing an established character. Although the big-budget superhero picture may be a newer development in film history, it too has encountered this occurrence. If a project like X-Men is enough to make someone like Hugh Jackman a household name, films like Ghost Rider exist to bolster the popularity of someone like Nicolas Cage.
This is reassuring in the case of Ghost Rider because it really is the kind of film that gains personality every time Cage is onscreen. As the character of Johnny Blaze aka Ghost Rider, Cage conveys a delightful presence, especially during the quieter moments. In the first act, he exudes such a carefree quality for Johnny as he calmly prepares to do insane motorcycle stunts. If that was not enough, he reacts to failed motorcycle landings as if he just tripped in his bedroom.

Better still, the early section of the film characterizes Johnny as someone with has an affable personality. He spends his free time laughing at chimpanzee martial arts videos and eating jellybeans from a martini glass. It is shocking to see a protagonist do such oddball things. But that is also the reason why he makes a strong impression. By taking part in tasks that seem mundane for a superhero narrative, it draws a truly unique portrait for Johnny. Quite frankly, revealing Johnny's idiosyncrasies is the one element in which director Mark Steven Johnson's script excels.
Unfortunately, there is a major difference between a protagonist that is watchable because of the surrounding film and a protagonist that is watchable in spite of it. In fact, saying that Ghost Rider is in the latter camp is putting it lightly. For one thing, it is a poorly scripted slog that fails to make its action soar. But it is also a movie that wastes all the elements with genuine potential. With Johnson taking on multiple duties, it turns out that his wide reach results in a lame final product.

In an act of unwarranted surprise, Johnson's grasp as a director turns out to be the one that falters first. By no means is it devoid of a few effective choices. The use of lightning to show a character's true being and the overlaying of images during Ghost Rider's penance stares are particularly good. Other than that, the direction comes off as incredibly bland. In the big action sequences, it is covered with poorly implemented CGI that renders the scenery as intangible while also preventing the Rider himself from looking as menacing as he should. This is largely thanks to how the skull is behind the fire but not actually lit by it.
For the quieter scenes, Johnson is satisfied with using the same medium shots and close-ups on repeat. All of this does a poor job at visually capturing which scenes are the most crucial. Watching this on mute, it is nearly impossible to tell if the romance between Johnny and Roxanne Simpson (Eva Mendes) or Blackheart (Wes Bentley) sucking souls from bystanders was more important to the central narrative. But none of that comes close to the baffling story beats that Johnson incorporated into his script.

From a distance, a young man selling his soul to a devil does not make for a poor premise. However, the film spends its efforts to conjure up the worst possible outcome. For one thing, Johnny's agency as a character evaporates every time he transforms into the Ghost Rider. In the scenes where the flaming skull is in full glory, none of his eccentricities are evident. In fact, they seem to be replaced by the tough stoicism seen in typical brooding heroes. Because of this, it is almost like Johnny Blaze is being replaced by a random Ghost Rider with a different personality rather than becoming one.
On top of that, it wastes a major opportunity with the character of Carter Slade (Sam Elliott). The movie establishes him as someone who had a close relationship with Mephistopheles. However, his role in the film amounts to little more than an exposition provider. There is so much potential for Slade to be a mentor to Johnny. And yet, the script finds him so useless that Slade excuses himself from the main story before the climax.
Some of this could have been salvaged if it had a villain that had an intimidating presence. Alas, we are stuck with Blackheart, who turns out to achieve the complete opposite. In addition to his motivation being unclear – the most legible aspect is how he wants to rebel against his father just because – Bentley's performance lacks any emotional heft. Perhaps reading the script enabled him to strip away large expressions. Nevertheless, it is shameful that he comes off more like an edgy, lame teenager.

Aside from the few bursts of joy that Cage's performance has to offer, Ghost Rider just suffocates under the weight of its shortcomings. All at once, it burdens itself with short action scenes, a dull narrative, and a protagonist that is somehow less interesting when he has a flaming skull and a death stare. In some ways, it truly is a cinematic achievement that the Ghost Rider scenes turn out to be less entertaining than when Johnny eats jellybeans.
Simply put, the whole project is better as an enervating exercise of throwing imagery to the audience than a cohesive – let alone fun – assembly of characters, themes, and spectacle. Comic book movies have been more incompetent and morally offensive. But few of them have managed to embody the concept of tedium as much as this film. We should be grateful that the superhero genre has been unable to output something this dull in the years since its release.
3/10

In the ever-growing stream of comic book movies, a few get lost to time. Most are forgotten for being generic or insignificant to the genre, a la 2004's The Punisher. Digging up these sorts of films yields little more than an eye-rolling reminder of how far superhero films have come. Then there's Ghost Rider.
Ghost Rider, written and directed by Mark Steven Johnson, is a weird one. Here is a film that features Nicolas Cage as a man who sells his soul to the devil only to turn into a fiery spirit of vengeance cruising on a tricked out motorcycle. And yet despite that, no one talks about it. We should be talking about this thing constantly. After all, Ghost Rider is the kind of pulp roller coaster ride of an action movie that only could have been made in 2007.

The strangeness of Ghost Rider begins with the man himself. Mark and I both agree – Cage rocks the role of Johnny Blaze. Although I'm certain his comic book counterpart has his fans, he never left much of an impression on me, where Cage's Blaze makes it impossible to forget him. He's something of a cowboy and a stunted child sharing a body, which is also shared with a flaming demon.
An example of this is when Blaze tries to (literally) catch up with his ex Roxanne Simpson (Eva Mendes), who is riding on the freeway in the passenger seat of a news van. Blaze, on his motorcycle, continuously weaves through oncoming traffic just to get a chance to ask her out, smiling and cracking jokes all the way. He's the kind of reckless doofus you just want to root for. The lunacy of his performance comes close to Tom Hardy's Venom. Only this time, the film around the performance almost manages to match its energy.

Where Mark saw much of the film as a slog, I saw a campy environment that really lets Johnny Blaze loose. Much of the film plays like Sony Pictures undid the chains of a hyperactive child with a macabre predisposition. It's chaotic, sometimes grating, but never boring. Even in 2019, the visuals for this film are inspired. Flames, skulls, flaming skulls, creatures, motorbikes; it's cinematic eye candy at every turn!
The visuals get an extra workout whenever the titular Rider himself is on screen. The character design, mostly unchanged from the comic books, translates fantastically to screen as one of the more metal mainstream live-action superheroes. Seeing him give his iconic penance stare, slash foes apart with his a metal chain, and ride up the side of a building on a motorcycle (!) is worth the price of admission.

Those bombastic action sequences aren't particularly well-shot, but they do come with a key component: confidence. Mark Steven Johnson's direction trades subtlety for the grandiose, establishing a deeply silly world where the occult runs rampant. In this playground, Peter Fonda shines as the devil himself, Mephistopheles, who gets his grand entrance shattering lightbulbs at a carnival before exclaiming "groovy". Mephistopheles has an overt corniness that mixes well with the film's gothic tendencies.
The film has this pull to it, where, at least aesthetically, you can't help but be drawn in by it. Unfortunately, this film does have some serious issues. The villain, Blackheart, is a whiny non-entity that completely wastes the talent of Wes Bentley. Moreover, his lackeys are completely indistinguishable from one another. Anything with the antagonists that do not involve Mephistopheles is a wet blanket over this film's flame.

Similarly botched is the perceived "romance" between Johnny and Roxanne. Eva Mendes is a fine actress who has basically nothing to do here other than pine after Johnny. Maybe this would work if the two had some sort of chemistry. Instead, Blaze comes off as kind of an ass to Roxanne. As a result, there's never any emotional investment to keep the two together.
It's not like the writing does them any favors. Mark Steven Johnson's script does its job and that's about it, hitting the requisite number of one-liners and tropes while making a big misstep in regards to Sam Elliott's character (more on that in Mark's review). Nevertheless, its purpose is putting Johnny Blaze into high-octane situations involving demons, so the film hinges on how enjoyable all of that is.
Luckily, Ghost Rider is more than the sum of some faulty parts. This is not a smart film, nor is it groundbreaking in any way. But as pure popcorn entertainment, it reminded me of Paul W.S. Anderson's Resident Evil movies in its sheer audacity and capacity to entertain. When you see the poster of a film that features a man with a flaming skull on a motorbike, you expect to have some fun. If anything, this weird, scrappy film is just that- a hell of a lot of fun.
7/10

Final Verdict
Between Mark and James's thoughts on Ghost Rider, one thing is clear. Nicolas Cage is the one element that brings the film to a more enjoyable level that what could have been. From his scenes of asking out his old lover while on a motorcycle to relaxing in the most peculiar way, the movie presents a unique protagonist further brought to life by its eccentric performer. Elsewhere, the two could not feel more different. While the demonic imagery and action were plentiful enough to get James to like the film, Mark's feelings on the flawed narrative were too omnipresent for the strengths to linger. In any case, Ghost Rider is a fascinating relic that serves as a reminder of how much the superhero genre has transformed over the years.
4/20 5/10
– Mark Tan & James Preston Poole
Ghost Rider is now available on Blu-ray and Digital HD. The film stars Nicolas Cage, Eva Mendes, Sam Elliott, Wes Bentley, and Peter Fonda.
---
Trending Now