Why 'Sonic The Hedgehog' Could Be The Perfect Adaptation
---
When the trailer for Sonic the Hedgehog dropped early Monday morning, it ignited a type of social media firestorm. Fans of the video game franchise criticized the adaptation's ugly character design, confused visual aesthetic, and bizarre tone. However, every time I see the trailer, I see the potential for a great adaptation of the character, so I've decided to throw my hat into the ring(s) and explain why I think Sonic the Hedgehog will do the "Blue Blur" justice.
History
Let's address the elephant in the room: Sonic is not what you'd traditionally call a good franchise. His very creation stems from game developer Sega's need for a mascot to compete with Nintendo's Mario. Coincidentally, his first few games for the Sega Genesis happen to be genuinely innovative, influential platformers that stand the test of time. Then, the jump to 3D happened.
Sonic Adventure and Sonic Adventure 2 were both massive successes for the Sega Dreamcast console that, while ambitious, feel clunky nowadays. Now, nostalgia's a hell of a drug and I still bust out the Gamecube port Sonic Adventure 2: Battle every now and again, but this is where the real problems with the franchise began.
The series has devolved into a cluster of colorful characters and disparate elements. The gameplay is constantly changed from the ground-up between titles as new gimmicks such as Sonic turning into a Werehog or having him leap into storybooks are thrown around willy-nilly.
For that very reason, the series remains popular. Despite the clear problems within, Sonic keeps on moving full-speed ahead in its unabashed goofiness. It's endearing in a big way to a lot of gamers, myself included. Sonic is a playground for strange, sometimes ill-advised ideas, so where does the movie fit in?
The Hedgehog Himself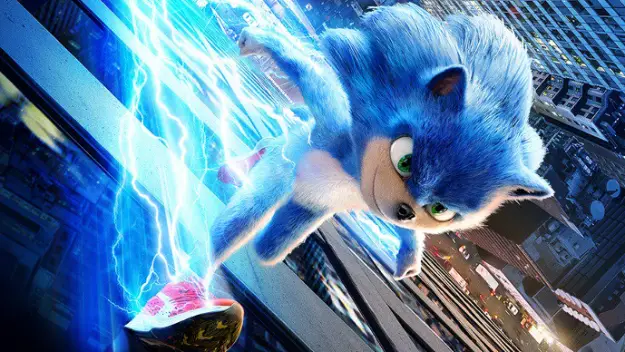 Now that we've addressed the elephant in the room, it's time to address the CGI monstrosity standing right next to it- Sonic looks ugly. Ugly as sin. Why director Jeff Fowler and co. chose to give an anthropomorphic hedgehog human teeth and other features is beyond me. It dives straight into the Uncanny Valley in a way that nobody was asking for.
Thankfully, Sonic's attitude is there. As mentioned before, Sonic was created as a rival to Mario and therefore came with a snarky, fun-loving attitude to rival him. He was the quintessential '90s idea of what was "cool" to children.
Here, voice actor Ben Schwartz brings that charm without coming across as anachronistic. He quips before tearing up robots, he gives both the villain (more on him later) and his human companion, played by James Marden, crap, and he bumps some rockin' tunes.
Sure, it's Coolio's "Gangsta's Paradise" instead of "Escape from the City", but still- Sonic is Sonic.
The Villain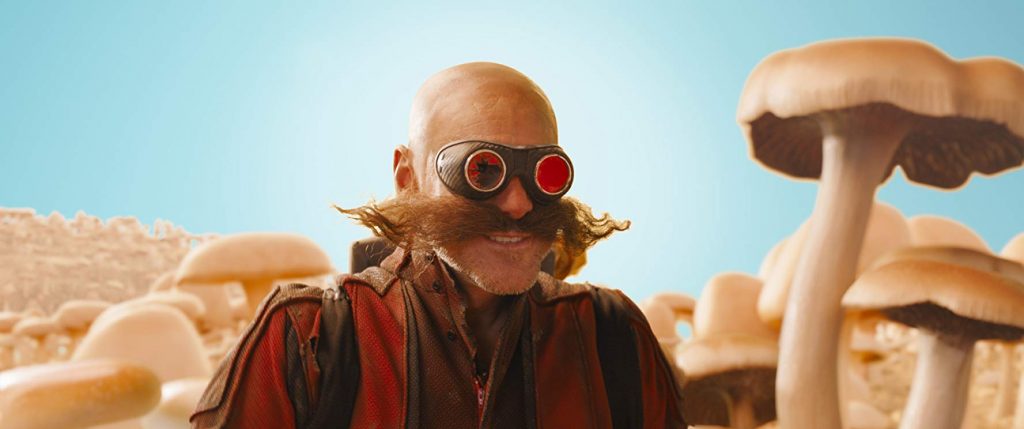 Jim Carrey looks to be having the time of his life as Sonic's arch-nemesis Dr. Ivo "Eggman" Robotnik. We haven't seen him do this sort of fast-talking physical comedy shtick in years so it's a straight up delight to have him back. He steals every moment in the trailer, summoning giggles by simply making robot noises.
Beyond that, it looks like we're actually getting something of a backstory for Eggman. This is something the games rarely attempt. In the trailer, Carrey is seen at first with a full head of hair as a respected military man, then at the end in full video game accurate costume, implying a character arc for Robotnik.
Giving a feasible story to a goofy antagonist can mean two things: more screen time for Carrey and more depth for a feasibly one-note character. Both are quite exciting.
The Humor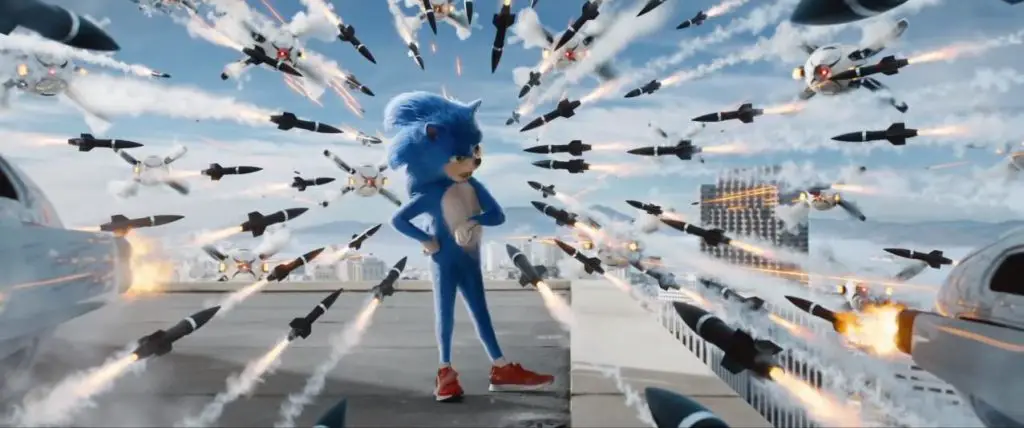 This is the least defensible part of the trailer, yet also the most accurate to Sonic. The humor in this trailer, other than Jim Carrey's Eggman, falls flat. The jokes, ranging from Sonic pretending to be a cat to a mix-up with Sonic in duffel bag being mistaken for a child, are contrived, cringey, and squarely aimed at children.
Ever since the debut of The Adventures of Sonic the Hedgehog animated series in the early 90s, though, this is everything we've come to expect from the character. It's eye-rolling, sure, but it's hard to get mad at it when this universe has been permeated with this type of juvenile humor from day one.
After all, this is a franchise aimed at children.
The Universe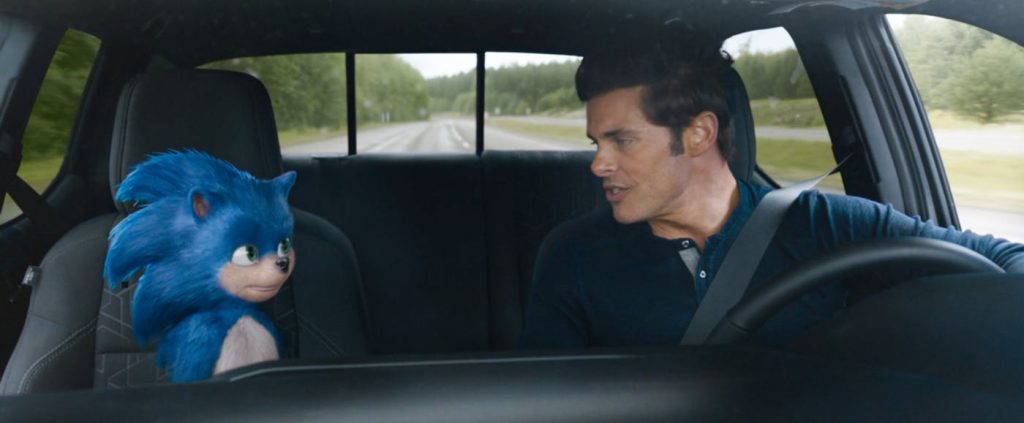 Sonic's universe is something of a mess. Creators oscillate between having Sonic be in something approximating the real world, a la the Sonic Adventure games and Sonic the Hedgehog (2006), or the type of abstract world seen in the original games and given the name of Mobius in a few of the cartoons.
Sonic the Hedgehog appears to be merging the two together. From what we know, Sonic himself is from another world, ending up on Earth somehow. It's a bit off-putting, but there's a certain amount of fun to be had by that clash. Eggman's robots, present in the action bits we see in the trailer, also hew closer to the games.
Those actions bits, rendered by Deadpool's Blur Studios, look positively thrilling. Seeing Sonic zip from robot to robot feels so right. If there's anything to see this movie for, it's seeing Sonic crash through civilization.
Where does that weird alien world Eggman appears to be on at the end of the trailer come in? Only time will tell.
Conclusion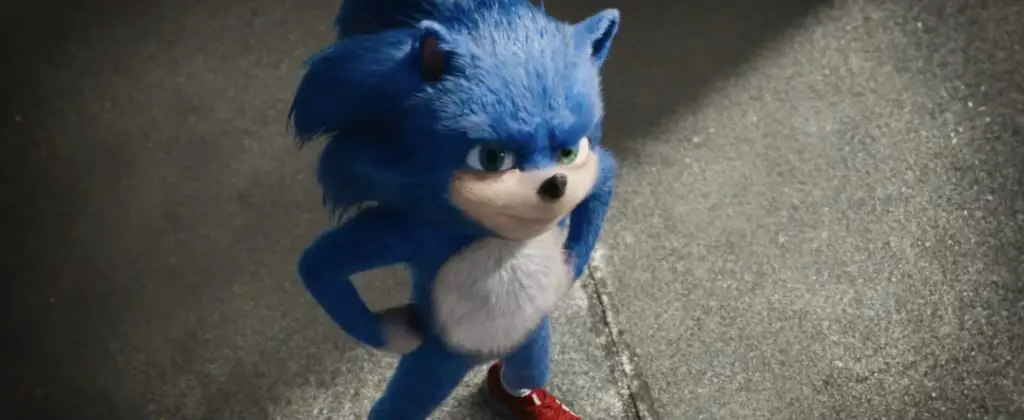 Whether Sonic the Hedgehog manages to be any good has yet to be seen. However, through the lead characters, the universe, and the eye-rolling humor, it appears as though Sonic the Hedgehog is taking everything that has made the franchise so iconic with it onto the silver screen, ensuring that this is not another video game whose appeal is lost in translation.
What do you think of the Sonic the Hedgehog trailer? How do you think it'll fare as both an adaptation and a film? Let us know in the comments below!
---
Trending Now