'Hellboy' Review: The Rated-R Thrill Ride We Need
---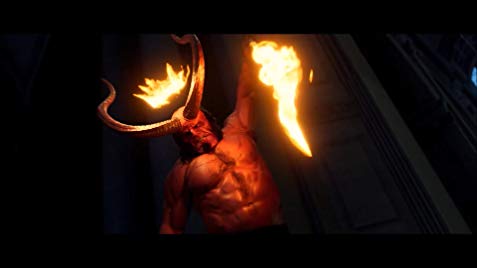 The new Hellboy film is everything you wouldn't expect it to be, and I'd advise you to not let the Rotten Tomato score deter you from enjoying this reboot. It's the same story, with a few twists, and some slight changes. You can't go into this film feeling nostalgic, and wanting this film to be like Del Toro's original films. This is true to its R rating from beginning to end. It introduces a new villain and way more monsters than the original film.
Many of us let nostalgia get in the way when watching reboots, think of Heath Ledger's Joker, the original Superman films, among other things. The film is what I would've expected in 2004 had it featured a lot of gore and violence. I mean, it's Hellboy, and Dark Horse Comics after all. We can't constantly live in the past when it comes to comic books and the films that follow, or nothing will ever be good enough.
Hellboy follows the story of Anung Un Rama, a demon from Hell that comes from a portal opened by Grigori Rasputin and the occult division of the Nazis. We all remember Rasputin as the villain from the original film. He and Karl Ruprecht Kroenen both make an appearance in the film but are not the central villains. The central villain in this film is Nimue, The Blood Queen (Milla Jovovich). She is definitely one of the highlights of this film. Every villain has their follower(s), we get introduced to Gruagach (Stephen Graham), a changeling that's true form is a pig, and the Babba Yagga (Emma Tate), a witch that Hellboy banished into a dimension that resembles old Russia after he caught her eating children.

The film starts during King Arthur's reign in England. He defeats Nimue and has her body separated. Placing each of her body parts in a different region making it to where she cannot become whole ever again. Insert Hellboy, he's still trying to find his purpose and not understanding why his existence is so important. Of course, he's still having a power struggle with his "father" Professor Broom (Ian McShane) and acting like a child. Much like any other superhero origin story, he must find his potential himself.
Hellboy also has a new team that is very different from the original. The new team included Major Ben Daimio (Daniel Dae Kim) and Alice Monoghan (Sasha Lane); a human that can change into a Manhunter and a psychic. They add a different tone and feel to the film than the original team, and it's awesome to watch.

This film relies heavily on its R rating, and it lives up to that. At the beginning of the film, I questioned much of the action until I realized what director Neil Marshall was doing. The film is over the top, and very dramatic. The over-exaggeration during certain situations makes the film all the better. The character's facial expressions they make throughout the film help sell dramatics of the film and add to the comedy. This is one of the elements that separate it from its predecessor.
The Nazi and Catholicism element that is so forward and thorough throughout the original film, that it's refreshing that it's not the main focus of this film. The elements are still there, but they're minimal compared to the other things that make this film. The film uses more of the occult and horror elements, some of which were used in the original film, but it's so deeply embedded in this film. Of course, there are things that I'm leaving out of this review because they are surprises, and I don't want to spoil the film for you.
Overall, I thoroughly enjoyed this film. It was a very fresh take on Hellboy. There was action, comedy, drama, and a very underdog feeling to the movie. At first, I thought I would hate it. The script written by Andrew Cosby is well written and fits exactly what they were doing with the film. Neil Marshall and his gritty, gruesome, and dark style out together a film that I think is awesome as it is. They didn't have to do anything out of the box. They stuck to the comic, created an awesome world builder, and hopefully stick with the vision from here.
My one gripe is how the film flowed at the beginning, and the editing was pretty choppy. Once it picks up, this definitely a thrill ride that's so fun it leaves wanting more. The acting from David Harbour if nothing else matched that of Ron Perlman. He gave an awesome rendition of Hellboy, and I hope to see more of him in the future. Also, stay after the credits, there's a nice little surprise after the film! – Rascal F. Kennedy
Rating: 7/10
Have you seen Hellboy? Did you enjoy it? Tweet us @fullcirclecinema or comment below with your thoughts!
Hellboy stars David Harbour, Milla Jovovich, and Ian McShane and is in theaters now!
---
Trending Now