'Dumbo' Review: "A Remake That Fails To Take Flight"
---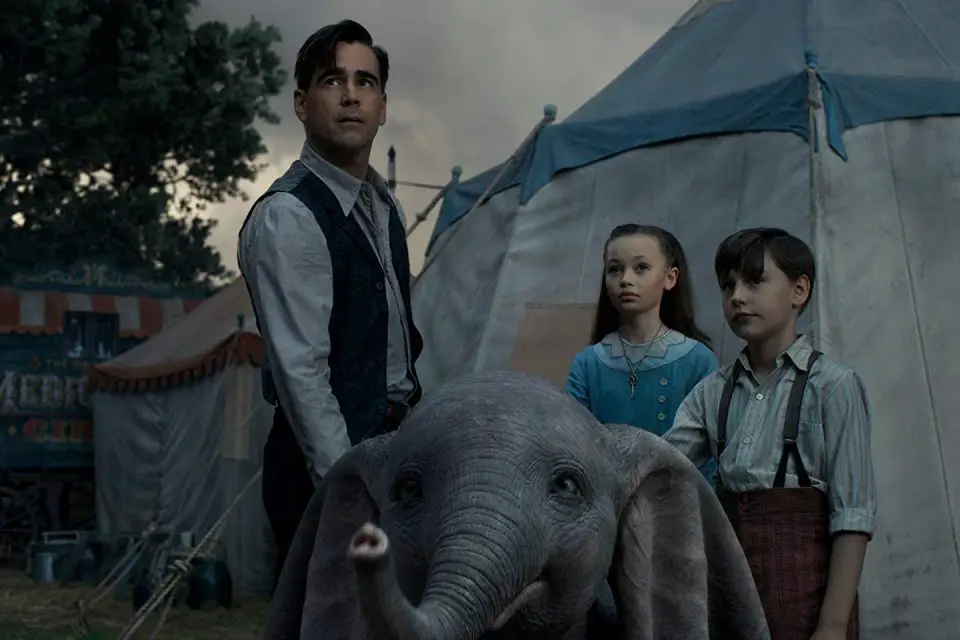 Dumbo made me sad. As I sat on a Friday night in a sparsely-populated theater, I realized two things: director Tim Burton will likely never make a great film again and a live-action Disney film (non-Star Wars or Marvel) hasn't really stood out since 2013's Saving Mr. Banks. What went so wrong?
That's a tough question to answer. On paper, there's a lot to like about Dumbo. Burton brings the circus to life with some lovely candy-colored visuals that often achieve some wonder. Also, frequent collaborator Danny Elfman delivers a whimsical score that fits the movie well. The remake also constructs a new story around the original premise, a far cry from the likes of 2017's Beauty and the Beast.

Unsurprisingly, the biggest virtue of Dumbo is its titular elephant. For an animated character, Dumbo's big eyes and spunky attitude are hard not to fall for. The scenes in which he takes flight are breathtaking moments of Disney magic. It's just a shame that Dumbo himself wasn't the focus of the film.
Instead, Dumbo sets its sights on a down-on-their-luck circus family in the 1910s who discover him. This quickly catches the eye of V.A. Vandevere (Michael Keaton), an entrepreneur who wants to get his hands on the flying elephant for his own amusement park. Maybe that plot could've worked under a skilled screenwriter, but Ehren Kruger drowns the film in a sea of cliches. There's the estranged parent trying to bond with their kids, the misunderstood creature, the daughter who wants to pursue science, the evil businessman; the list goes on and on.

Now there's nothing wrong with using tried-and-true genre tropes, yet they're supposed to be a template to build on. Dozens of talented performers give their all to their characters, including Colin Farrell, Danny DeVito, Michael Keaton, and Eva Green. But the arcs do little to establish any reason to care. It's as if Burton has lost his human touch that made films like Edward Scissorhands and Beetlejuice so special for outsiders. He merely focuses all of his efforts on the visuals, allowing the movie to crawl along on a thin script.
The only area where Kruger's script tries something new is the very bizarre creative decision surrounding the character of Vandevere. Keaton's Vandevere is a clear Walt Disney analogue, even quoting Disney himself as his theme park is a weird retro-futurist version of Disneyland, lazily coined "Dreamland". The film repeatedly condemns his actions of exploiting others for entertainment, yet also wants to celebrate Disney staples all while ignoring the problems with the historically inhumane circus.

This "having its cake and eating it too" attitude muddles what would've been an above-average movie into a Disney remake that kind of… exists. It simply exists. Dumbo is the type of movie you want to love due to the magic of its lead character and visuals but ultimately fails to take flight.
All we can hope for is that Disney learns from Dumbo that audiences crave more from their live-action offerings and that they can carry the same level of whimsy that their animated films have if they're willing to put in the effort. Until then, I'm not holding my breath for Aladdin. –James Preston Poole
Rating: 4/10
Dumbo is now in theaters.
The film stars Collin Farrell, Michael Keaton, Danny DeVito, Eva Green, Alan Arkin, Nico Parker, Finley Hobbins, and Roshan Seth.
---
Trending Now