Full Circle Showdown: 'Dragged Across Concrete' Review
---
The writers and film lovers here at Full Circle Cinema know that opinions on films are divisive and can get pretty argumentative. But to encourage friendly and lively debate, we have Full Circle Showdown. This series involves an in-depth discussion and collaborative review from two writers who have different opinions and ways of seeing films. The topic this time around is Craig S. Zahler's newest crime film, Dragged Across Concrete, starring Mel Gibson and Vince Vaughn.

Review #1: Ernesto Valenzuela (Critic)
Craig S. Zahler has always been a polarizing filmmaker. Between Bone Tomahawk and Brawl in Cell Block 99, he is not shy about graphic violence, controversial topics, and extremely slow pacing. While this approach worked well before, his latest, Dragged Across Concrete, sticks a little too true to its title. Over the course of its 159-minute runtime, it really feels like it drags you through its story. In addition, the pacing doesn't match all too well with the tight script Zahler brings with this film.
Dragged Across Concrete follows the story of two cops, Brett Ridgeman (Mel Gibson) and Anthony Lurasetti (Vince Vaughn). After being suspended because of a video that surfaced online of their mistreatment of suspects, they try to take advantage of their criminal connections and make some money for themselves while on suspension. Jennifer Carpenter as Kelly Summer also has somewhat of a story arc in this film, and much like Zahler's other films, the story tries to stay small and stick with the characters they have already established early on in the film.

It is certainly refreshing to see Zahler try to bring a new flavor to the crime genre with this provocative script and cast. However, it is not provocative in the way you think. Dragged Across Concrete, despite its rich craftsmanship and dedication to storytelling and character work, has problems in its themes and messages and the topics that Zahler chooses to focus on with the darker themes he approaches. While I understand how he tries to challenge certain notions of racism and make his viewers think, there are certain instances where I feel this film comes across as distasteful in its treatment of certain characters, especially women. I can see this as being a divisive film, but credit must be given where it's due.
Gibson and Vaughn are absolutely fantastic when they are together on screen. Not to mention, the script really gives both actors great dialogue to work with when portraying their characters. Zahler, as a filmmaker, continues to improve with his framing, thus making an overall aesthetically pleasing film. With all these strong positives barely outweighing the negatives, I myself see this as Zahler's weakest work in directing, but not by much.
7/10

Review #2: James Preston Poole (Lead Critic)
As stated before, writer-director S. Craig Zahler is nothing if not a controversial filmmaker. However, despite the casting of Mel Gibson, Dragged Across Concrete shows somewhat of a maturity for Zahler. Where previous films Bone Tomahawk and Brawl in Cell Block 99 reveled in shock, here he takes a different approach.
Yes, Dragged Across Concrete is a long movie. Yes, it justifies every single minute. Mel Gibson and Vince Vaughn are better than ever as two jaded officers on suspension. There's no question that audiences will walk away with high praise of all the performances in the film, especially with the Tory Kittles as a lower-class former criminal trying to make ends meet. Yet there is a question of whether or not audiences will enjoy spending time with these characters.

Ridgeman and Lurasetti are unsavory people- casually racist, brutal, and entitled. If Zahler wants us to sympathize with these characters' ideologies, then he wants us to forgive truly abhorrent behavior. In my opinion, this is not what Zahler is trying to do. Instead, he gives us two deeply flawed men who invite us to watch their desperation in trying to recover what they believe is rightfully theirs.
In that sense, Dragged Across Concrete is a mesmerizing film. Like the best crime films, Dragged is concerned with presenting a world where everyone's trying to make ends meet. Through long, static shots, Zahler allows his characters to articulate their innermost feelings in a way that's almost Shakespearian. From the cops to Kittles' Henry to the villains (whose masked appearance represents the only really out-there aspect of the film), we're invited not to empathize, but to understand what makes each character tick.
Nearly everyone- whether rationally or not- feels that they are owed something and rarely do they ever get it. Nevertheless, they try as hard as they can, leading to many brutal moments that really let the weight of their actions sink in rather than fetishize the violence. The film culminates in a nearly hour-length standoff that makes every character confront their situation in a nihilistic and haunting way. It makes the long journey completely worth it.

One thing that must be criticized is the film's female characters. The script relegates majority of the women to wives, girlfriends, or daughters who feel insignificant to the overall plotline. The one prominent female character, played by Jennifer Carpenter, gets a subplot that represents the only real gratuitous moment in the film. It's incredibly upsetting, to say the least.
An argument could be made that Zahler was trying to make a film about toxic masculinity. But you can still do that while also affording the women in his film the same level as character as the men.
Still, it's hard to ignore what S. Craig Zahler has made. Although I didn't exactly smile my way through Dragged Across Concrete, it left me deeply pondering the world we live in and the lengths people will go to try and make it. For that reason, I applaud Zahler for making such a thoughtful piece, one that signals a move away from his earlier provocation.
8/10
Final Verdict
Despite its mixed messages, treatment of the female characters, and disagreements on the runtime, Ernesto and James have a similar view on Dragged Across Concrete. This is a provocative, unique piece of work that deserves your time at least for the sake of discussion.
7.5/10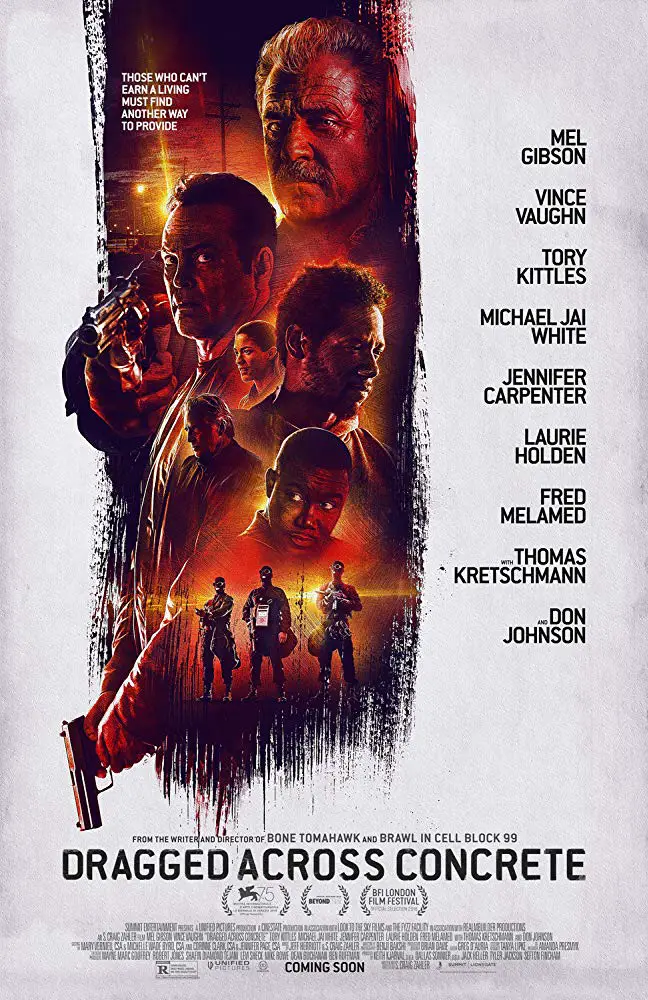 –Ernesto Valenzuela & James Preston Poole
Dragged Across Concrete is now in theaters and on VOD. It stars Mel Gibson, Vince Vaughn, Tory Kittles, Michael Jai White, Jennifer Carpenter, Don Johnson, and Thomas Kretschmann.
---
Trending Now