'The Umbrella Academy' Season One Review
---
Netflix, despite the recent cancellation of their Marvel properties, still managed to come out of the gate swinging in early 2019 with their latest comic book adaptation, The Umbrella Academy.
The 10-episode first season was a healthy dose of different compared to usual comic book show fare, with interesting, wild, and engaging characters, a fun time travel plot, and all while being a well written and tightly structured story of a dysfunctional (superhero) family.
The Umbrella Academy is most definitely not like your usual superhero show, which is extremely evident if you know the source material the show is adapted from. Written by Gerard Way and Illustrated by Gabriel Bá, the comic book's tone and style are gritty, hyper-realized, and as wild as the show is. With comic's creator Gerard Way at the helm as executive producer, this should come as no surprise. The basic premise of the show revolves around a family of six children who, after all being adopted by an eccentric billionaire due to the miraculous circumstances, were a popular superhero family/team in their youth but are now as dysfunctional and emotionally detached as ever in adulthood. Add into this story some time travel and stakes of apocalyptic proportion and you have The Umbrella Academy.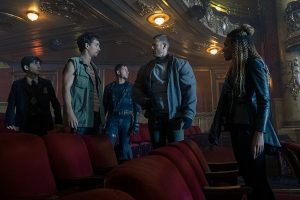 One of the highlights of this show is how it displays the extraordinary as ordinary. Something as insane as a chimpanzee as a butler is accepted as just a part of the norm. With The umbrella academy itself and its six members with their extraordinary abilities, the show makes their powers and celebrity past as superheroes problems for their everyday adult lives, approached as something that isn't that big of a deal. It is this mundane attitude that our characters approach these insane circumstances and situations with that gives each episode in this season it's charm, thanks to the fantastic set of characters we're introduced to in the first episode.
The exposition in the first episode of the series is approached in an engaging way, and while this first episode throws a lot at the viewer at once in terms of world building, history amongst the now adult team and the situation they are in right now, it does it in such a fast paced and fun manner while also not being too hard to keep up with. It's in this first episode that we are introduced to our core cast of characters, the remaining five of the six members of the Umbrella Academy, and the one adopted child, Ellen Page's Vanya, who has no powers but is still part of the family. There's also Tom Hooper, who plays golden boy and super strong hero Luther, Robert Sheehan's drug addict Klaus, David Castañeda who plays knife throwing wise cracker Diego, Emmy Raver-Lampman who plays Allison the only heroine of the group trying to fix the mistakes of her past and men relationships, and Adrian Gallagher, who plays a character who only goes by number five. It is with this top notch cast with occasional appearances form the only dead member Ben (played by Justin H. Min) that the show really shines.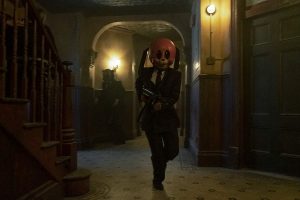 Each character is so different and unique from each other not only in appearance but in personality that it makes for great character combinations and relationships in each episode, with a different dynamic shown in the family in almost each episode. Where strong man Luther and Number Five might be teaming up in one episode, Diego and Klaus could be together in another. While an ensemble in a 10-episode series could seem crowded and leave out development for some characters, this is certainly not an issue for the Umbrella Academy. This faithful adaptation of the comic book is super stylized and so much fun to watch. When the show isn't having intimate character moments, it's showcasing amazing and fun to watch stylized action sequences that really shows all of the Umbrella Academy's characters at work, all while furthering the plot. Speaking of plot, the whole catalyst of season 1 of the Umbrella Academy is Gallagher's time traveling character number five, who without a doubt is my favorite character of the show.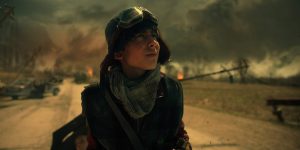 It's Gallagher's acting prowess and ability to convey youthful vigor and at the same time have the weight of the world weighing on his shoulders that really makes his characters shine above the others. Coming in at a close second is Hooper's character Luther, the golden boy of the Umbrella Academy who, despite his pent-up frustrations and burden of trying to be a leader, still does his best to try and answer the call of being a superhero. Overall, each member of the Umbrella Academy has something to love about them and each character gets their turn to shine in each episode as well.
It would be amiss not mentioning the two antagonists of the show, the time traveling hitmen who are after Number Five, Hazel (Cameron Britton) and Cha-Cha (Mary J Blige in her most badass role yet) with the two and their interactions with the Umbrella Academy making for some humorous encounters and physical altercations. While their time travel story and conflict with Number Five and get a bit convoluted at times, the show still manages to find it's stride.
When bringing together eccentric characters, a wild story, and stylized action with insane music cues, it's easy to see how a show like this could go wrong. Luckily enough, The Umbrella Academy pulls it off with enough style and charm to make this one of the better superhero offerings in television and film today. There are some complaints, such as the typical halfway drag that Netflix tends to have with most of its one-hour dramas, as well as the under development of some characters such as Detective Patch (Diego's love interest) and Vanya's love interest, Leonard. However, as soon as The Umbrella Academy hits it's groove in each episode, it becomes hard to stop watching. This breath of fresh air in the continually growing world of comic book adaptations shows that there is still originality and fun to be had with these kinds of properties, as The Umbrella Academy manages to have a stellar first season that left me wanting more.
8.5/10
The Umbrella Academy is now streaming all episodes on Netflix.
---
Trending Now