James Gunn's 'The Suicide Squad' Plot Details Reportedly Revealed
---
In a new rumor posted by Discussing Film, the first plot details regarding Jame Gunn's The Suicide Squad have hit the web and they're sure to get fans excited.
According to the rumor, the current draft of Gunn's script sees the squad heading to the Middle East on a mission. The team is trying to stop the villain group Onslaught and infiltrate their headquarters in Qurac. Our sources corroborated this information, adding that the Middle East setting was also used in Gavin O'Connor's original script. We can also add that Gunn's film could potentially be eying an R-rating, something that O'Connor's film, at one point, set out to do.
Alongside Deadshot and Harley Quinn, the team is (currently) set to feature Polka-Dot Man, King Shark, Peacemaker (Gunn is eyeing Dave Bautista), and a female Ratcatcher. Killer Frost may also make an appearance if indeed she is added to the final draft. It's very evident that Gunn is taking inspiration from some of the earliest Suicide Squad comics instead of the New 52.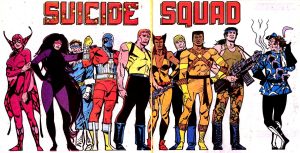 Originating from writer John Ostrander's earliest work, the Onslaught first appeared in Suicide Squad Vol. 1 in 1987 as a team of super-powered international terrorists operating out of the fictional nation of Qurac. It seems as if they will serve a similar purpose in the film as the main villains of the story. Their inclusion lowers the stakes and grounds the story more than the first film. Adding the fact Gunn is already used to making obscure characters popular, these new details only raises expectations for the soft-reboot starring an almost completely different team of villains/heroes.
Do you want to see the Suicide Squad face Onslaught or a different villain? Let us know in the comments below!
The Suicide Squad is set to hit theaters August 6, 2021.
---
Trending Now